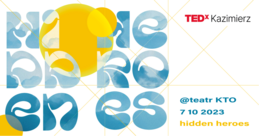 Hidden Heroes is a conference about technology, matters of high importance, mutual respect, the future, and life.
At these challenging times, our communities are still witnessing injustice, lack of understanding and help, indifference to the world we live in, and wars. TEDxKazimierz is here to show you that there is hope. Challenging times are always the times of big opportunities, let's discover together how to face them and be prepared.
It's time we spark the dialogue on the global issues that we are trying to resolve on the global and local level, thanks to the hidden heroes among us.

Become a part of a conversation, join us for the event full of ideas and curiosity. We are looking forward to seeing you at the TEDxKazimierz 2023 Hidden Heroes conference.
Program of the day:
14:00 - 14:40 - Yoga in the garden by a wonderful yoga teacher Sofia Krylova 🧘‍♀️🧘
15:00 - 16:30 - Hidden Heroes. Session 1
Magda Stęga. How small action can have a big impact on a trans community
Carlos Panek. Desert is the taste of childhood – how living abroad changes you?
Nilofar Ayoubi. From Oppression to Empowerment: A journey of Resistance and Hope
Anna Shternshis & Alice Zawadzki. Who Will Sing How We Lived and Died? Yiddish music of Holocaust Refugees
16:30 - 17:30 - Break for snacks/workshops/conversations
Gastro options
Chess workshop by Lorenzo Brigatti
Dark workshop by Womai foundation
Mentalism workshop by Kamil Małochleb
17:30 - 19:00 - Hidden Heroes. Session 2
Aneta Pondo. Gadający Przedmiot, czyli jak zasady komunikacji w kręgu mogą zmienić świat
Daniel Di Giusto. Can technology rescue people and planet?
Marcin Waryszak. Mission Amygdala: Gaming Our Way to Children's Mental Health
Uliana Shchegalcheva. Smooth by default: retire or not to retire?
19:30 - 20:30 - Concert in the garden. Wassim Ibrahim. Songs of the orient 🎺
21:00 - 00:00 Afterparty at Hevre, Beera Meiselsa 18, Floor +1
We will be sharing registration forms to all workshops, that complement the conference, with all attendees that have booked their ticket.
Your ticket lets you join any part of the conference.
For any questions related to the event, please email contact@tedxkazimierz.com
Speakers
Speakers may not be confirmed. Check event website for more information.
Vocalist, violinist, songwriter and composer
Singer, violinist, and composer Alice Zawadzki, inhabits the fertile cross-over of the contemporary classical, folk, and jazz worlds, "all propelled with a voice of velvet suppleness and gutsy emotional intensity" (The Arts Desk). The award-winning artist has released two albums of her solo work, as well as appearing on countless other recordings, and has performed throughout Europe, the United States, Canada, Brazil, Argentina, Japan, Taiwan, Central Asia, Russia, and Turkey. In 2023 her new chamber opera, Bag of Bones, was described by The Guardian newspaper as "a haunting meditation on family and freedom… a perfect marriage of music and theatre." In 2023 she recorded her new album for the iconic ECM label, produced by Manfred Eicher. She studied violin at the Royal Northern College of Music, winning the Hilda Collens Prize, and jazz voice at the Royal Academy of Music, on a Musicians Benevolent Fund scholarship. She was made an Associate of the Royal Academy of Music in 2022.
Editor in Chief at Miasto Kobiet
Aneta Pondo is a journalist, founder and editor-in-chief of Miasto Kobiet magazine (www.miastokobiet.pl), president of the City of Women Foundation, mentor, organiser of events and projects for women (including the Year of Women Festival, Women's City Club, #KobietyKrakowa); propagator of the idea of Sisterhood and Women's Circles, in which she sits and convenes. She writes books and teaches others how to write well. She believes that the future depends on women and that cooperation has greater value than rivalry.
Anna Shternshis
Professor at the University of Toronto
Anna Shternshis is the Al and Malka Green Professor of Yiddish studies and director of the Anne Tanenbaum Centre for Jewish Studies at the University of Toronto. She received her doctorate (DPhil) from Oxford University in 2001. Shternshis is the author of Soviet and Kosher: Jewish Popular Culture in the Soviet Union, 1923 - 1939 (Indiana UP, 2006) and When Sonia Met Boris: An Oral History of Jewish Life under Stalin (Oxford UP, 2017), and co-author of Jews in the Soviet Union: A History: War, Conquest, and Catastrophe, 1939–1945 (NYU Press, 2022). Shternshis created and directed the Grammy-nominated Yiddish Glory project, an initiative that brought back to life forgotten Yiddish music written during the Holocaust in the Soviet Union. A recipient of 2020 Guggenheim Fellowship, she is currently working on a book tentatively entitled Last Yiddish Heroes: A Lost and Found Archive of the Holocaust in the Soviet Union about Yiddish music created in Nazi-occupied Ukraine.
Carlos Panek
Public servant, Department of Culture of the City of Krakow
Carlos Panek is a Brazilian Polish, born in São Paulo, moved to Poland 15 years ago. Since that time, he worked at the International Relations Office of the Jagiellonian University, at the Polish National Agency for Academic Exchange and at the Department of Culture of the City of Kraków. Carlos has been putting all his efforts in promoting Poland abroad, and also, bringing other cultures to Poland.
Co-founder & Executive Director of Tech To The Rescue
Co-founder & Executive Director at Tech To The Rescue, the largest professional network of digital technology providers implementing solutions for good pro-bono. Daniel spent ten years developing startups and well-established businesses in the IT industry. Extensive experience in building cross-functional teams and organizational culture. Passionate about using technology to solve the world's most pressing problems. Recognized as Forbes Under 30.
Diversity, Equity & Inclusion Consultant
Magda was recognised as 1 out of 25 Influencers by Forbes Women Poland. Magda is an experienced recruiter with ten years in various fields, five including IT, who is now proudly and courageously working together with her clients all over the world to create Trans-Inclusive workplaces (#TransPerspectiveMatters). She was invited to work with companies, such as: Grammarly, Zalando and SWAROVSKI.
Chief Executive Officer & Co-Founder of Calmsie
Marcin, an innovation-oriented entrepreneur and strategist with a strong scientific background, holds a BSc in Mathematics and a BA in Economics from the University of Warsaw. He consistently leads impact-driven ventures, focusing on sustainability and digital health. Notable recent projects include developing gaming solutions for children's mental health and conducting research on medical-grade music at renowned institutions such as Columbia and Cornell. With extensive experience in external relations and negotiations, Marcin previously served as a long-term member of the management board for third-sector organizations. In addition, he actively participates as a panelist and advisor at international economic congresses. Marcin has received recognition as one of Forbes' 25 under 25 and is esteemed as one of the 50 most creative individuals in the business landscape of Poland.
Activitst, Human rights defender, journalist and founder of the The Women's Political Participation Network
Since arriving in Poland, Nilofar has become an internationally recognised advocate for Afghan women and girls, participating in dozens of conferences and meetings in Europe at the invitation of the EU Special Representative for Afghanistan and the UN Special Rapporteur for Afghanistan. Nilofar served for a US NGO as a special consultant for Afghanistan, where she was directly responsible for supporting the identification and evacuation of women's rights activists and victims of forced marriage and gender based violence. Nilofar attended the UN Human Rights Council 50 and spoke on the human rights violations Afghan women and girls experience under the Taliban. Nilofar currently serves as a representative for the UN Women's Peace and Humanitarian Fund. Nilofar continues to serve as the CEO of Asia Times, ensuring accurate reporting on news stories from Afghanistan, including the continued assault on the rights of Afghan women and girls.
Co-Founder of Longevity Hub. Behavioral Science enthusiast
Uliana Shchelgacheva is a CEO and Co-founder of Longevity Hub, a startup developing a digital companion that will support and develop healthy lifestyles among people 50+. Uliana's professional experience spans 5 countries, in such companies as KPMG, Parker Hannifin, Switzerland - Global Enterprise, primarily focusing on corporate finance and business development. In the recent years Uliana has been actively supporting startup teams and executives as a coach, including experiences as a judge and mentor in Mass Challenge, in Lausanne. Uliana holds a Master's degree in Behavioral Science from the London School of Economics, and she is also a Chartered Certified Accountant (ACCA), and a certified coach (ICF).
Composer
Wassim Ibrahim, was born in Damascus, Syria in 1978. In 1998 he finished his first undergraduate study in civil engineering assistant at Damascus University. Wassim graduated Higher Institute of Music in Damascus in 2010. Ibrahim completed a Master of Music degree in composition at the Music Academy of Krakow. Currently he is a PhD candidate in Music Composition at the Music Academy of Krakow, Poland. His compositions have been premiered and performed in many festivals, countries and concert halls throughout the Middle East, Europe and North America. His Orchestra' piece Behind the Death was performed in The Concert Hall of Philharmonic-Krakow- Poland, Axes festival at the Music Academy of Krakow, Ibrahim's Soliloquist have been featured for the Syrian Cultural Days Festival in the Muth Theatre, Burgtheater Kasino, Eherbal saal, Vienna, Austria. His compositions have also been enjoyed in Germany, and the Opera House of Damascus.