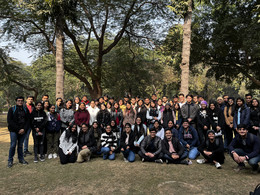 All our lives we are taught to colour between the lines or work around set boundaries. But, why do we need boundaries and why do other people get to decide for us?
Boundaries are often sites of confinement. Although, they are reassuring because there is no space for any dread related to the activity of thinking, but violating the rules is the first step towards reconnecting with our creativity. We aim to inspire, as well as challenge individuals to think beyond the boundaries and paint the canvas of the world with their true colours without any set limits and reconnect with their higher selves.
Prominent speakers from all walks of life will come together to share their experiences and insights. One-on-one sessions to stimulate interaction after the event and performance before; TEDxCVS will be an extravaganza like none other!
Speakers
Speakers may not be confirmed. Check event website for more information.
Akshay Srivastava
Performer (Standup Comedian)
Akshay Shrivastava is a Mumbai-based stand-up comedian who has performed in numerous well-known reality shows like Comic Con, Good Night India and the Great Indian Laughter Challenge. Having completed his MBA from NMIMS, Akshay's YouTube channel has gone up to garner 11 million views and 100 K subscribers so far. Mr Shrivastava recently completed his first India tour with Solo, Quiggy his self-created delivery app. Coming to his future endeavours, Akshay is the first comedian in India to work on a mental health-based stand-up comedy solo of more than 40 minutes. The ace comedian also aims to create a series of story-based stand-up comedy shows in the future.
Ankur Warikoo
Author + Entrepreneur
"It is better to be busy in the chase of finding yourself instead of being busy in the rat race and never knowing yourself." The quote you just read is from "Do Epic Shit", a book that took Indians by storm and became the bestseller for the year 2022. With that in mind let's hear about the man behind these wise words of wisdom and our speaker for the event, Ankur Warikoo. A Delhi boy who dropped out of Michigan and became a household name in every discussion revolving around financial literacy and personal growth. In his own words, Ankur considers himself to be an amateur who just showed up every single day. As humble as these words may sound, they do justice to the man's character; a character built by passion, persistence and prudence. A serial entrepreneur, a bestselling author, an online educator and a content creator; he's someone who has always coloured outside those boundaries.
Anubhav Dubey
Entrepreneur
Anubhav Dubey represents a way to connect with the success story of Chai, the nation, and its delights. "The Kulhad Man of India" awaits us with high anticipation. His high entrepreneurial exhibits would not only empower positive convictions but also allow us to carve out our unconventional and uncomfortable milieus. Despite not being able to clear the UPSC exam, he didn't cast aside or give up. He decided to start a business, which is quite inspiring. Interestingly, the fun fact is that Anubhav doesn't drink tea but he created his own empire revolving around it because he believes that "your product needs to be customer-centric and not your ego". Such narratives about him not only make us want to learn more about him, but they also energise us to accumulate and preserve such positive ideologies.
Bhangra Inspire SGTB Khalsa College
Folk Dance Society
BHANGRA INSPIRE, the bhangra society of SGTB KHALSA College is one of the finest folk dance societies at Delhi University. They have competed with almost all the folk dance societies and emerged as a winner among them. They present the folk dance of Punjab along with the essence of versatility since its members are trained in different styles of bhangra! Having bagged multiple titles they have been the BEST FOLK DANCE society at DU FEST 2017, and one of their videos has been featured on Gabroo TV's YouTube channel- The largest Bhangra library in the world. With modernization taking over everyone, Bhangra Inspire wants us to not forget about our culture and stay connected to our roots.
Gaurav VOID
Performer (Rapper)
Gaurav (widely known as 'Void') has established a place for himself in the Indian hip-hop culture hailing from the state of Uttarakhand. Currently, one of the most instantaneous growing music artists all over the country, his unique music has the power to inspire people. Well-known for his passionate, fast-paced, and raw lyrical rap style, he earned thunderous applause and a lot of praise on MTV Hustle, Season 1 from both the audience and judges. With splendid anthems like Sidhe Pahad Se, Emptiness, Void Kaun hai, etc. which have already crossed a million views benchmark, Gaurav is on his way to becoming the go-to name in the hip-hop industry. He has given his stage name 'Void' a completely different meaning. Void has not only excelled in the art of rapping but also in the field of Dance. This versatile and multiskilled personality is what makes Void a true artist.
Harteerath Singh
Social Activist
Mr Harteerath Singh's work in the field of social activism has been highly recognised and he has been featured in Cosmopolitan's Hope Issue, is listed as Forbes 30 under 30, HT City 30 under 30, and has been acknowledged as a Social Activist of the year by Grazia. But his most pleasant achievement is being conferred the title of 'Father of good hope' by the millennials. When the country was devastated, traumatized and overwhelmed by the second wave of coronavirus, this young, gentle and humble man was out on the street to provide people with the elixir of life. As the Community Development Director at the 2010 incepted Hemkunt Foundation, Harteerath led the national effort and assisted localities in overcoming the exceptional COVID-19 pandemic challenge. He asserts that "Sewa starts at home", and believes that little actions in our daily life can bring about great changes in society.
Lt Gen Kanwal Jeet Singh Dhillon
Veteran
Having served for five tenures in Kashmir since 1988, Lieutenant General Kanwal Jeet Singh Dhillon has an inclusive and thorough understanding of the state. In the 30 years of his service, he has been awarded several medals, including the Param Vishisht Seva Medal, the Uttam Yudh Seva Medal, the Yudh Seva Medal, and the Vishisht Seva Medal. He is an epitome of the phrase, "Hard work pays off, and failures are not final." He has been a pillar of hope in society. Through the "Taleem se Taraqqui" (Development through Education) Campaign, he has elucidated the role of education in the development of Kashmiri youth. Through concerted efforts, he and his team were able to track down the Pulwama Blast's culprits within the first 100 hours. Being a strong proponent of peace, he actively participated in "Operation Maa," in which he made an appeal to the mothers of local terrorists to persuade their sons to reject the path of violence and reintegrate into society for safe rehabilitation.
Monica Shah
Fashion Designer
a speaker who is exceptionally passionate about art and craft, a true connoisseur of couture, honoured with the Compassionate Designer Award and featured in Lukebook magazine as one of the 50 Most Influential Women in Luxury in India. Monica Shah, is the founder of JADE. She views fashion as a means of self-expression and a channel through which we can connect with and celebrate our roots, and with this clarity of thought, she has kickstarted the #riseforindiancraft movement to bring awareness to traditional Indian arts and crafts, as well as help sustain it with modern innovation. Over the years, Monica's journey as a leader has been inspiring, especially to those who believe in creating positive environmental and social change by doing what they can. To create a greater impact in society, she plans to expand this brand globally and build collaborations with indigenous artisans from India. In the field of fashion, she has demonstrated remarkable devotion and endeavour.
Samir Kumaar Modi
Entrepreneur
Samir Kumaar Modi is a visionary, a purpose-driven global thought leader invested in reimagining leadership. A Harvard alumnus, Samir ventures beyond business to lend his voice to global issues ranging from DEI to sustainability to women empowerment and social inclusion for the marginalized. He is an empathetic leader who strongly believes in giving back to society. Handling multiple responsibilities with unmatched confidence and finesse, he currently spearheads Modi Enterprises as its Managing Director. He pioneered and orchestrated the Direct Selling revolution in India in 1996 and championed a movement called @officialmodicare.india. With the determination to launch international quality make-up products, he launched Colorbar, a brand rooted in the philosophy of 'Made for Magic'. He has also launched @24sevenin Convenience Stores, India's first-of-its-kind, round-the-clock convenience retail chain that has gone on to become an indispensable part of our everyday lives.
Shirin Sewani
Actress
Shirin Sewani is a Delhi-based actress who has worked on a variety of projects, including web series, TV commercials, digital films and ads, short films, and theatre. Her works can be found on your run-of-the-mill OTT platforms like Netflix, Sony Liv, Jio Cinemas, and others. Taj Mahal 1989, Beauty Spot, LSV, 16, Backpackers, and Dev DD are some of the names among her web series credits. Her experience in television commercials is truly remarkable. Her appearances in commercials for McDonald's, Parachute, Truly Madly App, McCain, Vodafone, and others say it all. She had the opportunity to work on her own short film in 2013, which is titled "Rabiya." Sewani is a trained theatre actress who graduated from Kirori Mal College's dramatic society, "Players." She has appeared in 76 street plays at Delhi University, the Shree Ram Center, the Indian Habitat Center, and Prithvi Theater.
Shrishti Singh
Blockchain Expert
"It's okay if you fall down and lose your spark. Just make sure that when you get back up, you rise as the whole damn fire." With the spirit of this quote, we would like to introduce our speaker Shrishti Singh. Shrishti is fierce, strong, and full of fire. At the age of only 20, she is the co-founder of the world's first multi-chain WaaS platform. Not only this, but she is also the web3 lead for her company. Starting a company of your own can be a daunting and mythical task but Shristi has managed to do it with grace. An inspiration to many, she is bound to become your favourite with her zeal and moving personality. Shrishti believes in staying true to your life's motive and never giving up. After all, It is the courage to start that counts.
Sourabh Goyal
Founder + Content Creator
A person who always puts personal growth over achieving success; is driven by a passion for travelling and exploring new business opportunities, while also relishing the chance to meet and connect with diverse individuals and gain insight into their unique perspectives. Sourabh Goyal is a highly accomplished entrepreneur and consultant known for founding Success Brew and being chief consultant at The Goalchy Club Community. He is an inspiration for his tireless efforts and unwavering dedication to success. His journey from being a mechanical engineer to a successful community founder serves as an inspiration to many. He received the Golden Book of World Records award for his book "Growth Hacking Book 2" which has had a profound impact on many startups and entrepreneurs. He is known as a coach, community builder, marketing influencer, product launch expert, life coach, and master strategist who excels at helping others see things in a better way.
Sushil Jaiswal
Performer (Mentalist)
Sushil is the man who delivers remarkable prowess displays eye-opening tricks. The youngest prodigy performs all kinds of creative acts, from reading minds to performing Illusions which makes it impossible for the audience to resist his charm. He proved himself to the world by making his way into the prestigious Guinness Book of World Records. Well, it doesn't stop there, with his utmost dedication towards this arena; he became the Best Mentalist in India and is widely admired.