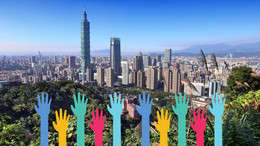 Dare to Jump
Sharing life experiences by world expats or digital nomads, bravely embracing the world, sharing the challenges of live different exotic cultures, and the advantages and disadvantages of different lifestyles. Share the tactics how-to self-discipline, time management, and self-positioning.
Changes in future work and lifestyles will provide young people with different career prospects and develop an international mindset and help them find the modern way of life-work balance. Especially after Covid-19, many young people put their dream on hold; we would like to encourage them to take action.
Power of mini entrepreneur
Sharing the start-up experience of young micro-entrepreneurs, guiding others to have the courage to step out of their comfort zone, not limit themselves because of their age, advocating the spirit of small makers, and share not only successful experiences but also failures. And how to recover from setbacks, make corrections, and self-encourage and self-motivation in low tide. Encourage independent thinking, believe in yourself, be brave and work hard to pursue your dreams.
Don't underestimate your strength; strengthen hands-on and action, encourage innovation, creativity, and maker spirit, find your talent, and give full play to it.
From Me to We
Create a better city together from a young age. Through the youth's new imagination of the community, the urban neighborhood network should build without limitation, creating an energetic atmosphere in Taipei. Young people can provide more diverse points of view, and creative action plans can be implemented and continuously developed to enhance the positive influence of the young generation.