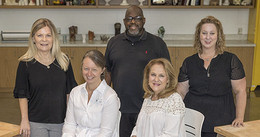 In the spirit of ideas worth spreading, TEDx is a program of local, self-organized events that bring people together to share a TED-like experience. At a TEDx event, TEDTalks video and live speakers combine to spark deep discussion and connection in a small group. These local, self-organized events are branded TEDx, where x = independently organized TED event. The TED Conference provides general guidance for the TEDx program, but individual TEDx events are self-organized (subject to certain rules and regulations).
Speakers
Speakers may not be confirmed. Check event website for more information.
Eduardo Chavez
DEA Special Agent in Charge
he New F Word – Fentanyl" Special Agent in Charge (SAC) Eduardo A. Chávez leads the Drug Enforcement Administration's Dallas Field Division, overseeing all DEA operations in North Texas, including Dallas, Fort Worth, Lubbock, Amarillo, and Tyler, as well as the entire state of Oklahoma, with offices in Oklahoma City, Tulsa, and McAlester. SAC Chávez began his career over 21 years ago, where he spent several years doing extensive undercover work infiltrating Mexican drug trafficking organizations and leading complex conspiracy cases targeting some of the most prolific methamphetamine and heroin traffickers in the Southwest. Previously, SAC Chávez has held assignments in the Central Valley of California, México City, New Mexico, and DEA Headquarters in Washington, D.C. SAC Chávez grew up along the Southwest border in New Mexico and holds a Bachelor of Science in International Politics from Georgetown University in Washington, D.C.
Keidrain Brewster
Author, Trucking Company Owner, Prison Reformer
Keidrain Brewster is a returned citizen that spent 13 years in the Texas prison system. Since his release, he has built his own trucking company & is the author of two books: From the Rec Yard to the Streets, which outlines lessons from his time in prison & how he applied them upon release; & From the Streets to the Suites, in which he tells of his journey starting his own business & reaching success. He also tours prisons with his inspiring message of reform and transformation.
Lisa Uhlir
Government Faculty
Dr. Lisa Uhlir has a wide variety of interests which led her to degrees varying from Russian Studies to Philosophy and International Economics. She graduated from George Washington University, the University of North Texas, and the University of Texas at Arlington. In a personal search of her Ojibwa history, her research and publications on Indigenous topics have focused primarily on Native American Boarding Schools and the history of Black Indians.
Mark Reed
Philosophy Faculty
Mark Reed studied philosophy at the University of North Texas and the University of Texas at Austin. He lived and taught in Europe, pursued a career in museum design, then returned to his first love, teaching philosophy. He has taught at Tarrant County College for 20 years. His special interests are metaphysics, the philosophy of physics, and the philosophy of time. He loves traveling and learning languages. He has a wonderful wife Sara, also a teacher, and he has four children. He firmly believes that children were sent here to teach us patience and make us more spiritual.
Movers Unlimited
Touring Dance Company
Movers Unlimited is the touring dance company of Tarrant County College NE Campus. Movers Unlimited focuses on community services, community outreach, and dance education in local schools to make contributions to the community's artistic enrichment. Organizations that Movers Unlimited has reached out to include Humane Society of North Texas, Tarrant Area Food Bank, God's Love We Deliver, Broadway Cares, SAGE (Services and Advocacy for LGBT Elders), and many more. This incredible touring dance company is accomplished and effective at reaching out to organizations across the nation. They are sure to inspire and entertain you.
Paul Glover
Leadership Development Coach
Paul Glover is the No B.S. Leadership Development Coach; a "recovering trial lawyer"; an ex-felon, the author of WorkQuake™: Making the Seismic Shift to a Knowledge Economy; a member of the Forbes Coaching Council; a Forbes contributor; a speaker on Leadership & the Future of Work; an unabashed Starbucks addict; and a Chicago Bears fanatic.
Raymond Benge
Physics and Astronomy Faculty
Raymond Benge is Associate Professor of Physics and Astronomy at Tarrant County College, and holder of the Chancellor's Award for Exemplary Teaching. His interest in astronomy and physics began as a boy growing up in Houston during the Apollo missions to the Moon. In addition to teaching physics and astronomy and doing research in variable stars, he routinely hosts public star watches for the community and routinely gives public presentations about astronomy, physics, and space exploration. He has also extensively published essays on multiple science topics for various reference works and encyclopedias.
Raymond Turner
Recording Studio Producer
Raymond Turner is the Recording Studio Producer at Cook Children's Medical Center in Fort Worth, TX. Sparklefly Studio is the recording and creative space where he works daily with patients on songwriting, music production, recording projects, and learning instruments. Most notably, Raymond would describe the HeartSongs legacy projects as the pinnacle of his service to families at Cook Children's. Prior to relocating to Forth Worth from Houston, Raymond worked as a professional drummer, music director, arranger, and recording engineer. His vision is to bring together all facets of the creativity and innovation in his arsenal to "give musical wings" to the tremendous gifts hidden inside the rockstar patients at the hospital. "Pain has a way of slowly silencing our voices; my calling is to amplify our God-given voices, because the world is a quieter place without them."
Tigi Vinson
Co-founder Non-Profit Organization
Tigi Vinson is a Texas native and co-founder of a nonprofit organization that focuses on improving the foster care system. She and her husband have been foster parents for almost five years and have had nine children in their home throughout that time. Tigi is pursuing a degree in Social Psychology and Social Justice in an effort to better impact the legal systems in place. Tigi lives with her husband, their two dogs, and at least one son (depending on the day).
Victor Allen
Sergeant Major, USA, Retired; Adjunct Faculty
Sergeant Major Victor Allen, USA, Retired, is a native of Orlando, FL. He knew at seven years old that he would become a servant leader in the military or law enforcement. Twenty-eight years of honorable service led to numerous awards and commendations by former U.S. Presidents, the Secretary of Defense; U.S. Army Chief of Staff to name a few. Victor Allen was awarded the 2011 Veterans Brain Trust Award by the Congressional Black Caucus Annual Legislative Conference for forming a Military Community Relations Program that provided mentoring for at-risk kids for eight years. He holds a Master of Social Work degree in Advanced Community Practice and a Minor in African American Studies from The University of Texas at Arlington. Currently, he serves as an Adjunct Instructor at Tarrant County College, NE Campus, in the Mental Health and Human Services Department. Sergeant Major Allen is a Certified Agile Coach and a SAFe SCRUM Master, coaching teams and executive leaders.