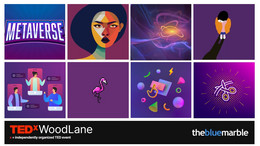 In the spirit of ideas worth spreading, TEDx is a program of local, self-organized events that bring people together to share a TED-like experience. At a TEDx event, TEDTalks video and live speakers combine to spark deep discussion and connection in a small group. These local, self-organized events are branded TEDx, where x = independently organized TED event. The TED Conference provides general guidance for the TEDx program, but individual TEDx events are self-organized (subject to certain rules and regulations).
Speakers
Speakers may not be confirmed. Check event website for more information.
Amardeep Shakhon
Founder
Amardeep is an award-winning designer and the founder of Bros&Co, a sustainable product and service design company. He has helped enterprises transform their approach to global and planetary problems.
Futurist, Speaker, Author
Recently named one of 2022's 'Top 25 Women in the Metaverse', Amelia Kallman is a leading London futurist, speaker and author. As an innovation and technology communicator, Amelia regularly consults brands, agencies, and governments on the impact of new technologies on the future of business and our lives. She forecasts global trends and behaviours, helping clients navigate innovation, build strategies and deliver industry leading initiatives. She specialises in the emerging opportunities - as well as the risks - of XR, AI, data, and IOT. Recent areas of study include the future of the metaverse, NFTs, blockchain, tech responsibility, and the surfacing human rights issues of tomorrow. She hosts the podcast XR Star, her popular innovation newsletter and YouTube channel, The Big Reveal, as well as a new series on YouTube called 'Blockchain in the Metaverse'. Clients include Unilever, Tata Communications, Vodafone, Lloyd's of London, Maverick AV, and UK Parliament.
Gurmit Shakhon
Founder
Gurmit is an award-winning designer and the founder of Bros&Co, a sustainable product and service design company. He has helped enterprises transform their approach to global and planetary problems.
Jamila Brown
Social Responsibility Leader
Jamila Brown is the Head of House Foundations at Soho House, driving social responsibility initiatives around the world to deliver long term and engaging environmental and social impact programmes. Having established a growing international network of creative leaders, Jamila's work focuses on fostering innovation and collaboration between brands to make positive impact initiatives inclusive, sustainable, and wide reaching.
Lena Chauhan
ESG Consultant
After 20 years in finance, Lena made a transition into health-tech and became passionate about social entrepreneurship. She has been actively working with Teens in Artificial Intelligence, BAME community groups & Dementia Care to create and build technology services and products resulting in positive social impact. Lena is also the Founder of Rise IQ which bridges the gap between companies & ESG reporting responsibilities, with sustainable social impact. Rise IQ consults with brands helping clients to create and navigate their sustainability strategy.
Richard Pearson
Chief Innovator
Dr Richard Pearson is the co-founder of Kyoto Fusioneering Ltd, a Japanese fusion energy start-up launched in 2019. Richard serves as the company's Chief Innovator, where his primary focus is on commercialisation and taking the company's technology to market. Despite being 31 years old, his research and current entrepreneurial exploits have provided him with expertise in fusion energy systems and innovation. His ideas and understanding of fusion commercialization, strategy and policy have seen him gain international recognition. He has spoken at several high-profile international events, and was recently appointed as the Guest Editor of the Journal of Fusion Energy. Richard has a background in mechanical and nuclear engineering, and holds a PhD in Fusion Engineering and Innovation from The Open University (UK). He is also a senior research associate (visiting) at both Kyoto University, Japan, and the University of Bristol, UK.
Russell Dalgleish
Scottish Serial Entrepreneur and Global Network Builder
Russell is founding Managing Partner of the advisory group, Exolta Capital Partners, www.exolta.com and Founding Chair of Scottish Business Network, www.sbn.scot the global network supporting Scottish business leaders achieve international success.
Stephanie Itimi
CEO at Seidea and Protegr
Stephanie Itimi is a PhD research student in Information Security, based within the CDT in Cyber Security at Royal Holloway, University of London. She is also the founder of Seidea, a career development platform with a mission to support 100,000 Black and Minority Ethnic women in their entry into the cybersecurity sector by 2040. She has also played a significant role in the development and manufacturing of high-profile initiatives in Slovakia, Morocco, the United Kingdom and several West and East African nations through her diverse consultative experience with Culture Fez, Balloon Ventures, UN Women and the European Commission, promoting freedom of data, digital literacy, financial empowerment and gender equality.