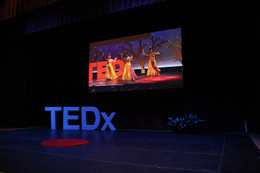 TEDxStThomasAquinasHS
TED is an nonprofit, nonpartisan foundation dedicated to the mission of spreading magnificent ideas worldwide. TED establishes a platform, which allows any human being, regardless of race or social status, to expand their ideas and challenge the world's way of thinking.
St. Thomas Aquinas High School has decided to extend this platform and allow their students and other guest speakers to express their unique ideas. This year's 2023 theme is based on interdisciplinary approaches, because it is important to remember how and why we are all connected!
Presented by STA's STEM Steering Committee
Speakers
Speakers may not be confirmed. Check event website for more information.
Adrienne Zarn
AI Leader
Adrienne Zarn is a Project Portfolio Director for Artificial Intelligence Services at Levatas, an Artificial Intelligence Solutions company based in West Palm Beach, Florida. A graduate of St. Thomas Aquinas High School in 1995, Adrienne holds degrees in Political Science from Saint Mary's College in Notre Dame, Indiana, and America University in Washington, DC. She also has an Agile Certified Practioner Certification from the Project Management Institute since 2015. Adrienne's career evolution began in political campaign management and human resources management until she found her love of technology consulting working at Accenture and Emerson Network Power before joining Levatas in 2015, managing projects with Computer Vision Model Integrations with Boston Dynamics and other technology partners. Adrienne resides in southern Palm Beach County, Florida with her husband, Michael, and three children, two of whom are current students at STA.
Beth Albrecht
STEM Steering Committee Member, Math Teacher, Moderator of the National Tech Honor Society
Beth Albrecht is a high school math teacher at St. Thomas Aquinas High School. A graduate of Gonzaga Preparatory School in 2009, Beth holds degrees in Music and Theology from Concordia University in St. Paul, Minnesota, and a Masters in Math Curriculum and Instruction from Purdue University in West Lafayette, Indiana. Beth's career evolution has been an exploration of her passions. In her first teaching placement, she was given the opportunity to teach a wide variety of subjects including music, theology and math. This allowed Beth to find her true calling, using her knowledge of the arts and the brain to open the world of math to her students. In 2017, Beth joined the faculty at St. Thomas where she has taught a wide variety of math and coding courses. She is also a member of the STEM Steering committee and the moderator of the National Technical Honor Society. She truly has a passion for both music and math and desires every day to share that passion with her students.
Emma Coronado
Co-Captain of the award winning FIRST Technical Challenge Robotics Team
Emma Coronado is a Senior at St Thomas Aquinas High School. She is co-captain of the award winning FIRST Technical Challenge robotics team 14431, the Pyrites, whose central mission is to inspire the next generation of girls in STEM. Emma is also a cheerleader for her school's Varsity Football team and hopes to major in Computer Science and Engineering next year.
Isabella Neustein
Speech and Debate Member, President of Healthy Boundaries
Isabella Neustein is a driven and passionate junior at St. Thomas Aquinas High School. From a young age, Isabella has been captivated by writing, traveling, and public speaking, all of which have inspired her to pursue her dream of one day becoming a published author. Her dedication and commitment to her passions are evident in her involvement in various extracurricular activities, including the forensics speech and debate team, the Care club, Aquinas Kindness, STA serves, and an organization called Cadena, which is focused on giving back to immigrants and those affected by natural disasters. Isabella is also an active volunteer at her local Jewish Community Center, where she is a student leader, and she dedicates her Saturdays to teaching children about the importance of individuality. As the President of Healthy Boundaries, Isabella uses her platform to raise awareness about social media and its impact on mental health.
Isabelle Braman
Dance Honor Society Member
Dance has been a part of Isabelle's life since she was 3 years old. Throughout her life she learned various different types of dance styles including ballet, tap, jazz, hip hop, pointe, contemporary, and lyrical. At a young age she fell in love with dance, so much that she joined a studio's competitive team in 5th grade. Isabelle competed for three years and was able to be a part of many amazing dance events all around Florida. Although she stopped competing, her love for dance continued. In high school she auditioned for the STA Dance Company and made the team, this gave her the opportunity to start competing again. Being a part of Dance Company also makes her a member of the Dance Honor Society and she has been an active member since freshman year. Isabelle is the only senior to have taken Dance Choreography Honors for all four years of high school. This has allowed her to be a leader in her dance class and share her creative ideas with her peers.
Jacob Giron
Aquinas Kindness Club Member
Jacob Giron is a senior in the class of 2023 of St.Thomas Aquinas High School. Since freshman year, he has been heavily involved with a club, Aquinas Kindness and has given countless speeches promoting the value of kindness to multiple middle schools in the South Florida area. He loves to read, learn from leading CEO's, and take part in internships, which has developed his passion for business. He is pursuing a degree in accounting and his career goal is to lead a capital management company. He has reflected on what he has learned and from his experiences to give this talk about the cost of opportunity.
Jessica Basi
Conservation Activist
Jessica Basi was born and raised in South Florida, growing up in and around the ocean. She began offshore fishing with her family at a very young age and developed a love and respect for the diverse, unique ecosystems found throughout the southern half of the peninsula. Jessica received her Bachelor of Science Degree from Nova Southeastern University and her Master of Science Degree in Applied Sociology from the State University of New York Polytechnic Institute. She started an environmental organization, MangroLife, Inc. with her son, Jonah in 2020. With help from community volunteers, and her husband, Joe, MangroLife has removed over 4,000 pounds of ocean-bound trash from our local waterways. She has been an educator for over twenty years and currently teaches AP Psychology at St. Thomas Aquinas High School.
PhD
Dr. Kyle Bauckman is the director of multiple curricular blocks for NSU MD including pre-matriculation, Fundamentals, and Research. Dr. Bauckman also serves as the student research director for NSU MD which allows him to provide guidance for students interested in pursuing medical education-focused projects. Dr. Bauckman's research interests include innovative medical education projects that cover a broad range of topics including admissions, curriculum, and educational technology. Prior to NSUMD, Dr. Bauckman received his Ph.D. in Cancer Biology at Moffitt Cancer Center focused on the influence of bio-iron in pre-cancerous ovarian lesions. After graduating, Dr. Bauckman worked at Washington University in St. Louis with a focus on infectious diseases and Women's health.
Liam Connor
National Music Honor Society Member
Liam Connor is a musician attending St. Thomas Aquinas High School. In and outside of the classroom, he has performed in a variety of musical groups and programs, including his school's marching band, jazz band, and choir; the Florida All State Reading Chorus; and the FBA Solo and Ensemble. His hopes are to continue studying music fully when he attends college. Liam would like to thank his mother and grandparents for always supporting his passions."
Matthew Wisnoski
Activist and Theologian
Matthew is a high school teacher celebrating nine years of service in Catholic education over four different schools in two states! He is in his first year at St. Thomas Aquinas, and strives to bring passion, positivity, and authenticity to his teaching. He works to make faith come alive and for his students to see that what we believe has a direct impact on their lives. He has background experience in the performing arts, dance, Campus Ministry and student activities. A native of Houston, Texas but has now come to enjoy Florida as his home for the last 8 years. He is ecstatic to be able to share his message with you today, and he hopes it inspires you to think about what makes you YOU!
Miniaris Montanez
Co-President of Campus Ministry at St. Thomas Aquinas High School
Miniaris (Mini) Montanez is a senior who has been dancing for about 7 years and competing for 5, training in contemporary, jazz, lyrical, acro, ballet, and musical theater. She dances at a local studio, DANL, and is part of the STA Dance Company, of which she is the Company Manager. Mini loves to choreograph and had the opportunity to choreograph 3 group routines to be competed this March. Outside of the dance world, she loves doing service and being involved in my community. She is the Co-President of Campus Ministry and has her own service project and is a Donate2Dance Ambassador (a program that provides costumes and dance wear for nonprofit dance studios).
Wanda Drozdovitch
Musical Performer
Wanda Drozdovitch, Mrs. D, studied at the Glier College of Music in Kyiv, Ukraine, where she graduated with Honors in Piano Performance and Pedagogic. In college, she received vocal and choral training as well. She also studied piano performance under Professor Z. Kryshtalsky and the organ under Professor S. Daitch at the Lviv State Conservatory and holds a Master's Degree of Arts in Music. Wanda Drozdovitch performed concerts on Vladimir Horowitz's piano, i.e., Noon Concerts at the Troy Music Hall, NY. She played as a soloist with the Youth Symphony for the United Nations under the direction of J. Eger. Mrs. D. is in her 9th year as a director of choral activities at St. Thomas Aquinas High School. Under her direction, STA Chorale performed at Carnegie Hall and Epcot Candlelight Processional. Her choirs consistently earn Superior Ratings at the District and State Music Performance Assessments.