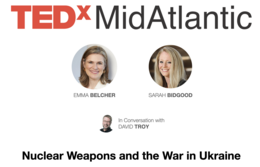 Vladimir Putin's illegal war in Ukraine has raised the spectre of whether and how nuclear weapons might be deployed. While the use of nuclear weapons is widely considered to be "unthinkable," and may lead to unpredictable escalation and even mutually assured destruction, we are now faced with the possibility that new, smaller tactical weapons may be used as part of a strategy to "escalate to de-escalate." We'll hear from nuclear weapons experts Emma Belcher and Sarah Bidgood about what's real, what's not, and most importantly how we can maximize the probability that nuclear weapons are never deployed.
Speakers
Speakers may not be confirmed. Check event website for more information.
Nuclear Weapons Expert
Emma Belcher, PhD is president of Ploughshares Fund. Prior to arriving at Ploughshares, Emma spent nearly a decade at the John D. and Catherine T. MacArthur Foundation, where she led the foundation's Nuclear Challenges grantmaking program. There, she developed and built the foundation's Nuclear Challenge Big Bet team—from ideation to planning to management of a nearly $20 million budget. Emma served as a Stanton Nuclear Security Fellow at the Council on Foreign Relations. She also served as an advisor in Australia's Department of the Prime Minister and Cabinet on national security and international affairs and as a public affairs officer at the Australian embassy in Washington, DC.
Nuclear Non-Proliferation Expert
Sarah Bidgood is the director of the Eurasia Nonproliferation Program at the James Martin Center for Nonproliferation Studies in Monterey, California. Her research focuses on US-Soviet and US-Russia nonproliferation cooperation, as well as the international nonproliferation regime more broadly. She is the co-editor of the book Once and Future Partners: The United States, Russia, and Nuclear Non-Proliferation, which was published by the International Institute for Strategic Studies in 2018. She also leads the Young Women in Nonproliferation Initiative at CNS.