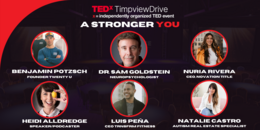 TEDx "A Stronger You" is a one-day conference that aims to empower and inspire attendees to become their strongest selves. Our lineup of speakers includes experts in various fields such as psychology, fitness, personal development and business who will share their insights and experiences on how to build resilience, overcome challenges, and create a fulfilling life.
Speakers
Speakers may not be confirmed. Check event website for more information.
Benjamin Potzsch
Extreme Athlete, Founder Twenty U
Young entrepreneur. Ultra marathon runner. 23 years old. Moved to the US 2 years ago to chase my dream. Love helping the younger generations reach their full potential.
Author, Test Developer, Neuropsychologist
Sam Goldstein obtained his Ph.D. in School Psychology from the University of Utah and is licensed as a Psychologist and Certified School Psychologist in the State of Utah. He is also Board Certified as a Pediatric Neuropsychologist and listed in the Council for the National Register of Health Service Providers in Psychology. He is a Fellow of the American Psychological Association and the National Academy of Neuropsychology. He is an Adjunct Assistant Professor in the Department of Psychiatry, at the University of Utah School of Medicine. He has authored, co-edited, or co-authored over fifty clinical and trade publications, three dozen textbook chapters, nearly three dozen peer-reviewed scientific articles, and ten psychological and neuropsychological tests. He is Editor in Chief of the Journal of Attention Disorders (https://journals.sagepub.com/home/jad ). Since 1980, he has served as Clinical Director of The Neurology, Learning, and Behavior Center in Salt Lake City, Utah.
Motivational Speaker/Podcaster
Heidi Alldredge: wife, mother, grandmother, aunt, friend, motivational speaker, adjunct instructor at Utah Valley University, hot chocolate bomb maker, former radio talk show host, and now a podcaster! Heidi is still deciding what she wants to be when she grows up! Heidi has been married since 1992 to Christopher and together they have 3 children (age ranging from 21 to 29— two of her children are married now) She loves spending Friday nights (or any other time) with her grand-babies. Other hours of the day she is recording great inspiring interviews for her LemonAid Stand Podcast, shopping for bargains, traveling with her family, lunch dates with friends, going to concerts, and writing- either in her journal, notes to friends, or her own motivational presentations! Heidi is a recovering "why-me-er" and is currently teaching the art of positive thinking!
CEO, Personal Trainer, Life Coach
Luis Peña, is the owner of TRNSFRM fitness in Salt Lake City, Utah. He is known as one of the top nutritionist and trainers due to his rapid business growth over the last 8 years. Luis was born in Valencia, Venezuela, where he lived with his mother until the age of 9, escaping what is now a socialist country. Being raised with little to nothing, the chase of living the American dream was the goal he set out for himself. After finishing business school Luis wanted to continue to pursue a platform in business, but after gaining 80 pounds and being diagnosed with prediabetes and stomach ulcers, he decided to change his whole life perspective. The first realm of transformation for Luis was physical, losing 60 pounds of fat and gaining muscle through an extensive 8 month training program that would lead him to compete in his first bodybuilding show. This opened up an entirely different doorway of success for Luis.
Autism Real Estate Specialist
I'm an Autism Real Estate Specialist, autism friendly home stylist and advocate. My sister, Angie, is the inspiration behind the coaching and advocacy in our community including training law enforcement, designing and funding sensory rooms in community centers and hosting workshops to educate families. As her co-guardian and sibling, it's my mission to create opportunities for inclusion in our community.
Nuria Rivera
NAHREP National President | CEO Novation Title
Nuria Rivera is a transformational speaker & business consultant on a mission to liberate entrepreneurs by awakening the best version of themselves. Rivera's efforts have helped inspire permanent change, disrupt the status quo & rebuild leadership skills to create real impact, more profit, & freedom in people's life. The global work-place thought leader has won the 'Best Of State' award for her multi-million dollar Salt Lake City Title company, Novation Title, for 6 years – boldly investing 12% back into each and every employee on her team; providing high ticket life training, dream-coaching, masterminds, financial literacy, non-profit work and travel experiences, to name a few.