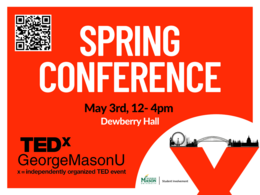 Join us for our annual Spring Conference to see TEDx talks on stage IN PERSON! There will be free food, performances, free swag, and more! This year's theme is The Bridge, with a variety of speakers from different disciplinary areas to share ideas worth spreading.
Speakers
Speakers may not be confirmed. Check event website for more information.
Abigail Mills
What's Under Our Masks?
Abigail is a senior undergraduate Honors College student pursuing a BFA in Creative Writing. She received her Associate's in Communication Studies at NVCC. Abigail was born and raised in Alexandria, Virginia. She is passionate about all things creative, and is interested in exploring how visual arts, writing, and communication skills intersect. Her project, "Masked Portraits Autofill," began with an idea that she had in 2020, and involves over 30 volunteers from the George Mason community.
Charles Davidson
New Hybridities in Peacemaking: effectiveness in local and international peace partnerships
Dr. Charles Davidson serves as Research Faculty at the Carter School for Peace and Conflict Resolution at George Mason University and is the Director of their Political Leadership Academy. He is also a longtime international peacebuilder who is passionate about the intersection of peace theory and practice. He is the founder and President of Innovations in Peacebuilding International, an organization which works to creatively accompany peace in war-torn countries. His current peacemaking pursuits are working toward sustainable peace and demobilization efforts among active fighters in the Democratic Republic of the Congo. He has also worked and/or researched in Iraq, Afghanistan, Uganda, Burundi, Colombia, Lebanon, Jordan, Tunisia, Indonesia and across Europe. He lives in Washington, D.C. with his wife Abby, an international development research director.
Chawky Frenn
Your Art, Your Voice
Chawky Frenn received a BFA from Massachusetts College of Art and Design in 1985 and completed his MFA at Tyler School of Art of Temple University in 1988. He had exhibits in the United States, France, Germany, Italy, Lebanon, and Paraguay. He participated in museum exhibits including the Hoyt Institute, Housatonic Museum of Art, Erie Art Museum, Arnot Art Museum, in US and Ludwig Forum für Internationale Kunstin Aachen, Germany. He received critical acclaim by the New York Times, NY ARTS, Art New England, Washington Post, Boston Globe and others. Frenn is the author of 100 Boston Artists and 100 Boston. His work appeared in 100 Artists of Washington, D.C., Male Nude Now, Encyclopedia of Arab American, and a monograph Art for Life's Sake. In 2017, Frenn was awarded the Fulbright-Nehru Academic and Professional Excellence Awards in India. He is Associate Professor at George Mason University in Fairfax, VA.
CJ Davis
Hurting Hearts to Hear and Heal
CJ Davis is a student at George Mason University, studying Art and visual technology, with a minor in Psychology. CJ has advocated on campus through various organizations for mental health, from organizing workshops to lobbying at the state senate. CJ has extensively researched mental health, and how it effects different communities, and the inequities of care. As a Mexican American, disabled woman, she understands the difficulties and hurdles it takes to get proper treatment. CJ plans to go to grad school for art therapy and continue political advocacy work to fight for a more equitable system.
Dean Taciuch
A Cosmic Bridge: Human Values in the Universe
Dean Taciuch has taught at Mason since 1995. Dr. Taciuch teaches literature, composition, professional/technical writing, and digital media classes. He also teaches a Technology and Culture course in the Honors College. His primary interests are in digital technology, literature, and philosophy.
Ketian Zhang
Goldilocks Choice – Debunking Myths About Chinese Foreign Policy
Ketian Vivian Zhang is an Assistant Professor of International Security in the Schar School of Policy and Government at George Mason University. Ketian studies rising powers, coercion, economic statecraft, and maritime disputes in international relations and social movements in comparative politics, with a regional focus on China and East Asia. Her research agenda emphasizes how globalized production and supply chains affect states' foreign policy and domestic state-society relations, especially regarding coercion and protests. Her research has appeared or is forthcoming in International Security, Journal of Strategic Studies, and Journal of Contemporary China.
Lisa Sechrest-Ehrhardt
Social Identity and Social Interaction
Lisa Sechrest-Ehrhardt, PHD, MSW, LMSW is a dynamic professional social worker whose career has focused on social justice, diversity, equity, and inclusion (DEI). Dr. Sechrest-Ehrhardt earned a Bachelor of Arts in Psychology from the University of Virginia, a Master of Social Work from Boston College Graduate School of Social Work, and a Doctor of Philosophy from The Catholic University of America, National School of Social Service. She has over 25 years providing interactive diversity trainings and workshops to community organizations, schools, and businesses. Her professional vision is to build bridges that connect various populations with a goal of achieving social justice, equity, and inclusion, and to celebrate diversity. Dr. Sechrest-Ehrhardt is the owner of Sechrest Diversity LLC.
Mannal Javeed
Feminism is Your Fight Too!
Mannal Javeed is a freshman at George Mason University pursuing an undergraduate degree in Business and Marketing. Mannal grew up in a small town of Pakistan where she did her schooling and moved to USA in 2019 as an immigrant. She recently started her research with a professor at GMU where she will be researching about phenomenal women entrepreneurs and their business impacts on the world. Mannal loves to travel and interact with people learning more about their religion, history and culture. She was always passionate talking about women's rights and equality; though this is the first time she will be talking on a TEDx platform. She will be talking about something she truly cares about and wants to share with the audience given this opportunity.
Padmini Nidumolu
Bridging Cultural Divides through Dance
Padmini Nidumolu is a community leader enabling the voices of women to be heard through women led events and campaigns. As an enterprise coach, her expertise and focus are to build learning organizations and deliver value by leveraging diversities as enablers leading to an enterprise culture of continuous improvement. She plays an active role in the local communities through speaking, volunteering, engaging with special interest groups with Lean practitioners, thought leaders, and coaches. She is a TEDx speaker and actively participates in community development. Padmini is a passionate Indian classical dancer and serves as a STEM coach to the school teams. She lives in the Washington DC Metro area with her husband and two kids.