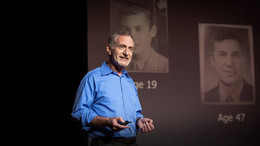 What makes a good life? What keeps us happy and healthy as we go through life? If you think it's fame and money, you're not alone – but, according to psychiatrist Robert Waldinger, you're mistaken. As the director of a 75-year-old study on adult development, Waldinger has unprecedented access to data on true happiness and satisfaction. In this talk, he shares three important lessons learned from the study as well as some practical, old-as-the-hills wisdom on how to build a fulfilling, long life.
We'll watch Robert's talk, and then break out into smaller groups to discuss your questions and reflections.
Some topics to consider:
• Of all your relationships, which is the most satisfying and what makes it so satisfying?
• Relationships are messy, complicated, and hard work. What is a challenge that you have experienced in maintaining a relationship and how have you worked with this challenge?
• In what ways would you like to lean into your relationships; i.e. what specific thing would you like to do with someone to mutually nurture your relationship?
Join TEDxMidAtlanticSalon hosts Mai Shim and Tammy Paige Goddard for this special 1-hour event on Wednesday, May 18 at 7pm ET, via Zoom.