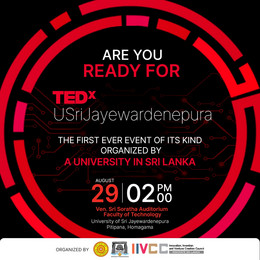 TEDxUSriJayewardenepura, is organized by the Invention, and Venture Creation Council (IIVCC) of the University of Sri Jayewardenepura. It will feature speakers from each faculty of the university, as well as an outstanding student.
This is a historic event, as it is the first time that a TEDx event has been organized by a university or an institute in Sri Lanka. The speakers will share their insights on a variety of topics, from innovation to entrepreneurship to social justice.
Speakers
Speakers may not be confirmed. Check event website for more information.
Head, Department of Mechanical Engineering
Dulini Mudunkotuwa is the Head of the Department of Mechanical Engineering, USJ. She is a graduate from University of Moratuwa and has obtained her master's and PhD degrees from the University of Tokyo, Japan. She has also attended Polar Prediction Graduate School in Abisko Arctic Field Station organized by Stockholm University. She is a recipient of the Aota Masaki Award for research in physical oceanography. She has worked on Arctic Challenge for Sustainability Research Project by the Japanese Ministry of Education (MEXT) as a researcher. She is a Chartered engineer who has served in the Young members section and Junior inventor of the year committee of IESL as secretary. She is a former Head of the Department of Interdisciplinary Studies, USJ. Currently she is the principal investigator of research grants worth 130 million on establishing an Advanced Engineering Simulation Center (E-Sim Center) and a makerspace (i-lab) for sustainable product development and commercialization.
Erandi Pathirana
Veterinarian, University Academic and Researcher
Erandi Pathirana obtained her PhD from the University of Sydney as an Australian Government Endeavour scholar. Her doctoral research was on the impact of microbiome on aquatic animal health. Erandi is continuing her research on the impact of climate change on the marine microbiome and thereby marine life. She has also researched the association between the environment and the genetics of aquatic life, at the Osaka Metropolitan University, Japan. Erandi has gained wider insights to Aquatic Animal Health, Pathogen Genomics and the use of Bioinformatics in Microbial Ecology, through diverse training programmes at the University of Prince Edward Island, Canada, the University of Sydney and Monash University, Australia. She is currently serving as the Head of the Department of Aquatic Bioresources, University of Sri Jayewardenepura, guiding young minds to discover and explore the untapped potential of Aquatic Bioresources in Sri Lanka.
Professor in Forestry and Environment Science
Prof. Hiran Amarasekera, B. sc. (Hons.), Ph.D. (Wales) FIBiol (Sri Lanka) C.Biol, is a Professor in Forestry and Environment Science at the Department of Forestry & Environmental Sciences, University of Sri Jayewardenepura. He received his PhD (Forestry) from the University of Wales, Bangor. and BSc from University of Sri Jayewardenepura. Hiran is interested in interdisciplinary research related to Wood Science, Timber Technology and Forest Proucts. To date, his research works have led to several publications in respective fields.
Lanka Undugoda
Academic, Senior Lecturer, Department of Biosystems Technology
Lanka Undugoda, a distinguished Sri Lankan scholar, university lecturer, researcher, and environmental advocate, holds the position of senior lecturer within the esteemed Department of Biosystems Technology, Faculty of Technology, at the University of Sri Jayewardenepura. Her primary focus of study revolves around leaf-dwelling microorganisms and their remarkable ability to degrade air pollutants, driving her mission to advance the application of phylloremediation—an innovative concept that promotes environmental sustainability. Moreover, Lanka's interests extend beyond her research on indigenous microbes in food items. She delves into a wide range of probiotic characteristics that can enhance the human microbiome, demonstrating her dedication to exploring diverse avenues of scientific inquiry. Acknowledged for her significant contributions to the field of science, she has earned prestigious awards that recognize her accomplishments as a distinguished scientist and academic researcher.
Madhubhashini Disanayaka Ratnayake
Academic, Creative Writer and Translator
Madhubhashini Disanayaka Ratnayake is the former Head and a senior lecturer in the Department of English Language Teaching, University of Sri Jayewardenepura. She has a doctoral degree from the Hitotsubashi University, Tokyo, and a Master's degree from New York University which she attended on a Fulbright Scholarship. Her anthology of translations, The Routledge Companion to Sinhala Fiction from Postwar Sri Lanka came out in 2023. She has won the Gratiaen Prize in 2011 for her novel There is Something I Have to Tell You, having been shortlisted for it twice for her short story collections. She won the State Literary Award for her short story collection 'Driftwood' in 1991, and in 2020 for the Best Translation of a Novel from Sinhala to English for The Sowing Festival. She does projects nationally for the improvement of teaching English as a second language and has written books on this subject. In 2017, she was awarded the title of Kala Keerthi by the President of Sri Lanka.
Academic, Univesity Professor, Researcher and Scientist
Neelika Malavige is a Sri Lankan academic, university professor, researcher and scientist. She currently serves as Professor at the Department of Immunology and Molecular Sciences of the Faculty of Medical Sciences, University of Sri Jayewardenepura, since 2020 and is also the Head of the Global Dengue Program at Drugs for Neglected Diseases Initiative, Geneva. She is also an academic visitor at the Weatherall Institute of Molecular Medicine, University of Oxford since 2008 and a member of the executive committee at the International Society for Infectious Diseases.
Professor
Prof. Nithushi Samaranayake obtained her B.Sc Pharmacy (Honours) from the University of Colombo with a First Class in 2004. She pursued her postgraduate education in Hong Kong where she completed her PhD in Medication Safety at the Division of Clinical Pharmacology, Department of Medicine, Faculty of Medicine, The University of Hong Kong in 2013. She has been a pharmacy educator in the University of Sri Jayewardenepura since 2009, and currently a Professor and Head of the Department of Pharmacy and Pharmaceutical Sciences, Faculty of Allied Health Sciences, University of Sri Jayewardenepura. Her passion is in training and research activities related to medication safety. Her work aims to develop the pharmacy work force in Sri Lanka, especially in establishing clinical pharmacy services. She aspires to improve the quality of life of people through ensuring medication safety.
Chair Professor of Computer Science at the University of Sri Jayewardenepura
Prasad M. Jayaweera has received his of Bachelor of Science Honors Degree in Computer Science from the University of Colombo, Sri Lanka in 1995. He completed his Licentiate of Philosophy and Doctor of Philosophy Degrees at the Department of Computer and Systems Sciences, Stockholm University, Sweden in 2002 and in 2004 respectively. Dr. Jayaweera is a Commonwealth Academic Fellow, who has also completed three Postdoctoral Research positions at the University of Reading – United Kingdom, University of Namur – Belgium, and Stockholm University - Sweden. Dr. Jayaweera holds the Chair Professor of Computer Science at the University of Sri Jayewardenepura and presently he acts as the Founder Dean of the Faculty of Computing.
Consultant in Restorative Dentistry
Dr. Priyake Palipana obtained his BDS from the University of Peradeniya and Master of Surgery from the University of Colombo, Sri Lanka. He is a fellow of the Royal Australian College of Dental Surgeons, and he currently serves as the Head and consultant in Restorative Dentistry at the Department of Restorative Dentistry, Faculty of Dental Sciences at the University of Sri Jayewardenepura. He has been working in the field of Restorative Dentistry for many years training local and international students and conducting research.
Academic, Public Speaker, ACIM
Sachin Wijayasinghe is a highly motivated individual with a strong academic background and a wealth of extracurricular experiences. He is an Associate Member of the Chartered Institute of Marketing (CIM) and currently serves as a lecturer in the Department of Commerce, Faculty of Management Studies and Commerce, University of Sri Jayewardenepura. Sachin is a passionate sporting athlete whose passion for sports goes beyond competition. He is also an advocate for using sports to promote social change. He is a natural leader, volunteer, and communicator who has held many roles and shouldered numerous responsibilities, including several high-profile events such as the Commonwealth Heads of Government Meeting (CHOGM 2013) and the Commonwealth Futures Program 2020. He is a passionate researcher on development economics, focusing on both rural and urban development.
Medical undergraduate, Debater, Public speaker, ALCM
Senara Vidanapathirana is a dedicated 4th-year MBBS undergraduate at the University of Sri Jayewardenepura, who excels not only in academics but also in an array of extracurricular activities which has lead to her securing many achievements, including the "Best Junior All-Round Performance in Academic and Extra-Curricular Activities" the Devi Balika Vidyalaya challenge trophy and the prestigious "President's Guide Award" by the Sri Lanka Girl Guide Association. Senara shines as a leader, debater, public speaker and compere and earned the esteemed "Best Communicator" award among university undergraduates at the "Japura Employability Skills Awards 2022." Holding an Associate Diploma in Speech and Drama Performance (ALCM), her talents extend to drama, singing, and motivational speaking as well. She's a talented sportswoman in swimming and rifle shooting, an enthusiastic young researcher contributing to collaborative studies and research publications.