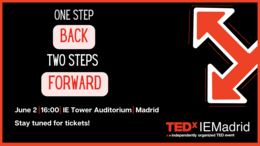 This year's theme invites speakers to share their stories of failing forward. Whether overcoming a personal struggle, political or structural boundaries, we aim to highlight inspiring stories of individuals who took one step back and came out stronger. We hope this serves as a reminder that hardships are a part of growth.
Our Event Agenda
16:00-16:45
Welcome Refreshments
Join the TEDxIEMadrid team for some welcome refreshments before we dive into eight exciting stories focusing on "one step back and two steps forward".
16:45
Official Event Welcome & Speaker Stories Introduction
Our Masters of Ceremony will officially open the event. Get ready to embark on a journey filled with inspiring, moving and enticing stories told by our speakers coming from Data, Business, Education, Health, Gastronomy, Tourism, Journalism and Tech sectors.
18:15-18:35
Intermission
Catch a breath and join an exciting workshop
18:35-20:00
Speaker Stories Continue
Our remaining four speakers will continue to share their stories
20:00-21:00
Networking Cocktail with IE Jazz Band
We will close the lovely evening with a networking cocktail where we kindly invite all audience members to mingle with speakers, build meaningful connections and listen to live music from our IE Jazz Band.
Dress Business Casual
Food Provided
Speakers
Speakers may not be confirmed. Check event website for more information.
Angely Dub
Founder & CEO at Access Travel and Happi Lab
Angely is an entrepreneur, world traveler, author, and podcaster who has been to the 7 continents of the world and 100+ countries at 29. She is the proud founder of four businesses in the Philippines while simultaneously completing her masters in Customer Experience & Innovation (MCXI) at IE Business School. She started her first venture called 'Access Travel' at the age of 19 with a simple aim; to meet the world, and expose her country to places and experiences that were only limited to National Geographic. Angely is also a firm believer of social responsibility and the power of community, and hence is an active volunteer and advocate for education in the Philippines. She is also an eloquent podcaster, with her series called 'Life in Progress' on Spotify to share her knowledge, learning's and experiences with everyone.
Dr. Christine McCarthy
CEO of TEC Leadership Institute Leadership Coach and Organization Change Facilitator
Dr. Christine McCarthy facilitates personal and organizational growth that fosters the agility necessary to master the challenges of today's digital and networked environment. She brings over 20 years of coaching experience, a PhD in Organizational Psychology, and a deep commitment to helping leaders adapt personally and organizations adapt structurally across cultural and technological divides so they can thrive in the changing business world. Christine's leadership coaching and transformation initiatives focus on building impactful leadership, customer centricity, collaboration and empowerment across the organization. She builds capability in leadership practice that values continuous learning, individual ownership and an awareness of future-fit leadership concepts. As an experienced professional partner, Christine brings clarity to professional leadership purpose drawing on knowledge and insights gained from hundreds of leaders and teams in over fifty countries.
Fatmata Binta Tarazid Tarawalli
Founder of Fulani Kitchen Foundation & Executive Chef-Dine On Mat
Chef Binta is an award winning chef born and raised in Freetown, Sierra Leone to first generation Sierra Leonean Fulanis of Guinean descent. She is a modern day nomadic chef. Like her ancestors, Binta has traveled to many countries to explore different cooking techniques, ingredients and ways of life. At Fulani Kitchen, she combines her nomadic Fulani roots, classical training and love for rural life and nature to create modern dishes, while maintaining the simplicity and authenticity of Fulani culture. By creating a traditional setting, discussing Fulani culture and serving ancient grains, indigenous spices and other exciting West-African ingredients in an interactive way, Binta triggers all senses and takes you to a whole new world.
Data Scientist
Felix Krause is the founder of fastlane, the most popular iOS app deployment tool, having saved more than 31 million developer hours. He has created various other projects, like iOS-factor.com, danger.systems and multiple iOS privacy papers. Most recently he launched howisFelix.today, a quantified self project using 380,000 data points collected over many years. Every single day for the last 2.5 years he tracked over 100 different data types - ranging from fitness & nutrition to social life, computer usage and weather, all visualised on howisFelix.today.
Ibrahim al-Marashi
Associate Professor, Department of History at CSUSM and Visiting Professor at School of Global & Public Affairs, IE University
Ibrahim Al-Marashi is Associate Professor of Middle East history at California State University San Marcos and visiting professor at the IE University School of Global and Public Affairs in Madrid, Spain. He obtained his doctorate in Modern History at University of Oxford, completing a thesis on the Iraqi invasion of Kuwait. His research focuses on 20th century Iraqi history, and currently is focusing on the effects of climate change on the nation. He is co-author of Iraq's Armed Forces: An Analytical History (Routledge, 2008), and The Modern History of Iraq, with Phebe Marr (Routledge 2017), and A Concise History of the Middle East (Routledge, 2018).
Marguerite Joly
Student at Science Po
Marguerite Joly (France) is a third year student at Sciences Po Paris in the Economies and Societies major and International Relations minor, in the North America & Europe program of the University in Reims. She will enter the Communications, medias and creative industries master at the same university in September 2022. In 2021 Marguerite studied in Madrid in the Bachelor of Business and Administration of the IE University. She created an association to support people with alopecia in May 2018.
Journalist & Author
Pallavi Aiyar is an award-winning foreign correspondent, columnist and author. She is currently deputy Editor-in-Chief of the online news magazine, The Globalist. Her debut book, "Smoke and Mirrors" (2008, Harper Collins), examined the differential political and social systems in China and India. It won the Vodafone-Crossword Popular award. Her latest book on Japan "Orienting: An Indian in Japan," (July 2021, Harper Collins India/Hakusuisha, Tokyo), analyzes the underlying cultural and aesthetic values that underpin Japan, while triangulating her conclusions with comparisons to India and China.
Taha Bawa
Co-Founder at Goodwall
Taha leads Goodwall, a social enterprise closing the global youth skills gap. Goodwall's platform supports youth in 150+ countries to develop and demonstrate their skills, and connects them to learning and earning opportunities. He is a WEF Global Shaper, Forbes 30under30 and a member of YPO and the Adecco Foundation's Social Braintrust Advisory. He studied at the Universities of Oxford and Lausanne.