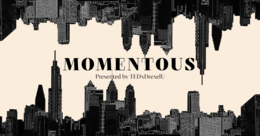 The journey of life is a compilation of decisions, events, and changes. Whether it is a discovery, a victory, a failure, or a eureka moment, some experiences are pivotal and impactful in our lives and are, thus, Momentous.
We all have a moment in our lives that stands out. It could be the second we discover our passion, an encounter with brutal hardship, a life-changing decision we made, or a heartfelt hug with a loved one after we felt hopeless. It can also be a moment where we simply felt at peace. Sometimes it's hard to pinpoint what experiences lead us to today, but through reflection, any lesson learned can be invaluable to us and those surrounding us.
At TEDxDrexelU, we wish to showcase individuals' stories of discovery, learning, and inspiration which we hope will prove momentous for our curious audience.
Speakers
Speakers may not be confirmed. Check event website for more information.
Adit Gupta
Co-founder and CEO of Lula, Inc.
Adit Gupta is the co-founder & CEO of Lula, Inc - an institutionally backed delivery tech company. Lula's solutions are used by convenience stores across 40+ states. He is also a Ph.D. candidate at Drexel University, with research interests in Artificial Intelligence and Human-Computer Interaction. Adit graduated from Drexel University with a B.S. in Software Engineering and has previously worked for several Fortune 50 companies. Adit enjoys technology, innovation, and entrepreneurship.
Dale Moss
Former NFL Athlete and ABC's The Bachelorette Star
A former NFL Athlete who made his transition out of professional sports through the modeling industry. As a sports and entertainment host, Dale has given viewers an all-access look during Super Bowl Sunday, iHeart Music Festival, and TriBeCa Film Festival to name a few. As a TV personality Dale became a household name in 2020 through the reality TV world during his time on ABC's The Bachelorette and has since continued his career in front of the camera as an actor and entertainment host. Last summer Dale secured his first lead role in a feature film in 2021 with numerous projects set to begin production starting spring 2022 Beyond the lens, Dale's focus is IMPACT, and has been advocating for inclusive measures on a global scale since 2015 as a Special Olympics Global Ambassador. Dale's focus has always been to use his platform and life experiences to create opportunities to help enhance the voices of underrepresented individuals.
Ebony White
Mental Health Counselor and Clinical Assistant Professor at Drexel University
Dr. Ebony White, LPC, NCC, ACS is a Clinical Assistant Professor in the Counseling and Family Therapy Department at Drexel University. She runs the ROAR (Reframing Outcomes through Afrocentric Research) lab in which she and her team focus on advocacy and social justice within the African American community. She is the Director of the Center for MARCUS, a nonprofit organization in Trenton, NJ, and is the Interim Director of the Stephen and Sandy Sheller 11th Street Family Health Services center. She is a daughter, sister, aunt, godmother, cousin, and friend and lives in Ubuntu.
Jon Krohn
Chief Data Scientist and #1 Best Selling Author
Jon Krohn is Chief Data Scientist at the machine learning company Nebula. He authored the book Deep Learning Illustrated, an instant #1 bestseller that was translated into seven languages. He is also the host of SuperDataScience, the data science industry's most listened-to podcast. Jon is renowned for his compelling lectures, which he offers at leading universities and conferences, as well as via his award-winning YouTube channel. He holds a Ph.D. from Oxford and has been publishing on machine learning in prominent academic journals since 2010.
Nadia Jagessar
Indian Matchmaking Star and Fragrance Marketer
Nadia Jagessar is an Indo-Caribbean Jersey girl. While she is most known for being the breakout star of Netflix's Indian Matchmaking, she is also a fragrance marketer, entrepreneur, professional dancer, puppy mom, and Oreo enthusiast. In her spare time, Nadia loves to travel, try new restaurants, and take naps.
Nyree Dardarian
Board-Certified Specialist in Sports Dietetics and Professor at Drexel University
Dr. Dardarian provides sports nutrition services to professional sports teams, Philadelphia Union (Major League Soccer, MLS), winners of the Supporters Shield, 2021, the Philadelphia Flyers (National Hockey League, NHL), and US Squash players. Dardanian's work has been on the front page of the Philadelphia Inquirer twice. She is a frequent contributor to local and national media including CBS Philly, WHYY, Prevention Magazine, and Women's Health Magazine in topics ranging from nutrient content, weight management, sports nutrition, and nutrition for specialized populations. She developed the formulation of Dragon Gels™, an In-sport fuel used exclusively by the teams she supports. Dragon Gels™ are produced, packaged, and distributed through the Metabolic Kitchen, Drexel University. Her research projects focus on esports, collegiate and professional athlete knowledge and behavior change, resting metabolic rate, and nutrition-centered workplace wellness programs.
Raja Schaar
Director and Assistant Professor of the Product Design Program at Drexel University
Raja Schaar, IDSA (she/her) is the Director and Assistant Professor of the Product Design Program at Drexel University. She co-chairs IDSA's Diversity, Equity, and Inclusion Council and is the past Education Director for the organization. Raja studies the ethical implications of design and technology through the lenses of design and climate fiction. Her current projects address biases in maternal health through wearable technology and participatory design; community-based co-design for engaging black girls and underrepresented minorities in STEM/STEAM; and biologically-inspired design, sustainability, and climate justice.