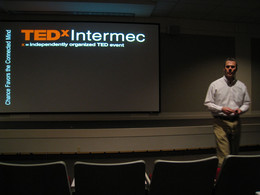 This event is open to all Intermec employees and contractors. Please join us for a TED talk related to Intermec's interests in innovation, crowd sourcing, and novel uses of technology. Bring your lunch, your imagination, and a co-worker. Our goal, as always, is that you leave energized by the excitement that comes from a new idea.
(Our theme, by the way, is a quote from Steven B Johnson's delightful book Where Good Ideas Come From, and his TED talk of the same title.)
Highlights
Intermec's first TEDx event was a great success. About 60 people joined us for the lunch-hour event. We watched Mick Mountz's talk on The Hidden World of Box Packing. In addition to describing how Kiva's warehouse robot system works, Mountz lead us through the development of the idea.