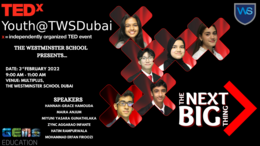 Our theme for the TEDx event is "The Next Big Thing" -
If you believe that all great ideas begin with a spark, a spark that manifests itself and burns into a flame of passion to create history and propel humanity forward in its journey in this vast universe, then join us for yet another enthralling chapter of TEDx at The Westminster School, Dubai.
Our objective is to bring great minds together to share ideas on a range of topics about what is to come so that learning, inspiration, and wonder are inspired as well as meaningful discussions are ignited with the help of our six young compelling speakers from The Westminster School. These speakers are not afraid to challenge the status quo and to imagine the impossible. They are youthful voices and convention-breaking mavericks and intellectuals who are brave enough to lead the world into our future.
So join us for the TedxYouth @TWS Dubai as the passionate drivers of our future generations enthrall you with their speeches on what they think is "The Next Big Thing" and usher you into the unknown realm of their minds.
Speakers
Speakers may not be confirmed. Check event website for more information.
Erfan Firouzi
Conservationist
A devoted environmentalist, with a passion for travel and natural history, formulates how human beings must co-exist with nature in harmony.
Hannah Grace Hamouda
Student
An aspiring visionary and a well-being enthusiast who is committed to focusing on mental health by redefining standards of male beauty.
Hatim Rampurwala
Student
Inspired by a conversation with his 10 year old sister, Hatim shares his secret to unravel the mystery of financial success amongst the younger generations.
Maira Anjum
Student
A free-spirited sixth grader, who firmly believes in the idea of 'You are what you eat' and interested in exploring a healthy and sustainable diet that has the potential of solving complex
Miyuni Gunathalika
Student
A versatile student who is as comfortable with playing baseball as she is with ballet, and desires to be the catalyst in the process of evolution of mindsets.
Zync Aggarao Infante
Student
A bold sixteen-year-old who believes the "The Next Big Thing" can only be accomplished by collaborating with one another.