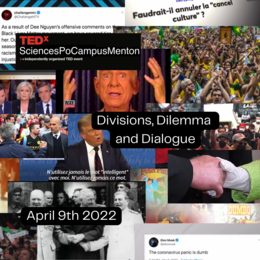 We are thrilled to announce that our conference TedxSciencesPoCampusMenton will take place on the 9th of April 2022 in Menton, France. Our theme for this year's conference is "Division, Dilemma, Dialogue". It will showcase a whole new world of ideas and experiences.
In today's polarized age, beliefs and values are drifting further apart with a growing lack of respect for the "other side". We challenge you to explore the role of media, psychology, technology and politics play into today's growing division of opinions.
The conference itself will be held in three languages, English, French, and Arabic, highlighting the composition of both regions and that of our campus.
Join us on our journey to share ideas with the world!
Speakers
Speakers may not be confirmed. Check event website for more information.
Amanda Montell
Writer, language scholar and podcast host
Amanda Montell is a linguist and the author of two acclaimed non-fiction books; "Cultish: The Language of Fanaticism" and "Wordslut: A feminist guide to taking back the English language." Cultish was named one of best books of 2021 by NPR. Montell is also the creator and co-host of a podcast, "Sounds like a cult," which peaked at #20 on Spotify's top podcasts in the USA. At this year's TEDx conference, Amanda Montell will delve into the power of language as a tool for indoctrination and polarization
Angeliki VYTOGIANNI
Student at Sciences Po Paris, Campus de Menton
Angeliki is a first year student at Sciences Po Paris on the Menton campus, coming from Athens, Greece. She loves discussing social justice, human rights and just about any other socio political issue, current or historical. Now more than ever, as she is studying in the Mediterranean and Middle Eastern campus of Sciences Po, she is deeply interested and concerned about the region's issues and therefore dedicated to reading all about them. She is also willing and dedicated to using her voice and her unique experiences to help others and make a change in this world. Her current dilemma is whether she should stay abroad after her university degree or go back to work in Greece.
Carmen GUINTRAND
Student at Sciences Po Paris, Campus de Menton
Born on Earth 18 years ago, Car-Men (commonly known by his English surname) is a Homo sapiens. Passionate about science and philosophy, she ended up at Sciences Po to study economics and sociology. Menton and the English track were not part of the initial plan. If she refuses to put her first name on the political compass, she is nonetheless curious to know the outcome of the votes for the 2022 presidential election. Politics is an intriguing game because it is real. On April 9, Ferida and Carmen will present an original work TedX: Politico ergo sum. Soon available on your screens.
Daoud Kuttab
Journalist, media activist
Daoud Kuttab is a Palestianian journalist, media activist and former professor of journalism at Stanford university. Currently, Kuttab is the director general of a not-for-profit organization dedicated to preserving and advancing independent media in the Arab world. At this year's conference, Daoud Kuttab will be discussing how journalists in the MENA region can overcome censorship.
Ezzedine Ghlamallah
Entrepreneur, researcher and CO-founder of SAAFI
Ezzedine Ghlamallah is a teacher-researcher, doctoral student in management sciences at CERGAM. After 8 years of experience in the world of finance insurance, he decided to add an ethical dimension to his career by co-founding SAAFI in 2014, providing advisory services relating to legal and financial difficulty structuring insurance solutions. His commitment leads him to animate the "ethical finance" section of economic newspapers such as the Tribune, the Argus de l'Assurance, or the Huffington Post where he regularly publishes articles. At this year's TEDxSciencesPoCampusMenton event, Ezzedine Ghlamallah will be giving a talk on the ethical dilemma of entrepreneurs, focusing on ethical finance with an insight on what is "islamic finance
Ferida ALtUN
Student at Sciences Po Paris, Campus de Menton
Born in France and as a daughter of a political refugee father, Ferida is curious about the different ways of perceiving reality and « the truth », particularly through encounters with people from various cultural and social backgrounds as well as books of social science. As a first-year student at Sciences Po Menton focused on the Mediterranean and the Middle East, Ferida wishes to spread awarenss about the Kurdish cause throughout the respect of human rights and is therefore interested in international relations, law and geopolitics. Ferida appreciates bringing a touch of art and philosophy that she expresses through drawing and writing to keep in mind the evolution of societies. Her joint talk with Carmen Guintrand, entitled « Politico ergo sum », will explore how political identities are employed and manipulated in the présidentiel elections in France.
Gary Klein
Research psychologist
Gary Klein is a research psychologist and a pioneer in the field of naturalistic decision making. In 1989, Gary helped pioneer the Naturalistic Decision Making (NDM) movement, which drastically changed the way researchers conduct decision making research nowadays. Naturalistic Decision Making emerged as a means of studying how people make decisions and perform cognitively complex tasks in real-world situations as opposed to controlled laboratory settings. His recognition of the primed decision model has influenced changes in the ways the Army trains their officers to make decisions. At TEDxSciencesPoCampusMenton, Gary Klein will help to contextualize the psychology behind polarization and decision making in conflict situations.
Ismaeel YAQOOB
Student at Sciences Po Paris, Campus de Menton
Ismaeel grew up in Watford near London in the UK and has spent most of his life there. He is the grandchild of immigrants from Pakistan in the 1950s and is interested in topics concerning immigration and integration in Europe as well as being an avid activist on refugees and anti- racism. He helped in the creation of the first anti racism initiative on campus, 'Alwanat' and is in charge of running the SPRH maraudes. He is passionate about travel and worked briefly as a flight attendant in his gap year. His talk will discuss the notion of creating 'productive dialogue' and the difficulties faced navigating issues of racism both on and off campus. The talk will be followed by a Q and A with joint pannelist Lillinaz Hakimi on the topic of dialogue on campus.
Lilinaz HAKIMI
Student in the Dual degree between Sciences Po Paris and Columbia University
Lilinaz Hakimi is a 19 year old Iranian born and raised in Shiraz. At the age of 12 she migrated to the United States, which gave her a new perspective on world politics and the conflicts in the Middle East. Ever since she has pursued political sciences alongside her passion for film. She aims to work at the intersection of world affairs and the arts, giving a platform to the causes most ignored. Her studies in the Sciences Po Columbia give her the perfect opportunity to do just that. Her talk allows her to open up her thoughts as an immigrant on a campus studying the Middle East. Opening up a discussion on what polarizes our cultures and how we can work to solve it.
Louai Allani
Student in the Dual degree between Sciences Po Paris and Columbia University
Tunisian-born first year student in Dual BA program, Louai is passionate about the intersection of technology and diplomacy and hopes to become a techno-diplomat and climate negotiator for Tunisia. He is also a highly experienced public speaker, from High School Debate President and international MUN conferences, to the League of Arab States, Sorbonne, and the Permanent Mission of Tunisia to the UN in New York. After being consumed by covid indicators at the beginning of the pandemic, Louai founded a nonprofit to research mood. Thousands of IP addresses and comma-separated values later, he saw in computer science, social science: humans aren't numbers. While his online banter compliments his action in the real world, he is impatient to speak at TEDxSciencesPoCampusMenton about the nuance between data and people, and our 21st century right to digital connectivity.
Makram Rabah
Political analyst and lecturer at the American University of Beirut
Makram Rabah is a lecturer in the Department of History at the American University of Lebanon and author of a number of books, notably "A Campus at War: Student Politics at the American University of Beirut, 1967-1975." At this yea'rs TEDX, Makram Rabah will give a talk on the assasination of his friend at the hands of Hezbollah and the subsequent efforts of cyber armies to silence calls for justice. Rabah will explore threats to freedom of speech in the digital sphere in the context of Lebanon, pairing his insight as a seasoned professor with personal anecdote
Markus VAHER
Student at Sciences Po Paris, Campus de Menton
Markus is a youthfully idealistic and frighteningly pragmatic young man, with years of experience in debating and public speaking. Originally from Estonia, he now studies in the Menton Campus of Sciences Po Paris, hoping to find his path between his home region of Northeastern Europe, the West, and the Middle East. His talk, consequently, addresses the polirization between Eastern and Western Europe, and the legacy of decades of cultural and linguistic disconnect. In his free time, Markus enjoys translating Estonian poetry, listening to jungle, and reading philosophy.
Remy Dandan
Teacher and lawyer at the bar of Lyon
Remy Dandan is a French lawyer and a YouTuber. On this platform, Dandan provides legal and personal perspective on fundamental rights and freedoms in French public law. At this year's TEDxSciencesPoCampusMenton conference, Remy Dandan will be discussing a wide range of topics, from the death penalty in France, prostitution and the law, and the potential for Lebanon to be placed under French mandate.
Victor WAUTERS
Student in the Dual degree between Sciences Po Paris and Columbia University
French by birth, Belgian by his father, son of a refugee from the genocide in Cambodia whose origins remain unknown, Victor Wauters presents an enigma to many and persists in breaking the mold, sometimes excessively. Endowed with a paradoxical relationship with identity considerations, he distances himself from his own history considering that it forms a labyrinth from which flow more questions than answers, yet, having appeared as a stranger throughout his life, he has always been fascinated by others' sense of belonging. Insatiable hedonist, Victor likes to live and feel, hence this passion for music that will animate his intervention "Frontera Nada" - Rap, a New Voice for the Diaspora?, in which he will deal with new identity claims in the new rap scene. in Europe.