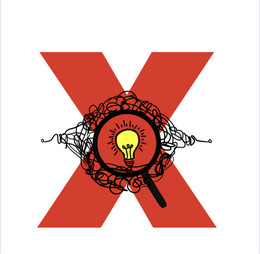 The TEDx@KYUEM event will serve as the ultimate platform to share ideas worth spreading. This event aims to inspire communication and spark discussions about challenges and experiences that we don't always get the opportunity to speak about. This event will not only encourage communication among the KYUEM community but will bridge Kolej Yayasan UEM with education institutions all over Malaysia.
Main Theme : Redefine
Redefine means to change the definition of something; considering and understanding things from different lenses and perspectives.
We were born into this world with an empty and clear mind. As we grew older, we acknowledged and defined ourselves based on the influence of our surroundings. Our families, friends, teachers, and even the influence of mass media have shaped us to strictly follow the traditional mindset of the majority and adhere to stereotypes that affect our attitudes and decision-making process. Moreover, our busy lives have limited us from diving deeper and exploring the undefined, leaving us to accept what we know without questioning it.
That being said, it is time to bring change. We need to reflect and come up with our own definition of everything around us. There are no right or wrong ideas. An individual's unique approach and understanding of a certain issue might even spark a new perspective for someone else. Spending time researching various topics to develop a deeper understanding will encourage us to treat things with different moods, mindsets, and thoughts. It is time to uplift our maturity as we step out of our comfort zones to accept what is beyond our level of comprehension. This way, we will not only realize new values and principles, but we will also be able to positively influence the people around us to act the same by reflecting and redefining.
Our generation needs to integrate and weave modern concepts into traditional thinking and subsequently, reshape ourselves, our society, and our nation with Redefinition.
Speakers
Speakers may not be confirmed. Check event website for more information.
Adnan Zikri
Rhodes Scholarship Recipient
-
Alexander Zahari
Founder and Product Owner of Edventures. Making entrepreneurship accessible to everyone, with an emphasis on empowering youths and young adults in emerging markets. Alexander is digital nomad, with an interest in cross-industry and cross-cultural innovation, and especially driven by how technology can improve social and financial inclusion, along with youth empowerment. He has long experience from grassroots-entrepreneurship contexts, helping and coaching youth entrepreneurs. Two of his previous businesses failed in finding a scalable solution for entrepreneurship education and support, but led to valuable insights now used to build Edventures — the world's first personalised entrepreneurship assistant, making entrepreneurship as simple as texting. Alexander has through the years single-handedly engaged, recruited and managed team members from 15+ countries across five continents, all with a €0 budget. He also has experience with sales, marketing, legal, software product development, fundraising and angel investing, from being involved in small startups and startup communities, both nationally and internationally.
Ammar Zubayr Ameen Bin Aminudin
Student at Kolej Yayasan UEM
-
Arianna Sophea Adruin Shazaen
Student at Kolej Yayasan UEM
-
Student at Kolej Yayasan UEM
-
Dr.Austin Shelton
Assistant Professor & Director, University of Guam Center for Island Sustainability & Sea Grant
-
Elisa Shafiqah
Malaysian Youth Diplomacy
-
Irfan Adlan
Student at Kolej Yayasan UEM
-
Jason Wee
Co-Founder at Architects of Diversity
-
Jia Tian Quah
When I was 17, I started a petition to stand up with the school authority when they force all students to buy new sports pants to gain income. When I was 18, I published my first book, Gifted, which consists of 9 stories of bright young teenagers sharing their way of living and serving the community while experiencing the new norm of life brought by Covid19 while also excelling in SPM. When I was 19, I stepped on the TedxYouth@KYUEM stage as a guest speaker to share about abundance in scarcity, following through my past childhood experiences, my backgrounds and the lesson I acquired along the way. I have led Project RAHMAT as the deputy project director, where we distributed iftar kits and did clean-up at all IPTAs in Malaysia, National Coordinator for myBENCANA, a national level flood relief mission all around Malaysia, National Coordinator for myKOMUNITI and the director of Operation and Technical for myImpact, an Intervarsity Malaysia Public Policy Advocacy Competition under a certified national level NGO, YouthCare Malaysia. I am currently serving as the Vice President of Development for YouthCare Malaysia. I am leading and executing mega projects that are changing people's lives. From public policy advocacy to executing disaster relief missions, I am all the way working on climate change and to serve the community. Here I am, a book author, a Tedx speaker and a change maker.
Kavvinah Murali
Student at Kolej Yayasan UEM
-
Kelvin Tan
CEO and Co-Founder at Project ID
-
Muhammad Hamdi Ahmad Hakimi
Harvard University Student
-
Nicole Vignola
Nicole is a business owner and entrepreneur who has coupled her knowledge in the neuroscientific field to consult and educate organisations on the science of human optimisation, mindfulness and wellbeing using science-based evidence to enable individuals to perform better in their daily lives and in turn, in the workplace.
Okezue Bell
Founder of Fidutam, Research Student at MIT Media Lab, Computer Scientist At Microsoft
-
Qyira Yusri
Executive Director and Co-Founder At UNDI18
-
Rushank Goyal
Founder and Manager at A2M2, and Rise Global Winner
-
Sharon Eileen Kumar
An Educationist who began her career in 1991 and then went on to specialize in Management, Sharon defines herself as a life-long learner and enjoys the thrill of exploring the newest trends in Education and Pedagogy. Sharon is an Independent Consultant for Innovation & Education Initiatives. In her current role, she is responsible for expanding thought leadership through multi-stakeholder engagements. She has created influencer forums across formal/informal education and STEM, and Increased STEM portfolio and impact. As Chief Operations Officer of EXSTEMPLAR Education Linkers Foundation her involvement with programs such as the Initiative for Research and Innovation in STEM (IRIS) – a national science fair for students of class 5-12 is noteworthy. As Director of the IRIS National Fair Sharon encourages and nurtures science and scientific research among young Indian innovators and drives facilitation of winning students to represent India at the International Science and Engineering Fair (ISEF), the world's largest international pre-college science competition, held annually in the U.S.A. Her areas of interest include discourses with young people to appreciate their views and opinions. event planning; playwriting and direction; creative expression through watercolours; poetic verse; and adventure travel.
Yaashwin Sarawanan
Human Calculator and Finalist At Asia's Got Talent
-