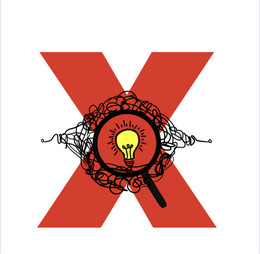 The TEDx@KYUEM event will serve as the ultimate platform to share ideas worth spreading. This event aims to inspire communication and spark discussions about challenges and experiences that we don't always get the opportunity to speak about. This event will not only encourage communication among the KYUEM community but will bridge Kolej Yayasan UEM with education institutions all over Malaysia.
Main Theme : Redefine
Redefine means to change the definition of something; considering and understanding things from different lenses and perspectives.
We were born into this world with an empty and clear mind. As we grew older, we acknowledged and defined ourselves based on the influence of our surroundings. Our families, friends, teachers, and even the influence of mass media have shaped us to strictly follow the traditional mindset of the majority and adhere to stereotypes that affect our attitudes and decision-making process. Moreover, our busy lives have limited us from diving deeper and exploring the undefined, leaving us to accept what we know without questioning it.
That being said, it is time to bring change. We need to reflect and come up with our own definition of everything around us. There are no right or wrong ideas. An individual's unique approach and understanding of a certain issue might even spark a new perspective for someone else. Spending time researching various topics to develop a deeper understanding will encourage us to treat things with different moods, mindsets, and thoughts. It is time to uplift our maturity as we step out of our comfort zones to accept what is beyond our level of comprehension. This way, we will not only realize new values and principles, but we will also be able to positively influence the people around us to act the same by reflecting and redefining.
Our generation needs to integrate and weave modern concepts into traditional thinking and subsequently, reshape ourselves, our society, and our nation with Redefinition.
Speakers
Speakers may not be confirmed. Check event website for more information.
Adnan Zikri
Rhodes Scholarship Recipient
-
Ammar Zubayr Ameen Bin Aminudin
Student at Kolej Yayasan UEM
-
Arianna Sophea Adruin Shazaen
Student at Kolej Yayasan UEM
-
Student at Kolej Yayasan UEM
-
Dr.Austin Shelton
Assistant Professor & Director, University of Guam Center for Island Sustainability & Sea Grant
-
Elisa Shafiqah
Malaysian Youth Diplomacy
-
Irfan Adlan
Student at Kolej Yayasan UEM
-
Jason Wee
Co-Founder at Architects of Diversity
-
Kavvinah Murali
Student at Kolej Yayasan UEM
-
Kelvin Tan
CEO and Co-Founder at Project ID
-
Muhammad Hamdi Ahmad Hakimi
Harvard University Student
-
Okezue Bell
Founder of Fidutam, Research Student at MIT Media Lab, Computer Scientist At Microsoft
-
Qyira Yusri
Executive Director and Co-Founder At UNDI18
-
Rushank Goyal
Founder and Manager at A2M2, and Rise Global Winner
-
Yaashwin Sarawanan
Human Calculator and Finalist At Asia's Got Talent
-