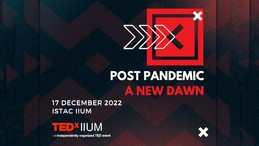 This theme encompasses the human potential that can be yielded in different spheres of life after the pandemic. The pandemic was a challenge to humankind but it also questioned the course in which all the sectors of society were functioning. It prepared us to do better in every field and adapt to the changing circumstances. Recovering from the pandemic itself was a challenge, but the several strategies adopted to overcome hindrances put forth by the pandemic, in different sectors of society like education, business, medicine, etc., might prove more sustainable in the long run. Throughout this event, we will get to enlighten ourselves about the course of the recovery of our society after the pandemic and we will be able to view this course in a positive light.
ISTAC-IIUM
24, Persiaran Tuanku Syed Sirajuddin, Bukit Tunku, 50480 Kuala Lumpur, Wilayah Persekutuan Kuala Lumpur
Kuala Lumpur, Wilayah Persekutuan Kuala Lumpur, 50480
Malaysia
Event type:

University (What is this?)
See more ­T­E­Dx­I­I­U­M events
Speakers
Speakers may not be confirmed. Check event website for more information.
Dr Munira Shahbuddin
Assistant Prof. in Chemical and Biological Engineering at International Islamic University of Malaysia
Dr, Munira Shahbuddin completed her Undergraduate and Master's Degrees from Hanyang University, Seoul, South Korea and obtained her PhD in Materials Science and Tissue Engineering from the University of Sheffield, United Kingdom. Her research interests vary from advanced biomaterials to environment, to microbiology and climate change. In 2016, she attended Harvard Medical School for Post Doctoral Training and spent another year at the Massachusetts Institute of Technology working on Water and Nature-based Solutions for Climate Change Issues and Challenges. In 2018, she spoke to the State House in Massachusetts on water issues and advocated climate justice to the audience. She is currently teaching Organic Chemistry and Artificial Cells and Tissue Engineering at IIUM.
Dr Shermaine Su Tein Sim
Mental Health and Psychosocial Support Consultant, UNICEF Malaysia,
Dr Shermaine Sim works as a Mental Health and Psychosocial Support Consultant for UNICEF Malaysia, where she is responsible for safeguarding and fostering the mental health and psychosocial well-being of children, helping them reach their full potential. Prior to this, she had a decade-long career in public service as a medical officer and psychiatrist. Dr Sim's research is dedicated to the digital mental health of young people, and she is determined to ensure that comprehensive community-based mental health and psychosocial interventions are given precedence in her efforts to secure the well-being of all children and adolescents in Malaysia.
Farhan Idris
CEO of Oval App Malaysia
Farhan Idris is the founder and CEO of Oval App Malaysia. He pursued his bachelor's in mechanical engineering from Malaysia France Institute. He has worked as an engineer, and project manager and is still working as a sales director for Aliran Aman. Mr Farhan is a pioneer of sustainability and a champion of the climate, growing the industry by changing his business to be mostly digitalised, and encouraging and helping other businesses to do the same. He is an advocate for the environment and recently attended the COP27 meet in Egypt.
Mohd Izzairi Yamin
CEO of ZeptoExpress, Co-Founder and Chief Technology Officer of TheNoor App
Mr Yamin is a graduate of the International Islamic College and pursued further studies at Stanford Center for Professional Developments, Stanford University, USA. He is a torchbearer in the Tech Industry, globally with over 16 years of experience in software development. He has received several awards locally and internationally, including the Chairman's Choice Award, Malaysia Rice Bowl Startup Awards 2018 and Top 100 Beta Startups 2018, and WebSummit Lisbon Portugal to name a few.
Prianda Azka Aghniya Mujiburahman Izka Azalia
In this captivating TED performance, talented young musicians Azka and Izka take the stage to showcase their extraordinary musical abilities. With a dynamic combination of saxophone, guitar, and violin, they deliver a mesmerizing rendition of the beloved Studio Ghibli classic "Howl's Moving Castle" theme song, transporting the audience to a world of pure musical enchantment. But that's not all - they also bring their unique sound to Elvis Presley's timeless classic "Can't Help Falling in Love," leaving the crowd swooning and cheering for more. Prepare to be blown away by the musical virtuosity of Azka and Izka in this unforgettable performance!
Tun Dr. Mahathir bin Mohamad
Former Prime Minister of Malaysia
Tun Mahathir is a visionary who played a big hand in moving Malaysia forward and catalyzing its development. He was given the role of Malaysia's Father of Modernisation. He is a well-known political figure in the country, one of Malaysia's longest-serving Prime Ministers, lasting from July 1981 to October 2003. During Tun Dr Mahathir's tenure as Prime Minister, Malaysia became one of the most prosperous and dynamic economies in Southeast Asia, with a thriving industry, growing middle class, and increased quality of life.