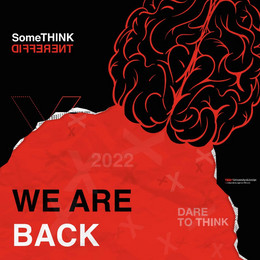 In a world that has grown to become more competitive than ever before, a battle for survival and achievement has risen. The genius, the creative, the enthusiasts, and the hopeful are who prevail to morph a better reality out of the chaos we live in: those who think different in a world which is lacking something different.
People who think differently are the ones capable of creating change.
Their confidence in the face of hardship is driven by their ability to let go of the negativity that holds so many otherwise sensible people back. That confidence gives them the drive to dare to achieve whats deemed impossible, they are able to achieve something different.
Where others see impenetrable barriers, they see challenges to embrace and obstacles to overcome.
Obstacles do not block the path; they are the path
This year we made it our mission to come up with an extraordinary TEDx event, for this year it will truly be something different.
Our goal is to make it best one yet, therefore to acheive that, we have researched aspects that will make this event one that will be unforgettable.
Organizing team
abedalrahman almomani

Team member

Ahmad Mansi

Team member

dana swidan

Operations

Hammam Habib

Post production

Jafar Alkhashashneh

Operations

Jana Abu toubeh

Curation

khaled alsaidi

Partnerships/Sponsorship

Malak Rumman

Curation

mohamad nsour

Production

Mohammad Zakaria

Partnerships/Sponsorship

Omar Fayoumi

Production

Rahaf Mather

Partnerships/Sponsorship

Roa'a Alalem

Curation