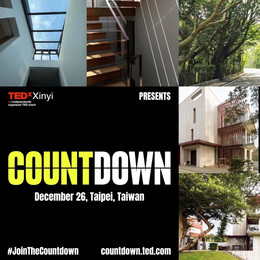 來學習人與人,人與環境,人與生物的對話;來見證不同對話中所激盪出的火花與靈感;來感受對話的層次中所啟發的反思與行動。
為了回饋好奇心跟知識,因此我們提供獨特優惠的難得學習機會在12/26號請你來聽一場續美學的互動講座。這是一場透支未來的論壇,邀請您一起用寧靜的心與我們一同學習。此次活動地點將TEDx舞台idea搬下檯面的生活實踐,從信義前往陽明山,打開綠建築居所,探索COUNTDOWN續美學idea落實,2021再次互動。
To give back to curiosity and knowledge, we are offering a special interactive learning opportunity of a aesthetics salon on 26th Dec.
This is a forum for the future; this is a forum to learn from the future, and we invite you to join us.
Speakers
Speakers may not be confirmed. Check event website for more information.
Hank Huang
淨灘達人 (分享嘉賓)
一名喜歡水陸救生、緊急救護志工,曾提出"北海岸孤兒"現象藉由身體力行去Doing For Change讓自己和身邊的人更熱愛大山大海,更愛台灣這塊寶島;2016年受到好友啟發參加淨灘活動,一起發起了一起手護台灣,建立起「我們的海灘靠我們守護」共識,從2016年至今,已經淨灘超過65場,帶領超過2776位民眾參加《一起手護台灣》的每月淨灘活動。
Hui-Chun Chang
Author- Ocean Activist (TEDxXinyi年度大會講者/ TED Circle影片討論)
張卉君,山城長大,卻愛上海洋。曾自認文學偏執狂,卻發現文字的力量無限,一路帶領著自己經驗更深的內在與更遼闊的遠方。2005年加入黑潮海洋文教基金會啟蒙環境意識,成為人生重要分水嶺,曾任黑潮海洋文教基金會執行長,為海洋及相關環境議題發聲。擅長海洋文學、海洋文化紀錄及田野調查訪談,著有《記憶重建-莫拉克災後口述史》、《黑潮洶湧》、《台灣不是孤單的存在》、《黑潮島航》、《女子山海》等書。2006年起成為海上鯨豚解說員迄今,現任黑潮海洋文教基金會董事、環境倡議者、作家。
Jasper Chen
國際口譯 (分享嘉賓)
具近十年之口筆譯經驗,上千口譯時數,涵蓋外交政治、醫藥、法規、商業、文史、工程、 電子等領域。曾擔任史瓦帝尼王國 班柯希王子殿下口譯;環保署長雙邊會議口譯;臺灣燈會 法國大使與新加坡大使隨行口譯;水下搜救訓練等口譯經驗。連續兩屆桃園國際水彩雙年展 口筆譯者;夢工廠記者會口譯;連兩屆台北當代藝術博覽會譯者;連四屆臺灣國際錄像藝術 雙年展主譯者;新北市VLR報告譯者。
Mika Lin
旅行冒險家 (分享嘉賓)
謎卡擔任過旅遊節目愛玩客的節目主持,獨攀聖母峰基地營,也曾踏上北極,出過三本旅遊散文,記錄他如何在旅遊45個國家正面樂觀克服困境,用自己的視角去詮釋這個世界。長期推動動物保育,本身有領養海龜以及海洋生態保護,同時也曾寫過30天的感恩日記(可看精選限動),發揮影響力號召群眾一起加入。