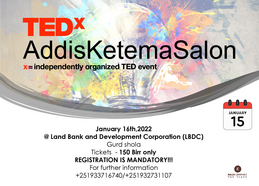 The wait is over tickets are now available!!!
Do you want to be more creative?
Come and let's discuss it with our incredible creative guests, creativity makes a miracle!

📅 Sunday, 16 January 2022
02:00pm - 06:00pm
📍Land Bank and Development Corporation (LBDC), gurd shola
Tickets 150 Birr only (limited space available)
Save the date, memorable events don't just happen!!!
ሁላችሁም ተጋብዛችኋል!