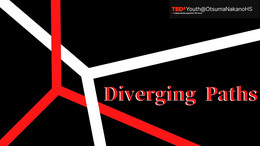 We are in a world with different options, choices to make, and pathways that can lead us to the light of hope in our lives or the darker side. However, these opportunities that cross each other, the "diverging paths" overlapping each other is what fulfills the reality of one another.
In the spirit of TEDx, TEDxYouth@OtsumaNakanoHS, will feature bright ideas from the students of Otsuma Nakano, in both English and Japanese.
Guests are limited to members of the Otsuma Nakano community.
Speakers
Speakers may not be confirmed. Check event website for more information.
Karen Kitahara
Student Speaker
Karen Kitahara is a 1st year student at Otsuma Nakano High School. Not being a returnee, or having less opportunities abroad encouraged Karen to be interested in a field that was unique. In the midst of all this, she learned through an activity at school that if you know the information field and look at international issues, you can retrieve information with surprising accuracy and integrate various opinions. In diving in this path, Karen is now creating her own pathway in being capable of processing information precisely.
Kinyu Chin
Student Speaker
Kinyu Chin is a 1st year student at Otsuma Nakano High School. Living in a household with both praises and scolding, Kinyu has that confidence she received from all the encouragement. One day, a friend came up to her asking if she would like to participate in TEDxYouth. Learning how to adjust to new environments and utilizing her confidence, she was able to quickly adjust in the pathway of participating in a TEDxYouth event, despite it being her first participation.
Mei Kaneko
Student Speaker
Mei Kaneko is a 2nd year student at Otsuma Nakano High School. After living abroad for 8 years, Mei Kaneko realized her interest towards various cultures. What Mei Kaneko obtained was not only one thing, but a divergence of cultures, that created the kind of person she is today. Now, she wants to make use of her experience and her viewpoints, as a strong high school student, and share what the true meaning of global communication is.
Miyoung Murata
Student Speaker
Miyoung Murata is a 3rd year student at Otsuma Nakano High School. Living in Japan her whole life, she assumed the idea of "Japanese people not having confidence" was just a typical stereotype. However, after taking the pathway to Canada, she realizes the difference of self-confidence between these two countries and finds the charm points of self-confidence. Now she's on the road to prevail self-confidence to her friends and audience.
Reina Ukai
Student Speaker
Reina Ukai is a 3rd year student at Otsuma Nakano High School. Her experience of becoming a "de-cabbage", the experience of transforming into the true self she couldn't find at first, shined the light towards that one pathway leading into her future. From her HLAB summer school experiences, to creating multiple communities, she's understood that her mission is to focus on solving issues regarding gender discrimation, as the "core of the cabbage".
Rin Omae
Student Speaker
Rin Omae is a 2nd year student at Otsuma Nakano Junior High School. Being a shy and quiet child during her childhood she felt very powerless about herself. She could suddenly make a big change when she was falling into a negative emotion, and realizes the new path of positivity that was open towards her. Finally, she learned that the most important thing is to stay positive no matter what, and that has become her identity.
Saori Takada
Student Speaker
Saori Takada is a 1st year student at Otsuma Nakano High School. Born in Shanghai, living there for 12 years, enrolling in an international school, Saori's background is diverse and unique. Also, being trilingual made her realize the importance of getting in touch with people from different cultures and the necessity of learning more languages. As things change with time, she switched over her road, to promote the fun of learning foreign languages and cultures.