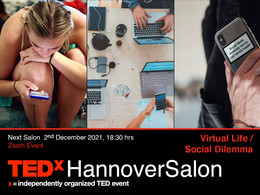 Dear TEDies,
After rushing into an overdue digitalization in many walks of life in the last two years, we started to see the first sudden downtime of some of these systems. This got us curious: What does your digital life mean to you? Does it open the world to you - or create a world for you?
There are many ways in which a digital life changes you for the better, yet some of us start losing control of what we consume and how much.
Where do you see the responsibility of digital creators to e.g.:
balance our digital and non-digital needs when it comes to snatching our attention
engaging "offline" people in the discussions of our future?
We will watch some amazing talks explaining why we shouldn't engage with news that looks like it wants to trigger us and how to not miss out on information that challenges our worldview.
So how about rather than enjoying your comfortable Netflix echo-chamber this evening, you join us in joyfully philosophizing if all this will ultimately prove to be good or bad and train our compromise-muscles for a flourishing bright future of a hybrid society; because remember - we create the world we live in with every click.
We are looking forward to hosting you again!
Your TEDx Orgs