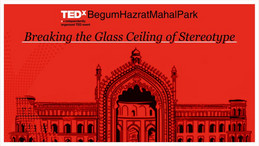 In the spirit of ideas worth spreading, TEDx is a program of local, self-organized events that bring people together to share a TED-like experience. At a TEDx event, TEDTalks video and live speakers combine to spark deep discussion and connection in a small group. These local, self-organized events are branded TEDx, where x = independently organized TED event. The TED Conference provides general guidance for the TEDx program, but individual TEDx events are self-organized (subject to certain rules and regulations).
Speakers
Speakers may not be confirmed. Check event website for more information.
Fashion Influencer
Niki Mehra is a renowned Indian Fashion and Beauty blogger who has created her unique and bold style of fashion with her sustainable fashion hacks. She has diligently been curating fashion-related content for the past six years on various social media platforms. Instagram being her strength at more than 300k followers, she has taken her love for high street fashion to another level with hands-on practical hacks under the hashtags #NMRethinks and #hacksbyniki. She firmly believes that in this rat race of changing fashion trends, one should not feel left out and instead be more open to finding one's own style. She has had the immense opportunity to be featured in and on the cover of various magazines. Apart from that, she has been invited to radio shows, podcasts and Fashion Weeks in the Top Fashion cities in the world. Our author also proudly holds the "Best Indian Fashion Influencer 2018" award at the JD Fashion Awards and News X Women Achiever's Award 2019.