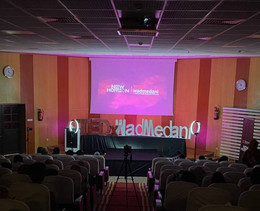 This event reflect a new era of TEDx WadMedani as we focus in all event topics on the third eye and having different sight to the same idea. Being on one side reflects your own values and way of thinking, but other points of view are not clear, how to accept other opinions and go beyond them to find a meeting point of agreement is what we present and discuss in the event through the different talks.
the goal is to learn to deal and respect all opinions and be open to new prespectives.
Speakers
Speakers may not be confirmed. Check event website for more information.
Ahmed Osman
community activitist
Ahmed Osman Iraqe , born and raised in WadMedani, Second year student at Gezira University, Faculty of engineering and technology, Electronic control section. community activitist, interested in youth development.
Eptisam Ali
Certified personal development trainer
Eptisam Ali Awad Elkareem. Studied IT at Sudan Open University. Studied physical engineering at GeziraUniversity.psychology student at WadMedani Alahlia University.Certified trainer.Head of training department at let's rise above Organization.
Eylaph Eldymati
Doctor
Eylaph MuhammedElhadi Hassan , Studied Medicine at Gezira University.Master of public health Student at Blue Nile National Institute for Communicable diseases.Works at Gezira state Ministry of health. Y-peer Gezira state coordinator.Founder of Eva store for cosmetics
Fatima Elhussain
Doctor
Fatima Mustafa Saeed Elhussain Studied at ElImam AlMahadi University OB and Gyne register at SMSB Work at Wad Madani obs and gynaecology hospital. Interested in Women physical and psychological health
Muzamel Elyas
Agricultural Engineer
Muzamel Elyas Ibrahim, Agricultural engineer. Trainer in Plant production and Agricultural extension. Interested in Environment and climate issues CommunityActivitist. Interested in innovation and team work.
Sara Abdelrhman
Art Therapist
Sara Abdelrhman Mohamed, Specialist of Art therapy. Certified family counselor and International trainer. Pioneer of Art therapy in Sudan, and the general manager of Art therapy team in Sudan. Founder of Sara Training center. Earned the title of " The lady of Arab world " in 2020 In 2021 she was one of the influential characters during COVID 19 pandemic as she was able to transfer all her work activities to be online, and she also established a art competition with participation of 650 Sudanese child, and 350 home exhibition. She continued her study and practical life after establishing her family, that why she earned the title of " Sit Alkol " from Blune Nile channel.
Tarteel Salaheldeen
Dental Student
Tarteel Salah Eldeen, Final year student at Gezira University, Faculty of Dentistry. Founder of " Do " motivational initiative. Interested in Physics. Interested in Arts , As our speaker can both sing and paint.