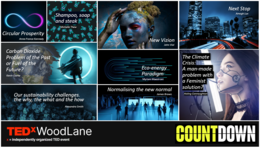 Countdown is a global initiative to champion and accelerate solutions to the climate crisis, turning ideas into action.
The Countdown goal: To build a better future by cutting greenhouse gas emissions in half by 2030 in the race to a zero-carbon world – a world that is safer, cleaner and fairer for everyone.
The Countdown initiative is focused on five subject areas: energy, transport, materials, food and nature.
Speakers
Speakers may not be confirmed. Check event website for more information.
Co-Founder
Aisling Connaughton, is co-founder of Cyd Connects, a women-led sustainability consultancy created to inspire positive change. Aisling's 17-year global career in PR spans sustainability, marketing, and communications across multiple sectors including technology and beauty. Aisling is a proud member of the University of Cambridge Wo+Men Leadership Centre. She has a Masters in Social Entrepreneurship from Goldsmiths University of London. As a certified B Leader, Aisling is working to raise awareness of how the B Corp framework can act as a catalyst for better business and accelerate the UN's Sustainable Development Goals.
Co-Founder and Partner
Alex Smith is the co-founder and a partner of The Sustainability Group. Prior to setting up The Sustainability Group, Alex navigated roles in both professional sailing, hospitality and events and most recently worked across commercial, social, and environmental impact projects with brands, rights holders, organisations, and governments across the globe as Commercial Director of Clipper Round the World Yacht Race. Alex now co-leads the development of FuturePlus, a sustainability measurement and management tool that makes sustainability accessible, achievable, and affordable. The tool empowers organisations to understand, plan, and manage their own sustainability ambitions.
Senior Service Designer
Amogh is a designer shaping the future of mobility at Arrival by designing and delivering EV vehicle service offerings that empower stakeholders across mobility ecosystem from drivers and service technicians to cities. He holds a MA in Service Design from Royal College of Arts and Bachelors in Advertising, Public Relations from Chapman University.
Chief Executive Officer
Anne-France Kennedy serves as TheClimateLink's CEO. Climate link is the guidepost App for all professionals who need to act upon climate change issues at scale. Users are matched with the right contacts to find jobs, projects, expertise that will help them save time, money and CO2. as she has extensive experience in entrepreneurship. She is a ex-corporate executive (France, US, UK) she moved to social entrepreneurship 15 years to set up ventures in microfinance, energy efficiency and the circular economy. She has a Master's degree in Economics & Finance (France) and one in Sustainability (UK).
James Brown
Chief Executive Officer
wtv. is a leading global virtual events company supporting the world's largest organisations engage their audiences through Virtual Events, Hybrid Events, Webcasting, Technology Development and a wide range of digital platforms. wtv. manages projects in over 50 countries in 25 languages for 200+ clients with offices in London, Geneva, Zurich, Frankfurt, Madrid and Hong Kong.
Hair Expert and Entrepreneur
Known as 'the hairdressers hairdressser' john vial is one of the leading fashion hairdressers in the uk with over 35 years of experience. He began his hairdressing career within the vidal sassoon organization in 1991. Within 5 years he had become creative director working alongside vidal throughout asia, where the brand enjoyed the #1 position within the haircare market. He has held global roles as creative director at pz cuzzons and revlon. He has a salon in sloane square and works london, new york, paris and milan fashion weeks. John is a regular commentator in the media and is the hairdresser on channel 5's current highest rating show '10 years younger'. Johns clientele is diverse as his skill set and celebrity clientele have included naomi campbell, helena christensen, the spice girls and bjork. John was vidal sassoon's hairdresser and still does vidals wife's hair to this day
Chief Revenue Officer
Kevin Clarke, Imubit's Hydrocarbons Chief Revenue Officer. Bringing over 30 years of leadership experience and deep expertise in strategic, technical, commercial, and environmental operations for energy companies. Prior to joining Imubit, Kevin served as the Executive Vice President at KBC Advanced Technologies, Chief Revenue Officer for Permasense, and VP for KBR. His experience lies in his ability to design and implement innovative business solutions that generate rapid financial returns. While at KBC, Kevin was responsible for the company's global consulting and software business, including 150 staff, as well as the management of business performance indicators and performance objectives for all staff within the region.
Chief Executive Officer
Michelle Thew is Chief Executive of Cruelty Free International, the leading organisation working to end animal experiments worldwide. Michelle is one of the most respected and accomplished individuals in the animal protection movement. Michelle has worked with governments, regulatory agencies, local communities, and media across the globe to drive down animal testing. Speaking in parliaments in the UK, Europe, Asia and the United States, Michelle works with leading companies, politicians, the media, and industry to achieve real change for animals.