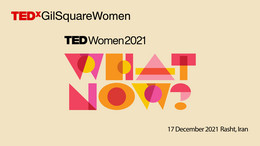 In the spirit of ideas worth spreading, TEDx is a program of local, self-organized events that bring people together to share a TED-like experience. At a TEDx event, TEDTalks video and live speakers combine to spark deep discussion and connection in a small group. These local, self-organized events are branded TEDx, where x = independently organized TED event. The TED Conference provides general guidance for the TEDx program, but individual TEDx events are self-organized (subject to certain rules and regulations).
Speakers
Speakers may not be confirmed. Check event website for more information.
Afra Abshenasan
Writer and Social Activist
I'm afra abshenasan, Bachelor of French Literature, born in 1350, Interested in humans, nature, animals, and support for the homeless. I hope for the improvement of the human condition and I will work and take care of it.
Anahita Payk
Beautician
Anahita specializes in beauty services. In addition to his academic education, she has been creating new ideas in this field for many years. She describes her job as an art and believes that beauty jobs affect not only the appearance but also the inner feelings of people towards themselves, and an artist can create a good feeling in people with an intelligent combination of science and art in this field. She is interested in photography and painting and learning different arts.
Arezou Porkar
Researcher, Soft Skills Development Consultant & Instructor and Behavioral
Arezou porker Graduated in Computer Engineering Software in Bachelor's degree and the field of Educational Administration in Master and Ph.D. degree, Member of the Technology Unit of Fardaye Roshan Academy, Guilan university development and innovation center, Employee of Guilan University of Medical Sciences, Researcher & Author of the book Clinic of Personal Development and Success, Soft Skills Development Consultant & Instructor and Behavioral.
Bahareh Pourjabbar
Researcher of Regenerative Medicine
Bahareh Pourjabbar was born in Guilan province in 1986. She received her M.Sc. degree in biology from IASBS, and now she is a Ph.D. candidate in tissue engineering and regenerative medicine at SBUMS. A few years of research in cornea and skin tissue engineering and stem cell therapy were fascinating for her. She imagines that new world windows have been opened in front of her eyes. She is very eager to see the changes in human life after achieving the goals of regenerative medicine.
Boshra Ahmadniay Bousari
Pychologist and Life Skills Coach
Bashra Ahmadnia is a general psychologist and a member of the Iranian Psychological Association (Iranpa). She is studying for a master's degree in psychology. She has been working as an educational counselor and life skills coach for six years and believes that obsession is a serious problem and endangers the health of life. Her current focus is on personality psychology and she is passionate about working with children and adolescents.
Fatemeh Azmian Moghadam
Head of Pharmaceutical Chemistry Laboratory, School of Pharmacy, University of Medical Sciences
I have a doctorate in organic chemistry and I am interested in scientific and research work. I have been teaching in the universities of the province since 2016 and in 2019 I became the top professor of the University of Applied Sciences of Guilan province. Designing and synthesizing new anti-cancer compounds and designing, synthesizing, and identifying new organic and pharmaceutical compounds are my favorite areas of research and work.
Maryam Vahed
Director, Writer and Voice Actor
Maryam Vahed has been a writer her whole life, she wrote and directed her first theatrical play when she was only 9 years old. When she was 15, she won an award at a students' festival which took place in "Astana" in "writing" "puppetry "and "voice acting" categories and then entered the theater industry. Acting, directing and theatrical play writing were professions she followed passionately in her youth. At the age 0f 20, she entered "IRIB", as a radio play actor; since then , she has been a TV presenter, a radio presenter, and directed, wrote and produced award winning radio shows and plays. she has been working as a dubber and dubbing manager as well. Now driven by her passion to teach her 25 year old experiences in art, she has inaugurated a non-governmental cinematic institute after a 10 year old teaching background to young learners, to teach and share her knowledge by her own standards.
Nadia Rah
Researcher of Iranian Studies
Nadia Rah, Iranology master's graduate from the University of Guilan. Originally studied accounting and professionally worked as an accountant for individual companies and the stock market for 8 years. After feeling a lack of satisfaction with her job she made the choice to study tourism, continued her studies with Iranology, and currently works as a teacher and researcher. She studies the history of her country with passion and love. Due to her family's silk production business, she has written many articles and books on this topic which concludes with her latest book published by Guilan University: "guilan's silk farming industry in Silk Road"
Zakieh Siahpoosh
Molecular and Human Genetics Researcher
Zakieh loves books, biology, and music. She is not afraid of change and always tries to learn and believes that if you are afraid of change, your life span would be meaningless and exactly the same as it was. She is a Ph.D. student in Molecular Genetics and really loves to find the relationship between genes and complicated situations because she thinks genes play a great role in all parts of life. Zakieh reads several books in philosophy and thinks a lot about it, too! As a life rule, she thinks by educating more and more people, we will build a better and healthier society.
Organizing team
Ali Sabzi

Team member

Anya Mirfallah

Team member

Aref Tavassoli Hojjati

Team member

Elahe Farzane

Team member

Faeze Akbari

Team member

Ilya Tavassoli Hojjati

Team member

Kasra Ahmadniay

Team member

Kiana Keihani

Team member

Mahsa Salmanizadeh

Team member

maral azzn

Team member

Maryam Behboudi

Team member

Mohadese Azarmand

Team member

Mojtaba Varasteh

Team member

Oujan Dalili

Team member

parsa sharifian

Team member

Shahram Varasteh

Curation