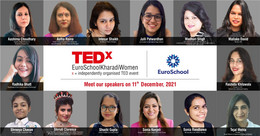 TEDxEuroSchoolKharadiWomen is a platform shared with amazing Women who are motivated and believe in empowering those who need to take another step ahead in standing tall and carving a much needed niche for themselves. Each Speaker comes from diverse socio-economical backgrounds and will stand together in sharing ideas that will influence the way that the community thinks! The event stands powered by ladies who not just believe in themselves, but also in the fact that 'An Idea Can Change the World'!
Speakers
Speakers may not be confirmed. Check event website for more information.
Aashima Choudhary
Founder of Art Studio Magical Mosaic, Co-owner of Pre-Owned cars outlet
She is the founder of art studio Magical Mosaic, Co-owner of Pre-Owned cars outlet, however the closest to her heart is working as a Corporate Trainer. She is also an Amateur Speedster, Seeker, Learner, Unlearner and of all the roles she plays, she likes being mommy to her 15 year old the best !!
Astha Raina
The Fumble Bee
She calls herself a FumbleBee - as she is led by her curiosity to try out new things - She has fumbled into being a software engineer, account manager, COO for a bit, instructional designer - you get the gist. Her conflict always lays in trying to marry stability with a happy creative environment and so she ended up trying out different things at dizzying speeds(relative of course to the professional world). While fumbling she discovered her likes, her dislikes and most importantly a respect and grace towards her own 'fumbling'. These days, she spends most of her time studying some aspect of empathy and boundaries - realizing how both start within. And, with this she is trying to work out how to hold space for all kinds of people irrespective of their gender, age, preferences of all kinds etc. - a space to be, celebrate, mourn, and in general just bear witness to their lives - with kindness and curiosity.
Intesar Shaikh
Architect and a Product Designer
She is an Architect and a Product Designer. She has been a creative person since the day she held a color pencil in my hand. She enjoys watching history and the evolution of Humankind and takes inspiration from the stories of the past. She is very enthusiastic about learning new things.
Juili Patwardhan
Aspiring Law Student, International Yoga Achiever
Juili is an aspiring law students and an avid yoga exponent. Tasting success in yoga, at a very young age, she is was an Achiever a long time ago. Absolutely grounded, and besides topping academics in School and a possessing a legacy of gold medals and other accolades Juili has found her calling in the field of Law. She is now an aspiring and diligent Law student and aims at being a game changer.
Madhuri Singh
Social Media Influencer for Education & Children,MBA(International Business) Certified Social Media Business by MarieForleo, Certified Personality Assessor, Certified ISO 9001 quality assessor
Madhurie Singh is a mom of two young boys who have been the reason and inspiration for all her ventures.She is a reviewer of educational institutes and products for children. She is a blogger and Founder of the groups, Pune School Reviews and SchoolKhojo. She runs two very interactive social groups called as Pune Parents Groups and Women Entrepreneurs Group with more than 1.5 lakh active members. She has over 1 Lakh social media followers. Madhurie has drawn the attention of Coca-Cola, Google, CNBC TV 18, NDTV, Times of India, DNA, Indian Express, FM-Radio ONE and won Avante Garde bloggers' awards. Last year she was named among the top 100 women influencers in Digital India. She believes that Education, Technology and Business should co-exist to connect stakeholders on a common platform. Madhurie Singh is a true autodidact and believes that the best idea for an entrepreneur is to find a simple solution to the most challenging problems in the lives of people you love!
Malaika David
Educator, EuroSchool Kharadi
She is an Educator at EuroSchool, Kharadi. She calls herself a perennial learner and is always up for new challenges. She is passionate about her work and has a steady source of self motivation that drives her to do her best. She is ambitious, driven and always looking for an opportunity to do better and achieve great things.
Radhika Bhatt
Psychologist and Early Communication Professional
A little less than a decade ago, Radhika began her career as a psychologist, working with children on the autism spectrum. This made her see that no matter what challenges her kids had they didn't give up, they continued putting in effort and making progress. Watching them develop communication skills after all their hurdles was a source of inspiration for her. It made her see that labels don't define us. We deserve a neuro-diverse community where we are accepted, respected and valued for our skills.
Rashida Khilawala
Founder and CEO of I.Everywhere Intellectual Branding, Writer
Rashida Khilawala is a the Founder and CEO of I.Everywhere Intellectual Branding. A writer at heart, designer by passion, Rashida believes in telling stories that can help make a difference. Rashida spends a lot of time working on projects that bring peace to her, and those who matter to her. As a long distance mother, Rashida has learnt the art of actionless love. Through her life coaching practice, she shares these learnings with many. Rashida spends her free time writing poetry and stories.
Shreeya Chavan
Student, Grade 5
Shreeya Chavan, a 10 year old, is a literary prefect studying in grade 5 at Euro School Airoli is a very confident and curious girl. She very persistent in completing given tasks and has always been an active participant in TED club activities. Currently she is learning Kathak, an Indian classical dance form. Shreeya has several academic and non-academic achievements in her kitty. She is a gold medalist in academics, skating and taekwondo. She juggles many hats and follows her passions very diligently.
Shrruti Clarence
Indias First Mrs.Universe Confident (in South Africa), Director SkillEtz Foundation- Heading, Image Building, Learning & Development, Published Author
Shrruti carries the legacy of being India's very first Mrs. Universe-Confident, a pageant held in South Africa. She is currently an Entrepreneur and spearheads change! Previously a Manager in Airlines and Corporate for 20years, she is a published author. With over 5000hrs of training experience in Colleges, Corporates & Women Entrepreneur group, currently facilitates training and mentoring women and youth through an Employability Skills Program that boosts confidence-building, personal branding, etiquettes, soft skills, and women entrepreneurship upskilling. Shrruti is also is also a Pageant Organizer, Grooming expert and Aviation Trainer.
Shuchi Gupta
Student, Grade 5
Shuchi Gupta is a student, studying in EuroSchool, Airoli, Grade 5. She likes dancing, singing, and playing badminton and delivering speeches. Her achievements include hosting Interschool competitions and participation in Interschool Elocution events. She also stands among the top five in the Futuristic World Virtual Global Interschool Competition. She is an active participant in academically challenging competitive platforms.
Sonia Konjeti
Founder of PULA (Pune Ladies), India's largest FB Women Group
Sonia Agarwal Konjeti, Founder of India's largest women group on Facebook, called PULA (Pune Ladies). This revolution started in July 2015 with 300 ladies, now has over 2.5 lakh members and growing each single day. The platform was Sonia's brainchild to create a female family and is supported by a strong team of 20. PULA provides a platform for nearly 10,700+ verified women entrepreneurs to enhance their business on such a huge platform.
Sonia Randhawa
Human Resource Manager in an a EduTech Startup
Sonia is the quintessential 'Girl Next Door'. From a fitness enthusiast and an unconventional Punjabi kudi( young girl), to an accident survivor and lupus fighter, she has been through a roller coaster of experiences. Despite every challenge she has managed to keep both, her sanity and sense of humour.
Tejal Mehta
Founder, Vocab Wizards
Tejal's life came to a standstill at a very young age for her. A single mom with 2 kids aged 2 and 6, sans a post graduation degree or experience- life seemed very daunting. A small idea and giving it all has made her what she is today. From starting with just 2 students to now heading an institute and having taught more than 5000 students, employing a team of 12, Vice President of a women's organization to being featured on the 'Humans of Mumbai', owning her own home and most importantly a mother of 2 successful youngsters now aged 27 and 23 - life is stimulating for her