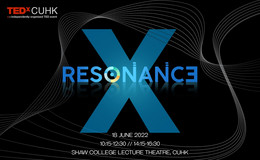 A single particle can generate sound. A single pebble can cause ripples in a silent sea. A single person can create change.
Every single one of us has our own evolution in life. We all go through life living our own versions of reality, facing our personal set of challenges, and walking down our individual, unique paths. We all have our differences, be it in faith, beliefs, or values. But just like how in physics, when two frequencies are equal, much bigger waves are created - when we come together to share our ideas, and vibrate along the same wavelength, we can create, innovate, and shift paradigms.
The power of our collective, of many infinitesimal particles vibrating to create an explosion, of many seemingly small and powerless humans all vying for the same goal, is the power of a revolution far greater than the sum of the individual parts. It all begins with one single person, one single ripple that resonates with the people around them to turn the tide of what we know and believe.
Speakers
Speakers may not be confirmed. Check event website for more information.
Andrew Kwan
Metaverse Maven, Founder and CEO of Delight Labs
Andrew believes in an open and accessible Metaverse and is building the Web3 infrastructure necessary for the world to move towards an open Metaverse. For fun, Andrew loves volunteering to make computer science education more accessible. He taught in the augural cohorts of Stanford Code in Place and CS105E, both free initiatives to broaden access to computer science education.
Arnold Cheung
Founder of Multiply Studio & Technologies
Arnold believes in a future that will be driven by data and AI, it is what motivated him to begin his career as an AI researcher, focusing on AI education. Over the course of his experience, it became apparent to him that STEM (or STEAM) education in Asia is still immature. Being an ArtTech and Generative Art enthusiast, he realised the potential of leveraging these technology in teaching programming to beginners, which inspired him to found Multiply Studio & Technologies with a mission to bridge education with the ArtTech space in Asia and to nurture more creative tech talents in the region. In his own time, he also enjoys creating art pieces with different mediums, including painting, digital art, generative art and even NFTs.
Blair Sugarman
Photographer
Blair is a versatile photographer based in Hong Kong whose work spans aerial, architectural, street and portrait photography. He aims to create images of the environment around him that show both the beauty of the scenery and the more intimate, personal moments hidden within it.
Bosco Poon
Pastor, Rapper, Award-winning Author
Most of us are caged in some form of prison, whether physical, mental or emotional, that we want to escape. Award-winning author, pastor and rapper Bosco H. C. Poon, professionally known as B.O.Z (Born of Zion), who has received a 12-year prison sentence in Canada talks about his struggles and shares his ideas on breaking through and setting free from the prison of emotions and thoughts. Bosco became the lead pastor of the "More than 12 Church" located in Richmond, BC, Canada, for three years before he transitioned to become an entertainment-industry chaplain for the Home of Artists in Hong Kong. Through his speech, Bosco wishes to inspire people and resonate with their thoughts so that more people can break out of their prisons and set themselves free.
Dhaanya & Reaha Ganeriwal
Founders of MyGreenMantra
Despite being 9 and 10 years old respectively, Dhaanya Ganeriwal and Reaha Ganeriwal have become the youngest climate activists sisters in Hong Kong. Founders of MyGreenMantra in 2019, they hope to redefine the norms of climate action in Hong Kong. Their goals are: • Hong Kong to be a role model for circular economy and sustainability by 2030 • Introduction of Animal Products and Food tax 15% and subsidies plant based products to support marginal communities. • Hong Kong to shift to green energy and green fuel ⛽️ by 2030. They intend for systematic change at individual, community and system level.
Dr. Wendy Lee
Regional Manager Autodesk Far East Ltd.
Dr. Wendy Lee is the Regional Manager of Autodesk Hong Kong and Macau. With decades of business and industry experience, Wendy has made significant contributions within Hong Kong's ICT industry by using her professional role to accelerate technology adoption and increase both productivity and quality of businesses and individuals, especially in the construction and creative industries. Wendy holds a Bachelor Degree in Electrical and Computer Engineering from The University of British Columbia in Canada, Master Degree in Business Administration from The University of Leicester in the U.K., and Doctor of Business Administration Degree from The University of South Australia in Australia. Her research topic is related to the Building Information Modelling (BIM) technology adoption in Hong Kong. She is an awardee of The Outstanding ICT Women Professional Awards 2020 organized by the Hong Kong Computer Society. Wendy is also a published pop music composer and pianist.
Ka Kui Tse
Master Movement Builder
Born in HK, KK was educated in HK and the UK. He attended nine primary schools and was a writer and a student leader before attending CUHK. He studied sociology and economics and was awarded First Class Honours in 1974. He obtained MA and Ph.D. degrees in Sociology and MBA in UK. He wrote a book entitled Marks & Spencer: Anatomy of Britain's Most Efficiently Managed Company which was subsequently translated in Chinese and Russian languages respectively. KK was a senior executive at the Shui On Group for ten years before setting up his management consultancy company, KK Tse and Associates in 1992. He retired early at the age of 52 and has since created a second career in social entrepreneurship. In the past few years, his main focus has been spreading the art and science of movement building. He is currently actively in driving six movements for social and environmental impact.
Matthew Shum
Founder of Illuminant
Matthew is the founder of Illuminant, a social enterprise promoting elder care and providing elder-care training. He obtained his master's degree in Japan to study sociology and elder caring. During his time in Japan, he was inspired by the local nursing care practices ('Kaigo') that treat elders as capable persons, respect their dignity, and encourage their independence.
Prof. Francis Chan
Dean of CUHK Faculty of Medicine, Director of the Centre for Gut Microbiota Research
Prof. Francis Chan is the dean of the faculty of Medicine, CUHK. An unconventional doctor, as he describes himself, Prof. Chan is not only a clinician attending to patients, he is also internationally renowned for his research in peptic ulcer bleeding, helicobacter pylori and endoscopic therapy, winning him a great number of awards and honours. Dr Chan is also committed to turning science into action - aside from promoting colorectal cancer screening locally since 1999, he has also served as a member on various committees of the government and other societies. Constantly striving to learn more about the wonder of the gastrointestinal tract and improving human lives through our understanding, his research currently extends into the field of gut microbiota and its translational applications, serving as the Director of Centre for Gut Microbiota Research at CUHK.
Prof. Ronald Wong
Clinical Assistant Professor, Department of Orthopaedics & Traumatology, CUHK
Dr. Wong is a Clinical Assistant Professor in the Department of Orthopaedics & Traumatology, CUHK. He is a clinician-scientist and his research interests include fragility fractures, osteoporosis, and sarcopenia. Dr. Wong has won numerous awards, and is also the current President of Fragility Fracture Network Hong Kong SAR. He has great interest in technological advancements, and has a Bachelor of Computing (Honours) as well. He also enjoys playing chess. Dr. Wong is currently extending his research on augmented reality in Orthopaedics & Traumatology.
Tze Wei Ng
Lawyer
Tze Wei is curious about people and communities, what pull them apart, and what keep them together. As a lawyer she works in the private wealth practice specializing in philanthropy, impact investing and ESG advisory. Outside work she co-founded the "Hong Kong Dialogue Hour" which aims to provide a safe space for people of diverse backgrounds to talk and listen, and to practice having difficult conversations. She is a proud board director of two NGOs that are focused on building a more inclusive Hong Kong: Resolve Foundation and HER Fund. She is also a founding board member of the Global Alliance of Impact Lawyers (GAIL), a growing community of lawyers who believe the practice of law can have a positive impact on people and planet. On the weekends she can be mostly found exploring Hong Kong, anything from open water swimming, diving and hiking (depending on the time of the year!), to uncovering its urban hidden gems.