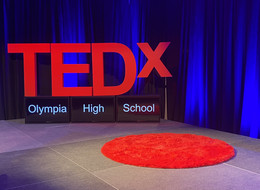 Welcome to the website of Olympia High School's third ever TEDx event!
This year features a great variety of topics by seven students from Olympia High School.
Speakers
Speakers may not be confirmed. Check event website for more information.
Clara Ulvenes
Student
Clara Ulvenes is a junior at Capital High School and intends to continue her education in college, pursuing a degree in the sciences. Ulvenes also serves as the Vice President of Capital's Climate Club and is currently an Anticipated Course Candidate for the highly acclaimed International Baccalaureate Program. In her free time, she enjoys spending time with her friends and family, attending dance classes, and playing her bass guitar. She works as a sex-ed and consent educator for Planned Parenthood's Teen Council.
Dwija Adamala
Student
Dwija is a Junior at Olympia High School passionate about the intersection of computer science & finance. She believes that by working together we can create immense change. Her hobbies include running, reading, writing, and advocating for a variety of causes. Dwija is also her school's Junior Class Treasurer, on the Olympia High School Equity Committee and is heavily involved in FBLA (Future Business Leaders of America) and DECA. She also started a social media initiative called ''Finance Fridays'' in order to promote financial literacy among her peers and use social media as a force for change. As a Carson Scholar, she hopes that education can initiate widespread change in society.She is excited to be speaking at the TEDx event this year and hopes to be a changemaker within her community and beyond.
Emilija Krstevska
Student
Emilija Krstevska is an exchange student from North Macedonia under the Kennedy Lugar Youth Exchange and Study Program and is currently experiencing the differences and similarities between the American culture and her own. She enjoys pop culture and media and is currently debunking the expectations and reality of the portrayal of The American Dream. Emilija is a big volunteer in her exchange community and has been part of the cross country team in Olympia High School as well as the drama production of the play "Winter Break". In her native country, she did a lot of projects surrounding sustainable life, civil activity and was the leader/creator of the KL-YES Album Club and president of the Ecology Club in her home high school.
Harshini Saravanan
Student
Harshini V. Saravanan is a sophomore at Olympia High School. She is passionate about working against pollution and is part of the Climate Action Club at school. In addition to this, she is also part of the FBLA (Future Business Leadership of America) and NHS (National Honors Society) at school. She believes that any efforts, big or small, can help save our world from pollution. Apart from climate issues, she likes to paint, read, dance, and participate in Martial Arts. She has been learning a South-Indian classical dance called Bharatanatyam for 9 years. Harshini is currently taking a sports medicine class and wishes to pursue a medical career in the future.
Karli Kooi
Student
Karli Kooi (she/they) is a full time SPSCC Running Start Pre-Nursing student and OHS senior. At Olympia High School, she enjoys participating in French 4, as an Inducted Thespian in Theatre (Instagram: @ohstheatrearts), and as the co-president of OHS's Speech and Debate team (Instagram: @ohs_debate). In her free time, she enjoys reading, sewing, baking, and working as a Registered Medical Assistant. She would like to thank Liyana Alam and Whitney Sederberg, as well as Mrs. Udo and the whole TEDx organizing team. She would also like to express gratitude for her Mom, Dad, twin brother Konnor, Grandpa, and extended family. Her final 'merci' goes to her cat, Jinx. You can find Karli online on Instagram: @karlikooi
Keira Wyatt
Student
Keira Wyatt is a senior at Olympia High School, currently attending SPSCC through the Running Start Program. She's planning to study architecture and residential drafting after she graduates. She spends her free time reading, drawing, and playing copious amounts of Stardew Valley. Keira is very passionate about LGBT rights, especially in traditionally religious spaces, and she hopes to be able to effectively use her platforms to talk about LGBT issues.
Student
Willow Chen is a freshman at Olympia High School. She believes that by spreading awareness on overlooked issues can make all the difference. Her interest in the global water crisis first started through hearing about California's intense droughts, and it grew as the news started to cover more different forms of water crisis happening around the globe. Apart from that, Willow enjoys being involved in various school activities, including competing in Speech & Debate tournaments as well as FBLA conferences. She also enjoys playing the piano and guitar, curling up to a good book, and cooking tasty dishes! Her goal is not only to bring awareness to important issues but also help resolve them, one step at a time.