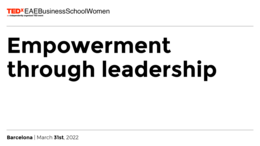 The world has more and more women leaders; women developing professionally, continuously, and assuming big challenges, such as the leadership of their empowerment. Because empowered women empower women. It had never been as clear as today, but there is still a long way to go.
Discover the path of women who have led their history to get to where they are today, even and despite the obstacles.
Get to know more inspiring stories at TEDxEAEBusinessSchoolWomen.
Speakers
Speakers may not be confirmed. Check event website for more information.