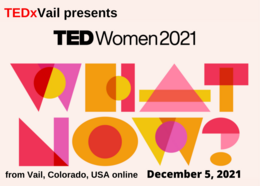 What Now? Welcome!
4:00 pm - 4:15 pm
Welcome, we are glad you have arrived! As others join us, please feel free to Xplore, mingle, find a comfy spot for a memorable conversation.
Session 1: What Now…for women and the world?
4:15 pm - 5:00 pm
Whether it's climate justice, conservation or Colorado bike tech, we've gathered several ideas worth doing we think you'll like. Bounce your way to the auditorium for bold ideas, the smallest victories, the messiest failures and the bravest decisions. We'll add several just-delivered talks of 2 days earlier from TEDWomen 2021 to locally-sourced solutions.
SHABANA BASIJ-RASIKH, Educator, social entrepreneur
KATIE PATERSON on Time + literature
CRISTINA TOSI, Milkbar bakery founder
SONALI PRASAD, Memorializing tragedy
Time to tour Vail Virtually
5:00 pm - 5:30 pm
We've curated some of Vail's hottest spots for you. Meet and heat up your ideating and active listening with new friends.
Session 2: What Now...for work (and play)??
5:30 pm - 6:15 pm
Where is the love for lady leaders? What is the finer future these speakers will nudge us to imagine through our work & play? We'll begin with not-yet-released TEDWomen talks. Standby for more surprise-and-delight speakers.
ANNA MALAIKA TUBBS, The value of motherhood
MERCEDES ROSS, Executive Director Project Bike Tech
GALA MARIJA VRBANIC, Digital fashion
LILY SINGH, The drive for equity at work
6:15-? Check out more of Vail with some of your new friends.
6:48 ROSEANNE CASH, singer-songwriter serenade.
Register here: https://www.eventbrite.com/e/tedxvailwomen-what-now-tickets-174058522727
Speakers
Speakers may not be confirmed. Check event website for more information.