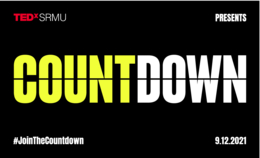 In the spirit of ideas worth spreading, TEDx is a program of local, self-organized events that bring people together to share a TED-like experience. At a TEDx event, TEDTalks video and live speakers combine to spark deep discussion and connection in a small group. These local, self-organized events are branded TEDx, where x = independently organized TED event. The TED Conference provides general guidance for the TEDx program, but individual TEDx events are self-organized (subject to certain rules and regulations).
Countdown is a global initiative to champion and accelerate solutions to the climate crisis, turning ideas into action.
Speakers
Speakers may not be confirmed. Check event website for more information.
Ajay Mittal
Climate Reality Leader
Ajay Mittal in his current role is a Director, India and South Asia (Climate Change Programs) for Earth Day Network, Growing out of the first Earth Day, Earth Day Network is the world's largest recruiter to the environmental movement, working with more than 75,000 partners in nearly 192 countries to build environmental democracy. He was trained to be a Climate Reality Leader at Brisbane, Australia in June,2019 and has also been recognised as one of the EE 30 Under 30 leaders 2019 cohort by North American Association for Environmental Education (NAAEE). The award recognises young leaders using environmental education to build sustainable communities.
Aman Dhattarwal
YouTuber + Public Speaker + Influencer + Educator
Founder of Apni Kaksha, 9 times Tedx Speaker, 75+ Seminars, Physics teacher with a strong family of 5 Million+ students on Youtube.
Jyotsna Kaur Habibullah
Entrepreneur + Philanthropist
Jyotsna founded Lucknow Farmers Market creating the first sustainable online community in India connecting grassroots level entrepreneurs and farmers with consumers with an interactive space to learn to live sustainably. She has over 20 years of experience worldwide in International Marketing.
Mahi Agarwal
Environmentalist
Mahi is a student and an environmentalist. She loves talking about sacred features of the environment.
Natalie Mebane
Sustainability and policy expert
Natalie Mebane is a sustainability and policy expert with extensive grassroots organizing, fundraising and campaign experience. She has been named as one of The Hill's Top Lobbyists in 2019 and in 2020. Natalie has served on the board of directors of the Power Shift Network and currently serves on the boards of Young Voices for the Planet, Student Conservation Association, and Care About Climate. She is an adult mentor for the international youth climate organization Zero Hour, helping to direct the policy and finance teams. She was the dirty fuels lobbyist for the national Sierra Club, fighting the expansion of oil, gas, and pipelines, and the former United States policy director of 350.org. She works to build the legislative and executive will to implement policies that advance environmental justice. Her goal is to help build a world that will have an economy completely powered by clean, sustainable energy that makes us more resilient to climate change.
Prahlad Singh Tipaniya
Folk Singer
Prahlad Singh Tipaniya is an Indian folk singer who performs Kabir bhajans in the Malwi folk style from Madhya Pradesh. He has visited the UK, the United States & Pakistan as well as in India in different 'Yatras' named as "Amerika Me Kabir Yatra" and "Had-Anhad". He has received several awards including Shikhar Samman (2005) by Madhya Pradesh Government, Sangeet Natak Akademi Award in 2007 and the Padma Shri in 2011.
Organizing team
Aditya Agrawal

Operations

Aniket srivastava

Partnerships/Sponsorship

Janhvi Mishra

Team member

Khushhal Kashyap

Operations

Khushi Budhraja

Marketing/Communications

Rishabh Raj Jain

Team member

Satyam Singh

Team member

Tushar Vats

Curation

Vaibhav Agarwal

Operations

Vaibhav Pratap Singh

Marketing/Communications

Yash Mathur

Production