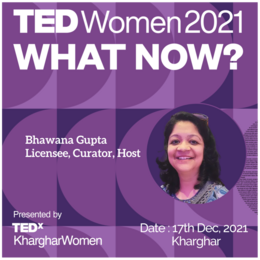 TEDxWomen is an exciting opportunity to help move the conversation about the power of girls and women in a meaningful way. TEDxWomen events are community-driven and open to everyone interested in speaking or attending, inclusive of all identities across the gender spectrum .
The theme for this year is What Now!
Speakers
Speakers may not be confirmed. Check event website for more information.
Adv Aishwarya Sandeep
Lawyer and Entrepreneur
Advocate Aishwarya Sandeep, has been a practising Advocate based out Mumbai since last 11 years. She has been former Panel Advocate with District Legal Aid Services and have also worked with a few NGO's in the last few years. Writing was a hobby, which she later used to connect with people and share her ideas. With the help of several Law Students pan India, she has been trying to simplify Law for common man through www.aishwaryasandeep.com. She has won several Competitions and Awards for her Writings and has also published her first fiction book, I wish I had Spoken. She has also been working as a Volunteer in helping women restart their career.
Bharati Malhotra
Entrepreneur & art influencer* *Specialist teacher Pidilite industries* *DIFF award 2013* *Kala Shree award 2017
Bharti Malhotra is the Founder and MD of the Red Ribbons, Amritsar. Mrs. Malhotra is set to empower women who are homebound but wish to become independent and have an awe for art. Over the years she has been a part of many National and Local art workshops and has mentored hundreds of students and women. She is an honorary member of Indian Academy of Fine Arts and Panchrang KT Kala. Being driven by her work, Pidilite Industries offered her the position of Specialist Art Teacher where she heads Punjab State and organises workshops for all types of arts and fabric paintings across the state. In the lockdown she took the initiative of using her skill to teach housewives and homemakers the fine art of fabric painting and help them find a stream of income to be independent. She has mentored many women, who then started their own business and classes. Mrs. Malhotra is a proud recipient of DIFF award (2013), Indian Academy of Fine Arts Award(2014), Kalashree Award by KT Kala (2017).
Cdr Prabha Lall
Indian Navy Veteran, Professional Speaker, Trainer and Productivity Coach
Commander Prabha Lall was part of an initiative that has ensured an epochal change in the way our armed forces operate. She was part of a joint effort by some extraordinary women officers of our armed forces, which ensured that Indian women get permanent commission in The Army, The Navy and the Air Force. In her 17 years career in the Indian Navy, Uran resident Cdr Prabha Lall, fit into this adage several times. Twice in her service life, she was commended by the Flag Officer Commanding-in-Chief for dedication to service. And all this achievement even as she juggled her role as a working mother of 2 kids. By training, She am an Electrical Engineer. An MBA degree later, she joined India's blue water navy force in 2004. She may have recently bid adieu to my life as an armed forces officer, but she continues to lead her mission i.e. to help people change their lives by recalibrating their social skills and boosting productivity. Commander Prabha Lall, Indian Navy Veteran
Chaarmikha Nagalla
Sportswoman, Entrepreneur, Public Speaker
A sportswoman, who has unflured the Indian Tricolor with pride at Olympic Committee Games, Asian Championship, and Indo-Thai, is an epitome of inspiration for young girls. She is also a public speaker and a student entrepreneur. She's fairly dedicated towards quality education and women rights in the country. Serving the masses as the Founder of a GirlUp Club and a social event-based startup, she wishes to drive the dialogue of action in as many feasible ways as possible.
Dr Megha Sharma
Social Woman Entrepreneur, Serial Investor, Speaker, Mentor,Life Coach , Travel & Events Curator
Dr Megha Sharma, a renowned name in the corporate world hails from Chandigarh. She has been an iconic figure for the corporate world in women entrepreneurship.She started the company Travel Krafterz a travel company specializing in corporate, individuals and group tours since 2013. In 2017, she cofounded a start-up "Toogle" which is a travel networking platform and focuses on Tier 2,3 and 4 agents to help them curb the challenges they have been facing. Toogle is a B2B tech aggregator which connects the unconnected in the travel industry. Apart from Travel Krafterz, Dr Megha Sharma is the Founder/Co-Founder of the following start-ups. 1. Toogle Travel Pvt Ltd (Titanz) - a Travel networking company 2. Vempowerall – A Start-up Safar 3. XNO world - A digital marketing company
Dr Raina Khatri Tandon
Chief ExecutiveOfficer CEO Right2rise &Rkt Foundation International Rhetorican & Mentor UN Rex Karmveer Awardee Women & Child rights Advocate ,Limitless Enabler
Dr. Raina Khatri Tandon is an International acclaimed speaker Mentor who has been representing India on Gender Equality, Women and child Rights . She holds double PHD in IT and Law , a Polyglot who speaks 11 languages ,the founder of "Right2rise®" (India s 1st ISO 17024 n 21001 accredited organization) & "RKT Foundation". She is an Alumni of EDX Harvard, USA ,United Nations Rex Karmveer Awardee,Phd from Brazil University in Child rights & Humanpsychology under Human Rights. She has been felicitated as Thrive Global 100 Mentors, Mentor at Cherie Blair Foundation,World Hrd Congress-Women in Leadership 2018 Awards & BW Businesswoman WOMEN40under40, 101Most Fabulous GlobalTraining and development leaders Award2019 ,HR SUCCESS Talks Awards &Summits -Best Organisation into Gender Equality and Inclusiveness .An honourable Human Rights Activist on 36NGos and Women volunteer global organisations.
Dr. Shivani Gupta Borele
Doctor, Professor, poet, writer and researcher
An Ayurvedic Practioner and associate professor who enjoy her journey of relations with complete freedom. She believes in the idea of conscious living.
Dr. Subra Mukherjee
Bestselling Author of two books, India's Leading Mind Mapping Coach & Trainer, Educator & Entrepreneur.
Dr. Subra Mukherjee is one of India's Leading Mind Mapping Coach and Trainer, and the Founder of Map Ur Mind Community. After teaching and mentoring young minds for more than a decade, spending several years in research, and embarking on this entrepreneurial journey, she realized and strongly believes that every human deserve to lead a more happy, awake and beautiful life and the one thing that stops us from achieving our fullest potential is our own Limiting beliefs. She is also the Co-Founder & Chief Operating Officer, 3Palz Smart Technologies Private Limited (an agro-tech start-up funded by Software Technology Park of India-STPI).Dr. Subra has done her Bachelors and Masters in Electronics and Communication Engineering and her PHD in Electrical and Electronics Engineering. She has an excellent academic record- She was the State rank holder 2nd rank in 10th board, 8th rank in 12th board. She is also the recipient of double gold medals during her master's degree.
Kunika Rathore
Entrepreneur & Marketer Speaker & Mentor at FICCI Flo, Delhi University & AIESEC Digital Woman Award 2021, (She the People) Mental health advocate
Kunika Rathore is the founder and CEO of The Unknowns Agency. She has worked for global marketing leaders like HogarthWW, Ogilvy, and Grey. She has served many Fortune 100 & 500 brands like Apple, Bose, J&J, Emirates, and others. She is a speaker and mentor at organizations like FICCI Flo, Entrepreneurship Research and Incubation Centre of Delhi University, The Brood Incubator, and AIESEC. She also runs a podcast - "The KunikaRathore show". She started The Unknowns Agency with the idea of creating two ways of communication/interaction where the consumers can interact, connect or talk with the brand to learn and share the experience to help them improve for better. Kunika is also a proud recipient of the Digital Women Award 2021 (Marketing Category) by She the People TV. She has been interviewed in various magazines including Youth Ki Awaaz, Startups Magazine UK, Databird Journal, Valiant CEO Magazine, and news channels like Jio News and Dailyhunt.
Lt Cdr Sadhana Giri
Indian Navy Veteran, International Speaker and life/Leadership Coach, Fit India Ambassador, Mrs India Worldwide Pride of Nation-2019
Known as a norm breaker, a rebel and one those at a young stage did not let patriarchal society to cage her life and limit her destiny into the households. Became the first woman from her community to have joined the armed forces and first from my district to have joined the coveted force of the Indian Navy . Post retirement explored the world with her children including her infant son, which earned him a record of being the most traveled infant of India. Participated in pageant in Greece and bagged a title of Mrs India World wide pride of Nation, coaching became a calling, founded her company and now also got into restaurant business. She has always ventured the unseen and less familiar path but managing to earn a good name for herself !
Radha Kumari
Young entrepreneurs, Public speaker and Athlete
A 19 year young woman, who has accomplished so much. She comes from an area where 6/10 girls drop out of school and become a child bride. She chose not to be one of them. She is an entrepreneur, a football player and speaker, currently doing bachelors degree in Spain. She found her passion through football and education. Yuwa is an organisation where she played football in India. Now she has set an example for so many young girls back in Jharkhand to be like her and escape poverty. She derived this positive change through sport and education. Currently she is working on startups.
Academic Facilitator, Service Coordinator, Power Parenting Coach, Fellow Research Associate(CRACS), Co-Founder- Lurners, Brooks India Influencer, Rotarian.
She is a passionate educationist with 15 years of teaching experience and a demonstrated history of creating student centric learning atmosphere with effective use of interactive systems. She is a gold medalist and university topper in her subject. Her endeavour is to empower students to become critical thinkers and lifelong learners. Being awarded the -" Best Teacher" for her contribution under the Project SEARCH supported by TERI during the year 2012 helped her in creating a learning environment that would be conducive for students to develop life skills and become global citizens. She is also a Power parenting coach and fellow research associate with Cracslab. She provides solutions based on assessment for kids from age group 3-15 yrs based on their strong mental ability and learning nature. How to engage them in mindful activities away from gadget addiction.
Shweta Dalia
Founder of an award winning NGO, an author and a student
Shweta is an 17 year old, she is an author, founder of an award-winning NGO and changemaker. Her book is called Molly and the watermelons which talks about a scientific process in form of a children's story to help get young minds get a passion in STEM at a young age . Her NGO also helps underprivileged students across different states in India to find the top 3 careers they are most likely passionate about and most likely to succeed in by the career test designed by her NGO. She hopes to get indian youth into careers they are passionate about instead just doing it due to society or parental pressure. Her NGO and book have been covered in platforms like logical indian and times of india.
Surabhi Jain
English language trainer & communication skills coach
Surabhi Jain is an Entrepreneur (e-Learning business), an English Language Trainer, TEDx Speaker, Motivational Story Teller, a mother of two teenagers, with experience of 7 years in training space. She believes that sharing knowledge and skills is the key to transform others, which brings profound joy and happiness and provides a great way to build awesome Relationship with the Society.
Yogeswari Sugumaran
Business Communication & Soft skills Trainer, National Eligiblity Test Trainer, International Public Speaker, Accent Coach
Prof. Yogeswari Sugumaran is a certified Business Communication, Soft skills and Accent Coach. She is the Co-Founder of SUNS DEN, a company that trains souls on communication and personal transformation skills. She is a multifaceted professional worked under various corporate sectors from a school teacher, to a copywriting and editing expert in Scientific Publishing Sector. She has been a Toastmaster since 1st Dec 2020 delivering speeches across the country. She is a Division Finalist in the International Speech Contest. She has also presented keynote speeches on Communication and Leadership. Currently, she is providing her free service on a month long program of training college students on 'Public Speaking and Spoken English'. She is a student of Personal Transformation upskilling herself through high income skills, courses, training and is a committed student of book reading (successfully running a Book club of 40 dedicated learners).