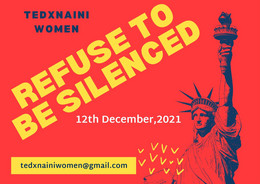 The TEDxNainiWomen event is only for Women Speakers.
Kindly Contact us at:-
tedxnainiwomen@gmail.com
Speakers
Speakers may not be confirmed. Check event website for more information.
School Principal, Rahul International School, Wadgaon Sheri Branch, Pune
"Dr Abha Jadhav Recently, Two OMG world records holder, Dr APJ Abdul Kalam International award of excellence awardee, Mahatma Gandhi Darshan Puruskar awardee,Acharya Chanakya Shikshak vid Samman-2021awardee, Ek Bharat Shreshtha Bharat Shiksha Padam Samman awardee, The International Women's Achiever awardee, The Influential women Achiever of India-Best professional of India 2020-21, Best New Youtuber 2020(recognized by Linkedin), The LinkedIn Top Person of the year-2020, The APJ Abdul Kalam Shikshak samman receiver, an author of the book "Rise and Shine-10 keys to Spectacular Success, Certified Internal Auditor for School Management systems-ISO standards 2100:2018, Dr. Abha Jadhav, is an experienced, passionate, and affectionate educator for two decades. She is currently the Principal of Rahul International School, Wadgaon Sheri branch, Pune, Maharashtra, India.
Personal Growth Coach & Interior Designer
"Anju is an Interior Designer & founder of bespoke furniture brand named - Wild Ochre. She is also a personal Growth Coach, she takes pride in working on her ownself through various Transformative learning Techniques and taking charge of her life to live a life that she loves, After 16 years of working with best of the brands, Anju took a leap of faith & started her own business. Coming from a humble background and having spent majorty of her life in self limiting belief she turned around her life and today helping her mentees as well to unblock their minds and live a life of their dream by utilizing their full potential and getting more done in less time, effectively utilizing the time for personal & professional growth. And its her Time management skills that allows her to explore various passions of her, She feels really fulfilled to take up trainings for craftsmen pan India .
Educationist+Writer
A leader since college days, a speaker, a poet and a writer, I am a passionate educator of English close to a decade now. A certified 'Iron Lady' and an old theatre artist, I have transformed thousands of young minds at the University of Delhi and adolescents at the top schools of Delhi. Being an integral part of international workshops and Seminars at the university, I have tried best to justify a life-long-learning by building my knowledge base in varied dimensions. Two of my books will be available in market soon, while the third one is in inception. My areas of interest are focused in English Language Teaching, Gender Studies and Parenting.
Global Entrepreneur
gemini is a global entrepreneur. she works with women to make them financially stronger. she has an experience of 3 decades in business. she is a youtuber author blogger and a podcaster and founder of extreme growth mastermind.
VisioNeering Coach
Ms. Kalyani Kamble is the Founder of VisioNeering Life & Co-Founder of Prescient Strategist as a Business Coach & Trainer. She is also the author of the transformational book & Amazon's
POONAM MAHAJAN
Director & CEO
Best known as the "Crisis Thriver", Poonam Mahajan is a renowned Brand Promotion & Crisis Management Expert. For the past decade, she has served as an advisor for a host of corporate, celebrity, non profit and government clients providing strategic counsel to help individuals and organizations navigate challenging issues. Ms. Poonam Mahajan has been in Media and PR Industry for 15 years. During 15 years long journey, starting from the grass root level in different roles, Reporter, Anchor, Sub Editor with Zee Media, Hindustan, UNI, & PR MANAGER with IMPACT PUBLIC RELATIONS PVT. LTD. She is a dynamic Media & PR Professional with deep understanding of Media, Communication Strategy, Image Building and Public Relation management. She has established many Start Up Companies as a Brand. She is an active Journalism Faculty at International Journalism Centre and also an active member of India & International MSME Chamber of Commerce.
Director and Principal
ROOPPREET VERMA is an educator and a counselor with specialization in education for children with special needs. She is currently on the Board of Directors for the Verma Group of Schools and heads its Tulipians Pre and Primary schools. In over 15 years of the groups existence, she has been instrumental in establishing the Tulipians Academy as an exemplary brand known for it's high level of education. Under her leadership the school has won over 20 awards at the national and state level. Her ability to connect with students under the spectrum, backed with education from Delhi University and certification in Autism and special needs education from IBCCES, USA has established Rooppreet Verma as a learned, empathetic, and loving educationalist.
HR Leader
"27+ yrs corporate exp in Human Resources, in global organizations from hi-tech semiconductor, hardware & software domains. Her areas of expertise are M&A, Strategic HRM, Succession Planning, Tech Startups & Incubating Units, Career Progression, Cost Center Mgt, Employee Dev. Initiatives, Innovative Careers & Human Demographics Studies. Now she help people transform in areas they most desire. Her key competencies are in Behavior, Healing & Personal Transformation by Mentoring. Her interests are automobiles, travel, exploring diverse cultures & heritage, experimenting with natural food, reading and writing. Have recovered from a serious health setback that altogether changed in prespective of life. She promote self reliance as a way of living rather than declining & degenerating with age."
Personality Coach/Public speaking Coach Educator /Author
Swarleen, like any other human that ever dwelled on Earth, dreamt of impacting the world. What made her story unique then? Her grit to make her dreams a possibility. Today, she connects and works with thousands of people to inculcate life skills in them, either through personal mentorship, speaking or writing. He life's motto is, 'Create Change, within', which simply emphasizes that one can change the world by first changing their perspective about life. Backed by 18+ years of experience, Swarleen is a Youth Personality Development Coach and trainer, International speaker and Author of the book 'Good Vibes make Good Lives'. But all of this did not come easy. Just like the best moments in life, the worst ones too come when you least expect them. In Swarleen's case, they came when she got married in the most influential families of the region. Life was supposed to turn into a bed of roses, but only then, the thorns barged in, unwilling to leave until 7 years would pass.
TWINKLE BAHADURI
Clinical Research Professional
"Twinkle Bahaduri is an international keynote speaker, thought leader, co-author of Amazon's #1 best-selling book I.M.Possible, Medical Research Scientist, and Clinical Research Professional with dual Master degrees in Infectious Diseases and an MBA. Due to a major life event that took a toll on her health 9 years ago, she discovered that a simple shift in mindset was all she needed to strengthen her character and make the impossible, POSSIBLE. Her interest in the workings of the subconscious mind was sparked when she realized that the power of commanding the subconscious mind is the key to breaking free from fear, doubts, and insecurities and achieving mental strength, perseverance and agility in life. She understood that when one embraces perseverance with passion by commanding their sub-conscious mind, it can propel them towards their goals and raise the bar against all odds.