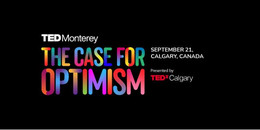 We will be showing specially curated content from TEDMonterey 2021, both in-person and virtually as ongoing COVID restrictions require. This is an excellent opportunity to see some of the latest talks from the TEDMonterey stage, and to have vibrant conversations with other participants!
Visit our event page at http://TEDxCalgaryLive.ca for more information and to register.
Speakers
Speakers may not be confirmed. Check event website for more information.
Filipe Masetti Leite
------ Filipe Masetti Leite is a Long Rider, journalist, best-selling author, and award winning film-maker. A fellow of the Royal Geographical Society, he is only the fourth person in the world (and the youngest) to cross the Americas on horseback. Starting in 2012, the third generation cowboy rode more than 25,000 KM, over 8 years from Alaska to Ushuaia, Argentina. Learn more about Filipe and his extraordinary adventures by reading his best-sellers Long Ride Home and Long Ride to the End of the World, and through his feature documentary The Long Rider. For more information visit https://www.instagram.com/filipemasetti/