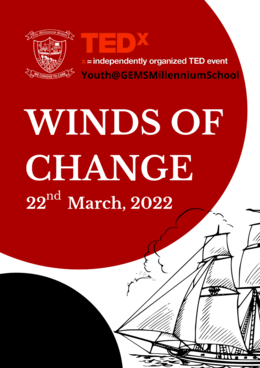 In the spirit of ideas worth spreading, TEDx is a program of local, self-organized events that bring people together to share a TED-like experience. At a TEDx event, TEDTalks video and live speakers combine to spark deep discussion and connection in a small group. These local, self-organized events are branded TEDx, where x = independently organized TED event. The TED Conference provides general guidance for the TEDx program, but individual TEDx events are self-organized (subject to certain rules and regulations).
Speakers
Speakers may not be confirmed. Check event website for more information.
Breeklyn Hannah
Breeklyn Hannah, is an enthusiastic and talented speaker from Grade 9. Oration has been her passion for years and her extremely extroverted personality has served as a catalyst that opened doors to Public Speaking, MUN, Debate and Elocution among several others. She is a voracious reader who reciprocates the same love into writing. An avid dancer and singer, she has been training for Bharatnatyam and Carnatic Music since the age of 5. She aims to change the world for the better by expressing herself through speech and art.
Essa Almulla
.
Joanna Abraham
Joanna Abraham is a Grade 12 student. She spends her time reading, coding, and indulging in all things food! She plans to pursue her higher education and a career in the field of Computer Science and Information Technology and is ambitious to work in a space where she is able to contribute something meaningful to this discipline. She is passionate about her interest and will be talking about the next revolution in the field of Information Technology – The Metaverse.
Raagav Ramakrishnan
Raagav Ramakrishnan is a 17-year-old Innovator and Public Speaker. He's passionate about Engineering and its applications in Robotics and loves reading. His talk sheds light on the constantly changing technological landscape and what we can do to keep up with the world.
Rohith Narayanan
Rohith is a talented individual who describes himself as "just another high-school video game enthusiast". He has been exploring virtual worlds ever since he could pick up a controller, creating fanart since he could draw stick figures while weaving narratives since he could hold a pen. Today he will share with us a harmonious combination of these interests: to analyze video game narratives and uncover the deeper meanings.
Sana Feroz
Sana Feroz is a Grade 11 student whose interests distinctively incline towards debating, writing, reading, singing, playing the piano and badminton. She commits herself sincerely to her goals and strives to create a positive influence on society, either through her talks or her art.
Selena Chainani
In her pursuit of knowledge she can be defined by the very activities that she enjoys. She has the compulsive need to code most things, create art through pencils and inks alike. She also engages in analysis of literature and in its creation. She enjoys listening to music, playing basketball, the piano, and video games. Mathematics and the sciences intrigue her and her talk aims to create something with the level of depth and impact that she has found in her research.