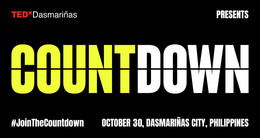 Countdown is a global initiative to champion and accelerate solutions to the climate crisis, turning ideas into action.
Mark your calendars for the Countdown global livestream on October 30. Building on the success of the 2020 Countdown launch, this virtual event will lay out a credible and realistic pathway to a net-zero future by bringing together key solutions from the Countdown Summit, stories of local action from the around the world, cutting-edge science and technology, social and cultural discussions, powerful performances and a global call to action.
By presenting a real pathway to achieving net-zero, the Countdown global livestream is designed to bring people all over the world together to celebrate and spread the word ahead of the decisive United Nations Climate Conference COP26.
Join the campaign and take action with TEDxDasmarinas Countdown. Please register your willingness to attend and be an active participant in the conversations about climate change. Head to tinyurl.com/tedxdasmacountdown to reserve your seat.
#JointheCountdown
#BetterFuture
#TEDxDasmarinas