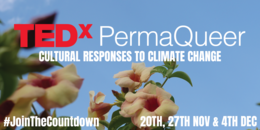 Tackling our ongoing climate crisis means adjusting the behaviours, attitudes and relationships we hold with the environment and with each other. It's not just tech solutions we require but deep cultural shifts. It won't be a single action but the collection of many small and sweeping changes that sets us up for success or failure and culture is the bedrock of behaviour.
We'll be exploring through a variety of speakers how shifting culture from mainstream society, whether ancient or modern, can help change our current climate path. With special emphasis on first nations ways of knowing and being, drawing from lands managed in sustainable and regenerative ways prior and post colonisation, we will explore what a new space of cultural emergence might look like. An emergence that is appropriate, equitable and listens to the needs of the land and the people.
- What does it mean to be a custodial species in our environment?
- What is culture? what is good culture and what does it mean to reclaim our cultural practices?
- How can we contribute to meaningful cultural emergence as ethical and responsible consumers?
These are a few of the questions we'll be exploring in depths over the three days of this seminar, with many more exploring the themes of right relating, impacts of colonisation, moving beyond helplessness, cross-cultural dialogue and breaking the binaries we live within.
All profits raised from this event is going towards a specific land back fund for First Nations Aboriginal people.
Please see our tiered ticketing guide to see where you might fall on the ticketing scale.
Stay tuned for the release of our event program.
Speakers
Speakers may not be confirmed. Check event website for more information.
Permaculture Educator, artist, linguist, chef & healer
Claudiu is a Romanian born queer permaculture educator, artist, linguist, chef and healer. Claudiu's curiosity into the invisible structures that govern our health and well being has led him to apply permaculture to a wide scope of interests, such as setting up temporary well fare spaces at festivals in the UK and Spain to teaching a social permaculture PDC to Indian Government Land Officials in the Himalayas as well as growing food and medicine with kids at an alternative school in Goa where he introduced permaculture on the school curriculum. His work sits at the intersection of queerness, permaculture, alternative education and healing. Claudiu's response to the CoVid pandemic has been to set up the SanQtuary Goa, an experimental space for queer folk to access alternative healing modalities such as embodied trauma release, expressive arts therapies, plant medicine, body work, an outdoor spa, food and medicine growing, community events, co-creation, celebration and play.
Health Anthropologist
Dr Debbi Long is a health anthropologist, currently living in Naarm, on the country of the Wurundjeri people pf the Eastern Kulin nations. With more than 30 years experience as an urban permaculturalist, Debbi undertook her PDC with John Champagne at Brogo Permaculture, and is making plans to move back home to Yuin country (South Coast NSW) to establish a permacultured home on two and a half acres among extended family. Debbi trained as a social and cultural anthropologist in The Netherlands, where she gained her Masters degree before returning to Australia to do her PhD, titled Dissolving the Solid Body: An Ethnography of Birthing in an Australian Public Hospital. She has undertaken fieldwork in Turkey, Swaziland (eSwatini) and in a variety of contexts in Australian public hospitals. She has taught at university in anthropology departments; in medical, nursing and allied health programs; and in Indigenous programs.
Farmer & Permaculture Educator
Elizabeth Couse (she/her) is a farmer and environmentalist passionate about social justice and social change. She has a B.S. in International Agriculture & Rural Development from Cornell University and has traveled widely working in farming communities around the world. Originally from upstate New York, she now resides in her home on the Caribbean Coast of Costa Rica. Early on in her career, Elizabeth discovered permaculture, an outlook that she found to be empowering, hopeful, and useful in these challenging times. As a woman of color, she also saw many pitfalls within the movement and an opportunity to challenge it and ultimately make it stronger. She founded Liberation Permaculture with a group of peers and leaders in permaculture as a commitment to justice and liberation. She shares her activism online and found a voice on her Instagram platform where she continues to be connected to the global sustainability and social justice movements.
Healer, Seer & Witch
Fio Gede Parma (they/them/their) currently resides in Gadigal and Bidjigal Country. They are a Balinese-Australian hereditary healer and seer and an initiated witch serving and celebrating in Wildwood, Anderson Feri, and Reclaiming communities. Since 2009 they have been an award-winning author and have authored, co-written and co-edited 6 books. Fio Gede Parma teaches ecstatic technique and ritual, mentors spirit-workers, witches, healers, diviners, and mystics and works for justice, repair, and recognition of the multiplex, infinite mystery we are each born of and born to. They have taught and connected with community and kin in five continents
Cultural Justice Facilitator
Gregg has worked as an educator, youth worker, lecturer and community development practitioner with a broad range of vulnerable community groups in New Zealand and Australia, for more than twenty years. In his role as Lead Facilitator at Mahana Culture Gregg's passion for cultural justice enables him to assist others to explore their own cultural tale, as well as support organisations to adopt a culturally responsive lens. In recent times, he has come to appreciate how a person's cultural resilience can strengthen their sense of wellbeing.
Creative Director
Guy Ritani (Ia/they/them) is a Takatapui Maori artist, activist, educator and designer living on Wangerriburras Country. Guy belongs to Ngati Koata, Ngati Toa Rangatira, Ngati Kahungunu & Irish cultural descent. Guy is the creative director at PermaQueer & the president of Tamborine Mountain Arts Collective. They are deeply interested in what regenerative expression looks like and what intrinsic values must we carry in order to live in reciprocity with our greater ecosystem. They are a member of Pacific Climate Warriors and try to use their privilege and expertise to benefit these communities. Guy deeply values indigenous ways of knowing and being and uses their work to bridge what it means to grow up in the anthropocene and what it might mean to move forward with integrity and equity. Their works reflect this and Guy tries to design their work to systemically uplift the ways of being that are tapu (sacred) into well practiced reality.
Hannah Breckbill
Farmer
Hannah Breckbill is a first-generation farmer in her 9th season on Ho-Chunk land, presently known as Decorah, Iowa. Her cooperative farm, Humble Hands Harvest, defies the norms of the Iowa landscape: they grow vegetables, pork, and lamb for their local community, pigs and sheep rotationally graze in the fresh air, they are worker-owned, they are woman-owned, they are perennializing and eliminating tillage, and they hold capital in a unique way that aims to be a commons. The farm is a living experiment in regenerative agriculture, cooperative culture, and alternative economies. They also host an annual Queer Farmer Convergence that gathers a community of queer farmers to celebrate each other and interrogate the heteropatriarchy in agriculture. Hannah is a fierce advocate for land access for beginning farmers, because she believes that distributed and diverse ownership and control are essential not only to collective climate resilience, but also to thriving rural economies.
Heifara Wheeler
Pacific Climate Warrior, Permaculture Teacher
Heifara Wheeler(he/him) is a plant nerd, food sovereignty advocate and climate activist originally from O'ahu, Hawai'i. Since 2007, He has worked with several non-profits, communities, and individuals teaching them how to grow and forage their food in the Pacific Northwest through sustainable methods. For the last few years, Heifara has experimented with growing Pasifika foods in our temperate climate as a way to stay in contact with our Tapuna and culture.
Ilona Rayan
City Climate Researcher
Ilona Rayan was born in Port Moresby, Papua New Guinea and lives in New York. She has been working in the climate space for the past 6 years with C40 Cities Climate Leadership Group (C40). Prior to joining C40, Ilona worked for over eight years in foreign diplomatic Missions, including five years as the research officer at the Permanent Mission of Fiji to the United Nations. Her experience has left her with a thorough knowledge of the work being done by the United Nations, its many organs as well as different Non and Inter-Governmental Organizations. In addition to her professional experience Ilona has a Bachelor of Arts in Political Science and Government from Hunter College and a Master of Science in Global Affairs with a concentration in International Development and Humanitarian Assistance from New York University. Ilona is fluent in English and two Papua New Guinean languages, Tok Pisin and Tawala.
Climate Activist
Laresa Kosloff lives and works on unceded Bunurong country in Melbourne/Naarm. She is an award- winning artist and an activist with Extinction Rebellion. Her critical short film titled 'Radical Acts' was recently awarded the 'Incinerator Art for Social Change Award'. This film tells a fantastical tale about a group of frustrated climate scientists who develop a mind-altering pathogen in order to disrupt corporate productivity. Although the story is fictional, it reflects contemporary realities such as the dire situation of climate crisis, political corruption, corporate greed and the revolutionary potential of nonviolent civil disobedience. Following a screening of this film, Laresa will discuss her own involvement in nonviolent direct action, and how those with privilege can use it to dismantle the system that created it.
Founder
Lucy is the founder and director of Wild Awake, an organisation which seeks to rekindle cultural and ecological resilience through the restoration of ancestral life ways in Ireland. Lucy has been working with diverse groups for over ten years and is passionate about supporting individuals to awaken to their innate gifts and true belonging with the land. Lucy's love for ancestral skills and wisdom helps them to reweave these frameworks into the fabric of the Irish cultural and ecological landscape. Lucy identifies with the liminality of bog, the nativity of caves and the playfulness of otter.
Pacific Climate Warrior
Lyle Makepeace who also is known under her artist name Mercii Makepeace, is a young queer pasifika activist in Naarm. Her journey of activism and art began with the search for herself in her culture. Stumbling across the Westside Pasifika Commitee at 17, fresh into naarms waters, she found part of herself within familar faces and familar stories. Guided by the loving hands of the community she has built around herself since then, she has claimed her identity as a pacific climate warrior, first invited by the lovely Folole Tupuola. Balancing the weight of the love lyle and her ancestors share for the oceans, the earth and the sky along with her continuous journey as a growing artist and creative, she stands before us as is, ready to share.
People Skills Consultant
Madeleine's ancestors came from Scotland, Ireland and England over four generations ago. Madeleine grew up under the shelter of Mt Meredith next to the Whareama River, Te Tiriti o Waitangi is wrapped around her shoulders. Madeleine lives in Wellington, New Zealand with her husband. They have three adult sons and a cat. Madeleine graduated as a social worker in 1979, she worked in Health and Mental Health. In 2002 Conflict Management New Zealand was looking for a new associate and Madeleine worked with them for over 15 years, teaching Harvard Negotiation material. Currently, a People Skills Consultant, she collaborates with people to support them achieve their goals. Leaders, staff, managers, and families often within complex environments and tricky issues of grief and loss, negotiation, influencing and managing difficult behaviours.
https://www.supernativeunlimited.com/
An Indigenous leader from the Southeast Queensland and Northeast NSW regions, Mark Yettica-Paulson is the Practice Lead for Deep Collaboration and founder and Director of Super Native Unlimited. Mark brings decades of wisdom from his career in leadership development, collaboration and community education across the corporate, government and community sectors. He has advised organisations such as NAB, the AFL, Medibank Australia, Australia Post and The Foundation for Young Australians. As Practice Lead for Deep Collaboration, Mark has been developing skills, practice and learning programs to improve collaborations between First Nations and other Australians. As Director for Super Native Unlimited, Mark has been cultivating an increased strength of identity through creative cultural leadership.
Co-founder
When she's not championing food system resilience and connection through her life's work the Open Food Network, this ground-breaking and land-healing human, together with her partner Kirsten and their two kids, split their time between Violet Town and a Yurt at Pukawidgee, their regenerative farm in Warrenbaynee. Here they're exploring and enacting a collaborative farm share model that has ecological restoration at its heart. Serenity is a co-founder of Open Food Network, and a Director of both Open Food Foundation and Open Food Network Australia. Her work with OFN focuses on sector and enterprise development; advocacy, research and project development and implementation to expand regenerative agriculture in Australia and the values-based supply networks that undergird it. Her breadth of food system knowledge, connection and experience is integral to shaping and guiding the work of the Sustainable Table Fund – gee whiz we're lucky to have her.
Creative Director
Tavale is Founder and Creative Director of Mahana Culture with over 20 years leadership experience across multiple sectors. Tavale created Mahana Culture as a means to provide culturally safe and innovative spaces for people to explore their own identity and develop more effective ways to work with others. He is committed to nurturing the 'space between' and providing opportunities for individuals, teams and organisations to build and embed cultural responsiveness within the systems they exist in.
Innovator
A visionary innovator, Terri Waller has selflessly devoted her life to nurturing collective movements that focus on self-sustaining intergenerational social impacts. Her passion for helping first began with teaching, however, a strong belief in empowering people to manifest their ideal selves drove her to find a new model of community development. In 2012, Terri's disciplined approach and hard work resulted in the prodigious start of a self- sustaining social impact concept. SevGen, which is short for seven generations, focuses on the celebration of individuals within social and commercial contexts to benefit the collective. The SevGen mission reflects Terri's passion for deep connection and represents the interconnectedness between all things. This vision of collective empowerment has seen Terri transcend as a Loving Gaia figure within her community and transformed countless lives through the transference of compassion and connection into self-sustaining social enterprises.
Co-founder
Toad (they/them/it) is an Irish/English settler living on unceeded land of the Wangerriburras People in so called Australia. Toad is one of the co-founders of PermaQueer and is deeply committed and passionate about using permaculture education to help break up the hegemony and reliance upon cultural systems of violence such as heteronormativity, white supremacy and the others that perpetuate each other. Toad's favourite quote and guiding star is "the masters tools will not dismantle the masters house" by Audre Lorde. From that place Toad seeks to create systems of abundance, liberation and connection through the tools of transformative justice instead of shame and punitive violence, lest we use the language of liberation to perpetuate systems of violence under a progressive veneer.