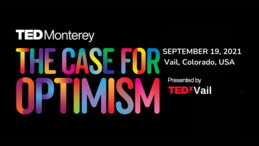 Here it is. The speaker lineup: The Case for Optimism. At this very special TEDxVailLive, we'll celebrate the clear-eyed and the bold of heart, those who don't shy away from the most intractable-seeming problems but rather step toward them to make the case that, even now, hope is possible.
The lineup includes singer and rapper Lizzo, former NFL quarterback Alex Smith, podcaster Hrishikesh Hirway, among many others.
Session 1: Imagine if...
Molly Wright
Alex Smith
Wendy McNaughton
Zach King
Susan Graham
Sir Ken Robinson
Saad Blamla
Session 2: We think we have time...
Steve Pinker
Jarrett J. Krosoczka
Liam Young
Lizzo
Josh Giegel
TED ED
Rishy Kesh
After a year of upheaval, people everywhere are angry, suspicious, distrustful … often with good reason. And yet, might it be possible to emerge from the current fiery moment stronger than before? Wiser? Happier? With the careful combination of visionary ideas, strategic planning, hard work and lucky timing, we think so. Together, we'll host the conversations that matter, focusing on building a brighter future for everyone.
As always, we can't announce everything right now, so stay tuned for some delightful surprises. COme for the speakers, stay for the conversations.
OBVIO online
https://www.eventbrite.com/e/tedxvaillive-the-case-for-optimism-selected-ted-2021-talks-online-tickets-168751294665
Vail, Colorado, 81657
United States
Event type:

TEDxLive (What is this?)
See more ­T­E­Dx­Vail­Live events
Speakers
Speakers may not be confirmed. Check event website for more information.