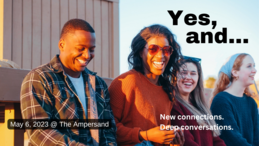 Join TEDxCalgary on Saturday, May 6 for "Yes, and..."
We're celebrating the amazing ideas of our speakers AND those of our participants (like YOU) who can add new insights and take the ideas of our speakers to even greater heights.
Visit http://TEDxCalgary.ca for additional information and tickets.
Speakers
Speakers may not be confirmed. Check event website for more information.
Alex Sarian
------------ Alex Sarian is the President & CEO of Arts Commons, the largest arts center in western Canada and the nation's third largest arts facility. Appointed in January 2020, Alex became one of the youngest CEOs to oversee a major performing arts center in North America, including its response to the COVID-19 pandemic, as well as the half-billion-dollar Arts Commons Transformation (ACT) project—the largest cultural infrastructure project in Canada, scheduled to break ground in downtown Calgary in 2024. Prior to his current appointment, he spent 18 years in New York City, the last seven at Lincoln Center for the Performing Arts, where he served as the senior executive responsible for the organization's portfolio of regranting initiatives, global consulting, community engagement, arts education, and artistic programming for young audiences and families. As a recognized authority on the civic role of arts institutions, Alex has worked on cultural projects in 15 countries spanning 5 continents. As a professor, he has taught at New York University, Pace University, and City College of New York. Alex has served on governing boards and special advisory committees for institutions including the Calgary Downtown Association, SXSW, Museo de Arte Moderno de Buenos Aires, and the Varkey Foundation's Global Teacher Prize. He received undergraduate and graduate degrees from New York University, is a graduate of the CommunityShift program at Western University's Ivey School of Business, and was an inaugural graduate of the Impact Program for Arts Leaders at Stanford University's Graduate School of Business. Alex is proud to have been named to the 2022 class of Calgary's Top 40 Under 40.
Anna Murphy
Anna Murphy is a woman fiercely passionate to call the communities of Calgary her home, she is a community-minded and engaged advocate for 2SLGBTQIA+ and Women's Issues, while striving to be a champion for equity, inclusion, diversity, and accessibility within her community. In addition to her role as Visitor Engagement and Volunteer Coordinator with Contemporary Calgary, Anna has the profound honour and remarkable privilege of serving a city of trailblazers in a voluntary capacity as a University of Calgary Senator, Chair of the Senate EDI Working Group, Member of the O'Brien Institute of Public Health, Vice-Chair of the Gender Equity Diversity Inclusion Subcommittee of the City of Calgary Social Wellbeing Advisory Committee, Member of the Council Behaviour Working Group, Member of the Community Connections Subcommittee of the Calgary Stampede Agriculture and Western Events Committee, Member of the Calgary Foundation SAM Centre Community Advisory, and Member of the Centre for Israel and Jewish Affairs National 2SLGBTQIA+ Advisory Council. Anna was named the 2022 Calgary Stampede Western Trailblazer for her community activism related towards 2SLGBTQIA+ issues, as well as being a recipient of the Queen Elizabeth II Platinum Jubilee Medal in recognition of her ongoing volunteerism and significant contributions to the province of Alberta. Committed to giving her time to inspire even the smallest of change, Anna gives back in an effort to foster safe and affirming communities where all can see themselves and know their future as being an achievable reality - further, Anna recognizes that community building requires active and ongoing involvement, leading from her lived experience as a transgender woman who continues to navigate the realities which come from adversity and barriers created as a result of ongoing cultural and systemic inequity, along with lack of representation.
Bill Chomik
--------- Bill Chomik has practiced architecture for over four decades. Throughout his career, he has steadfastly focused on enhancing people's lives through powerful design which blends, with equal weight, form and function. Bill has consistently striven to create impactful built environments that are at once beautiful and utilitarian. His work, which includes the design of over 700 buildings, spans the globe. He is considered the world's leading architect in the design of planetariums and observatories, and is currently working on projects in Finland, Helsinki, USA, France, Saudi Arabia and New Zealand. Bill's Canadian accomplishments include the Calgary Courts Centre, National Music Centre, Calgary Humane Society, Alberta Children's Hospital, Galt Museum, Taylor Family Digital Library, and Simon Fraser University Observatory and Science Park, to name a few. Bill is committed to engagement in professional and community organizations having served as the president of the Royal Architectural Institute of Canada, chair of the Alberta Association of Architects (AAA) Banff Sessions, chair of the Calgary Urban Design Review Panel, chair of the Calgary Downtown Business Revitalization Zone, and chair of the Calgary Science Centre, to name only a few. He currently chairs the Calgary Subdivision and Development Appeal Board. He has been the recipient of many prestigious awards throughout his career, including, among others, the AAA Tom Sutherland Award for Lifetime Achievement in Architecture, AAA Awards of Excellence, and a Governor Generals Medal for Architecture. Bill is married to his wife of 45 years, Diane, and takes great pleasure in spending time with his children and grandchildren. An accomplished pianist, Bill also enjoys travelling, cooking, writing and golfing.
Doug Mahoney
Dr. Mahoney is a translational scientist at Cumming School of Medicine in the University of Calgary with 20+ years of experience studying human health and disease. Over the past 15 years, his research has made important contributions to the development of numerous cancer immunotherapies that have been commercialized and/or tested in human clinical trials. Currently his lab is focused on engineering "designer cells and viruses" to treat various forms of cancer in children, adolescents, and adults. Dr. Mahoney is the founder and Scientific Director of a research initiative called ACTION (Alberta Cellular Therapy and Immune Oncology), which seeks to develop innovative next generation engineered immune cell therapies and deliver them to cancer patients in Alberta and beyond. Outside the lab, Doug spends his time with his wife and three children, mostly enjoying the Alberta/BC wilderness.
Enyinnah Okere
-------- Enyinnah Okere is the Chief Operations Officer of the Edmonton Police Services' Community Safety and Well-being Bureau. In his current role with EPS, he provides leadership, vision, and strategic direction in the delivery of services focusing on: o The centralization of resources and expertise to address the needs of those who have entered the justice system, with a focus on deterring serious and crimes, reducing demand on policing, reducing crime and disorder, with the goal of increasing community safety. o His Bureau, specifically the EPS HELP Team, recently received a 2022 Alberta Community Justice Award – celebrating special efforts taken by professionals to contribute to community justice and serving the public. Community justice occurs when the system and community partners work together to make Alberta safer place to live, while supporting those who have been impacted by crime. It acknowledges our collective strength and our ability to go above and beyond in addressing root causes of crime, reacting to it, and serving those who are most vulnerable in our society. o He spearheaded the organization's LGBTQ2S+ apology and has led, and continues to endorse, the EPS' Commitment to Action - the largest ever public engagement initiative with the racialized community. o Enyinnah chairs the Alberta Association of Chiefs of Police (AACP) Equity, Diversity, and Inclusion Committee. Recent Awards include: • Edify Edmonton's Top 40 Under 40 [2021] • Queen's Jubilee Award [2023] He is the co-founder of REET Institute. This is a social impact platform, offering a unique program designed to train, develop, and mentor high school students to become the next generation of investors, owners, and leaders in the commercial real estate industry.
James Stauch
James Stauch is the Director of the Institute for Community Prosperity at Mount Royal University where he has developed or co-created social innovation, leadership, and systems-focused learning programs for both undergraduates and the broader community. A former foundation executive and philanthropy and social change consultant, James currently serves as a Director on the Board of Alberta Ecotrust, as an Advisor tNonprofit Resilience Lab, and on the Editorial Advisory Board of The Philanthropist. He is the lead author of an annual scan of trends and emerging issues, produced in partnership with the Calgary Foundation. His recent contributions to community-partnered knowledge production include The Right to Eat Right: Connecting Upstream and Downstream Food Security in Calgary; Aging in Thriving in the 21st Century; Merging for Good: A Case-Based Framework for Nonprofit Amalgamations; In Search of the Altruithm: AI and the Future of Social Good;The Problem Solver's Companion: A Practitioners' Guide to Starting a Social Enterprise, co-produced with Shaun Loney and Encompass Co-op; and A Student Guide to Mapping a System, co-produced with Systems-Led Leadership and the Skoll Centre for Social Entrepreneurship at the University of Oxford.
Jessica Theroux
Using the Arts as a thread to sew people and thoughts together, Jessica Théroux is a painter, writer, sculptor, and textiles artist. She makes a living as a teacher and runs an artist collective in her home town of Calgary, Alberta with her husband, Rich Theroux. Over the past 10 years she has co-hosted over 500 weekly live art events that bring hundreds of artists and art consumers together. She has co-written several books, co-created a feature length film (puppets), and is a singer, entertainer, and explorer. She is also a published poet. Her first solo publication will be later this year.
Jung-Suk (JS) Ryu
------- Jung-Suk (JS) Ryu was appointed the founding President and CEO of the National accessArts Centre (NaAC) in November 2020, after serving as CEO of the organization formerly known as the Indefinite Arts Centre since 2017. Under his leadership, the NaAC has grown to become Canada's largest disability arts organization, more than doubling in size and proactively showcasing Canadian artists with disabilities on the global stage. In February 2021, he unveiled plans to construct North America's first multidisciplinary accessible arts hub, beginning with the revitalization of the old Scouts Hall in central Calgary that will house the NaAC's visual arts studios – made possible by a multimillion dollar investment form the City of Calgary. In 2023, the NaAC will begin plans to develop the Won Lee Community Arts Hub in Toronto, activating a $2.5 million gallery space that once belonged to the late Canadian sculptor Won Lee. Prior to this appointment, JS held senior roles across a broad range of sectors including: Director, External Relations at The Banff Centre; Director, Public Affairs with the Canadian National Institute for the Blind; Senior Consultant with the Alberta Medical Association; and Principal Speechwriter to His Excellency Kaoru Ishikawa, Ambassador of Japan. His career began in federal politics, where he was a senior-level campaign director and political aide to one of Canada's most prominent politicians. In 2017, JS was named one of five fellows from Canada – one in 50 globally – to participate in the Salzburg Global Seminar's Forum for Young Cultural Innovators. He was named one of Calgary's Top 40 Under 40 by Avenue Magazine in 2019. In 2022, he was awarded the Queen Elizabeth II Platinum Jubilee Medal. The same year, he was an invited delegate to the Banff Forum. JS serves or has served on the following boards: US-based National Arts Strategies, the Calgary Chamber of Voluntary Organizations, Family and Community Support Services – Rocky View County, the Banff Heritage Corporation, Creative Calgary, the Alberta Health Coalition, and the Canadian Mountain Arts Foundation.
Kalyani Pardeshi
--------- Too often, our most vocal and destructive critic is our inner self-bullying voice. Kalyani Pardeshi is a multiple award-winning author who teaches anti-bullying techniques based on the science of how our brains work, focusing on the intangible cause of bullying instead of the tangible effects. Despite having a successful career in finance and holding two professional designations, Kalyani felt something was amiss. She tried her hand at entrepreneurship and ran a successful online fitness business for two years, yet felt a continuing void that seemingly couldn't be filled. The answer came when she volunteered at an anti-bullying workshop at her daughter's school. She had an entire lifetime of experiences, learning and tools she had developed and made the choice to share her experience with others through her book Unbullied - 14 Techniques to Silence the Critics, Externally and Internally. Her book has been recognized internationally through three awards: The Skipping Stones Honour Award, The Book Excellence Finalist Award and The Maincrest Media Winners Award. She has been interviewed by many media outlets including CTV Morning Live for Pink Shirt Day, Hollywood Times, Women's Radio and Daughters of Change.
King Neptune
King Neptune has been entertaining across western Canada since 2011 with his suave moves and boyish charm. He danced his way into the hearts of the people and what started as a way to make some friends and have a little fun grew into a beautiful path of self discovery and community connection. Neptune found his passion for drag, performing, and activism, and continues to use his platform to raise awareness about community safety and the importance of diversity. You can find this king performing on stages across the city, from Twisted Element, to Dicken's Pub, and even your neighborhood Royal Canadian Legion branch. Neptune considers himself a Jack of all trades and loves the challenge of adapting his performances for any and all audiences. He participates in the Reading with Royalty program, which has been successful and well attended for over 5 years, and it remains one of King Neptune's favorite ways to connect with families and allies of the 2SLGBTQIA+ community. Through his love of reading and performing, he sends the message that everyone belongs and deserves to be celebrated for their uniqueness. Let him take you on an adventure across the galaxy you'll never forget. Straight from the stars and onto the stage, it's King Neptune!
Lourdes Juan
-------- What does a spa, an urban planning consultancy and a bus loaded with fruits and veggies have in common? Lourdes Juan builds teams that solve problems across communities! Lourdes is a Calgary-based entrepreneur and planner who oversees dozens of staff and hundreds of volunteers at the diverse companies and non-profits she's founded including Soma Hammam & Spa, Hive Developments and the Leftovers Foundation. Shocked at how much unsold bread a single bakery in Calgary had at closing time, Lourdes founded Leftovers in 2012. Today, the large charity works with nearly 100 Alberta restaurants, bakeries and grocers to keep more than 300,000 pounds of edible food out of landfills every single year by repurposing it through partnerships with local businesses or redirecting excess food to hungry Albertans who need it the most. In 2019, Lourdes and her team launched Fresh Routes, a social enterprise that creates new ways of providing healthy and affordable food to Canadians including through Calgary's first mobile grocery store.
Miranda Krogstad
Spoken word poet meets eternal optimist: Miranda's poetry ranges in topic from child's play to empowerment, giving life's obstacles a feel-good finish. A Calgary Arts Development grant recipient, a 2-time Canada Council for the Arts grant recipient, a member of the 2016 national wild card team, and a member of the 2013 Spoken Word Program at the Banff Centre, she now runs the spoken word network YYSpeak: a communal and supportive space for local spoken word artists. Since "a dozen different cultures who historically hated each other had to make love to make [her]," Krogstad has developed a keen interest in inclusivity and acceptance. From fully-captioned shows to events on gender equality, mental health, and cultural diversity, her spoken word poetry strives to be empowering and accessible to varying abilities and languages. Ultimately, her work encourages individuals of all walks of life to share their voice kindly, bravely, and inclusively.
Shane Onyou
Shane Onyou arrived on the Calgary drag scene in 2017 as the premier, sexy and sultry Daddy of the community. Throughout his career, Shane has not only been a popular performer at Twisted Element, Fake Mustache at Dicken's Pub, ISCCA events, or frankly anywhere with a stage, but has also been a frontline advocate in the community. Serving as a 2SLGBTQIA+ activist, Shane's resume of service includes Reading with Royalty through Calgary Pride, online Storytime With Shane, supporting queer youth by providing paid stages for up-and-coming youth drag performers, and sitting on various boards including Okotoks Pride. Building a safer future for the queer youth of today is Shane's highest priority. Safety in the community is a passion for Shane, as he fills the role of head of security at Calgary's most popular queer nightclub, Twisted Element. From newspaper covers during Pride to evening news segments covering the increasing vitriol toward the queer and drag communities, Shane never hesitates to speak up for the rights of those being targeted by bigotry and hatred. You can frequently find him on podcasts, in interviews, photo essays, and various ad campaigns as he continues to fight for a more equitable world for all. Serving you old school style and eyes that will melt your heart, Shane was Viscount of the Fake Mustache through ISCCA, and brings a unique blend of campyness and sex appeal that has audiences consistently screaming for more! Shame on you if you've yet to fall in love with Shane Onyou!
Wakefield Brewster
In January 1999, Wakefield Brewster stepped onto his first stage as a Poet and Spoken Word Artist. Today, he is known as one of Canada's most powerful Professional Performance Poets. A BlackMan raised in Toronto by parents from Barbados, he has resided in Calgary since 2016, and it is in the New West where Wakefield has been able to truly flourish as a Poet and as a Person. Throughout his career, Wakefield has been published in several anthologies and since moving to Calgary, he has produced two professional recordings to his credit. In 2019, he was appointed as The Resident Poet & Spoken Word Artist of The Grand Theatre House in Calgary, Alberta. In 2021, Wakefield joined The League Of Canadian Poets in order to become a more integral part of Canada's Literary scene, while representing the standards of Diversity and Representation. He currently is Calgary's Poet Laureate for 2022-2024. After all that the stage has given him, he has discovered other ways that he may repay his beloved Poetry and Arts Communities by performing silently, backstage, for them. Wakefield finds that underneath the many hats and the many hoodies he wears, resides a wonderful life. He would like to sincerely Thank You all for being a part of it.