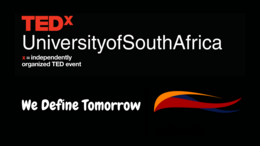 As Africa's leading open distance learning institution, we inspire learners to create meaningful futures on their own terms. We
are the African University shaping futures in the service of humanity.
Speakers
Speakers may not be confirmed. Check event website for more information.
Aregbeshola Adewale
Adewale Aregbeshola is an inaugurated Professor of International Business (Finance) and Business Strategy at the University of South Africa. He completed his Bachelor's Degree at Ogun State University, Honours and Master's Degrees at the University of South Africa and PhD at the University of the Witwatersrand Business School. His academic and professional engagements have included appointments at the Management Development Institute (The Gambia), Babcock University (Nigeria), and University of Lagos (Nigeria). He has consulted widely for various corporate and international organisations, such as Standard Bank, the United Nations and the African Union.
Bontle Modiselle-Moloi
@bontle.modiselle, now known as Moloi, is a leader of Dance & Dance Culture in Africa through multiple disciplines including - Choreographer, Dancer and Performance Director. It is in Dance that Bontle has found her true identity. It is through the art of Dance, whether as a performer, choreographer or Director that Bontle found her feet in the entertainment industry, and more importantly where she found her purpose and passion on a personal and professional level. Bontle established herself early on as one of the continents most prominent performers, winning "Best Female Dancer" in 2007 and Runner-Up in "Best Small Group" category in 2009 at "Masters of Rhythm", which at the time as the biggest Dance Competition in South Africa. Most recently, her love for dance and her ability to execute and direct at the highest level landed her a position as the lead choreographer for Netflix Original production "JIVA!" making it a first for an African woman. Due to her vast skill set and her natural ability to execute a range of artistic and entertainment based disciplines effortlessly, Bontle has found her career taking multiple shapes over the last 16 years while operating and delivering at the highest level. In 2015, Bontle was cast as the lead female character in Africa's First Dance Feature Film - "Hear Me Move", her performance in this film landed her a nomination for "Best Actress" African Movie Academy Awards (AMAA) which is what propelled Bontle's career into the mainstream entertainment industry. The following year (2016) is when we saw Bontle's true diversity as an entertainer start taking shape, as she hosted a range of mainstream television shows - Showville(2016), Club 808 (2017), Ultimate House Party (2018) & One Mic (2019) all the while venturing into Radio Broadcasting in 2018 as a Co-Host on YFM's "The Rodeo" with broadcast legend - Siyabonga 'Scoop' Ngwekazi.
Daniel Cole
Daniel is the founder of the International Institute of Personal Development, South Africa and an International Columnist. He writes for Caribbean Newspaper in Toronto Canada, by the name Toronto Carib. His weekly South African column, "Pathways to Success" of over 35,000 copies in print, is read and distributed around Johannesburg, South Africa. He's a published author and regional manager, southern Africa of TigerWit Africa. Daniel Cole is a weekly guest at Alex FM (89.1), and he speaks on the subject of peak performance, creative thinking, success, personal development, and innovation with a listenership of over 130,000.
Dumisani Magadlela
Dr Dumisani Magadlela is an accredited international executive coach, team coach, coach trainer, leadership development facilitator, organizational 'people whisperer', and African skills development practitioner. He is based in Johannesburg, South Africa. Dumi is a regularly featured speaker and panelist on coaching, leadership, and people development. He is an author on executive coaching, coaching approaches, ubuntu values, and people development. Dumi serves on the board of the International Coaching Federation (ICF) Foundation as a Trustee. He co-founded the Ubuntu Coaching Foundation (UCF) at The Coaching Centre (TCC) in South Africa where he has been part of Senior Faculty for over twelve (12) years. He delivers a module on "Coaching in the African Context". Dumi is part-time faculty at the University of Stellenbosch Business School's MPhil in Management Coaching, where he teaches a module on "Ubuntu Team Coaching". Dumi's coaching approaches include systems, gestalt, emotional intelligence, and integral approaches. He has vast experience working across the African continent and collaborating with other coaches and clients globally. Dumi currently works with business leaders and executives across the private, public, and non-profit sectors. His clients include Microsoft, Vodacom, Nampak, and multiple others within SA, across the African continent and abroad. He currently serves as a Trustee on the Board of the International Coaching Federation Foundation (ICF-F). Dumi is part of the international faculty at the WBECS' Global Team Coaching Institute (GTCI), where he facilitates Team Coaching training. He is accredited by the European Mentoring and Coaching Council (EMCC) as a Senior Practitioner in Team Coaching. Dumi lives in Johannesburg, South Africa, and works globally.
Gift Lubele
Gift is a former research engineer at one of the leading telecommunications companies in South Africa is co-founder and chief operating officer of the digital recycling platform Kudoti, which Fast Company named one of the 2020s most innovative companies in South Africa. Gift has designed and facilitated international programs—including Leadership for Social Change in Mauritius, in association with YUVA, which trained youth in Mauritius and was twice awarded by the country's president. He has been named in the Top 20 under 30 Entrepreneurs by Fast Company and 100 most influential Young South Africans, among other honours. He studied in Mauritius at the African Leadership University for a year, completed a design thinking program from the University of Cape Town School of Business in South Africa, and is currently completing his Bachelor of Business Administration at Regenesys Business School in South Africa.
Godfrey Kamatu
Godfrey is a Pan-African entrepreneur, with interests in Logistics, Financial Services, Real Estate, Tourism & Hospitality. His background is in Business administration and management with an emphasis on strategic partnerships and collaboration. He is able to develop positive working relationships with individuals from diverse backgrounds, to establish successful enterprises that make a positive impact in the communities by creating employment and alleviating poverty. He is the CEO of One World Ventures Pty Ltd. A Platform that helps SME's access cross border markets for locally produced goods and services. One World Ventures objective is to promote intra-African trade and transform lives by locating and connecting markets through collaboration. One World Ventures is aligned to the AU's objectives of free movement of goods and services across the continent through the AfCFTA.
Gugulethu Mfuphi
Gugulethu Mfuphi is a well-versed orator, with experience in front of the camera, behind the microphone and addressing an audience. This skill, together with her sound grasp of financial markets, economic data and current affairs issues and the impact this has on the business community, makes her the perfect candidate to speak to industry analysts, political leaders and C-suite executives from across the African continent. This forms the basis of her tasks and responsibilities as Senior Anchor on CNBC Africa and Presenter of Kaya 959's prime time business show, KayaBiz. Gugulethu Mfuphi also serves as a Conference Chair, Panel Discussion Moderator and Programme Director, at various industry gatherings that impact the business and investment landscape.
Monewa Matlwa
As one of the youngest leaders at ABInbev Monewa strives to have a structured and dynamic mindset bringing both science and business practices to ensure organizational goals and people development are on track and in front of mind. d. the gap of youth unemployment and connecting young bright minds to tomorrow's opportunities.
Thabang 'Pholoso' Sekgothe
Thabang Masoto Sekgothe who has now changed her first name to Pholoso is a UNISA student pursuing BCom Generic with specialization in Economics and Business Management.
Theolla Langenhoven
Theolla is a BA Honours – Community and Health Psychology student with UNISA with a Degree-BA (Health Sciences and Social Sciences) – Community and Health Psychology with Unisa (2018) and her Majors were Psychology, Social Work and Criminology. She wrote an Wrote an information paper on Sexual Grooming: Are we ready to talk about it? – to create awareness and serves in the social department working with children & women who have suffered from GBV, rape plus femicide. Her passion is to see healed nation.
Zibuze Kunene
Content Curator on LinkedIn Learning for UNISA Finance at University of South Africa/Universiteit van Suid-Afrika where has the responsibility to curate content for the Department of Finance at Unisa on LinkedIn Learning. The role requires coordinating training needs and requirements and set up learning paths or courses on LinkedIn Learning. Worked at the University of South Africa since 2008. Certified Ethics Officer with The Ethics Institute EO690. IoDSA Member since 2018. Studying BCom: Financial Management with Unisa. Chairperson of the Unisa Retirement Fund (UNISARF) (2017 - 2018) Working as Payroll Administrator since 2010 and also as Oracle Systems Specialist since 2012. Volunteer at Dads In The Picture since 2014. Body Corporate Trustee & Chairman (2020 - 2021) Author of Morning Thoughts (2019 to date)
Zoyi Lindiwe Muendane
Zoyi Lindiwe Muendane born in 1993, 4 May in New York to Zambian/ South African mother, Tshidi Zamiwe Tembo and Mozambican father, Eddie Muendane. Being American born, South African raised, a mother from Zambia/South Africa and Father from Mozambique being a third culture kid didn't come easy. She could never truly fit in, until she found dance. This was a way of communicating where she never received the question of "Where you from?", due to her accent. Her mother, class of '76 who were demonstrating their rights in the Soweto uprising was finally coming home from exile. In 1999 the first place Zoyi called home was in Orange Farm. Her aunts and cousins looked after her as her mother was getting situated in her new job in Pretoria. This is where she got introduced to Isipanstula culture. After her mothers passing in 2011 which was her final year in high school she started Kryptonite Dance Academy. Who are Champions of SA's Got Talent 2016. The year 2012 was the birth of Kryptonite Dance Academy PTY.LTD. She simultaneously started her first year in University in Film production at AFDA while running her business. She grew up in a military household where filmmaking was not the preferred career path nor was being a dancer. She completed her fourth year in film production in 2015. She realized being a young African female student in South Africa, her families exiled past exposed her interest in identity and representation. From 2017 she started travelling to countries such as; America, Ghana, Nigeria, Namibia, Uganda and Kenya to understand the dance movement in Africa and how the rest of the world is consuming it. Since then, Zoyi has brought African movement to all productions she has been involved in. From her fast Isipantula/hiphop leg work in the Coca-Cola ad with Tyler the Creator or fusion of African movement in music videos. She enjoys working closely with directors to bring off the best representation of Africa. She continues to empower the youth within her studio. Encouraging them to not only be great dancers but great business women/men. She constantly states, "Don't let someone come and tell you where you are from, Africa is your playground."