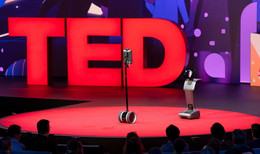 Dynamic and powerful speakers from all walks of life takes center stage in this groundbreaking TED experience of What's Next? Filmed indoors at the Buckhead Theatre in Atlanta Georgia's stylish & affluent Buckhead neighborhood known for its diversity.
Speakers
Speakers may not be confirmed. Check event website for more information.
Anton Gunn
Entrepreneur
Anton speaks on an idea about injustice, and how people fail to act. Anton J. Gunn, a nationally recognized leadership expert and healthcare consultant, shares 'The Justice Code.' The Justice Code is a new organizational framework to end the daily injustices people face in the work environment. There are three leadership archetypes that perpetuate 95% of injustice in the workplace. Unfortunately, these three archetypes suffer from social blindness and a lack of social consciousness to end workplace injustice. Anton shares a powerful personal story of healthcare injustice and some practical steps for anyone to become a "5% Leader" that ends unfairness in the workplace by raising their social consciousness and taking action. This talk was curated by Jercori Freeman
Ashley Ann
Brand Builder
Ashley Ann of Ashley Ann's Events is a talented award-winning wedding and event designer, a biz builder, public speaker, and social media strategist. Ashley currently travels the United States speaking to small business owners, side hustlers, wedding and event industry professionals, and those who are thinking of starting a business. Ashley is equipped with a B.A. in Finance and M.B.A. from the University of Central Arkansas. Ashley is a member of Sigma Gamma Rho Sorority and an avid volunteer. She serves as a teen mentor, direct service volunteer, and is a part of the Jr. League. Ashley also instructs financial literacy courses and attraction modules.
Attiyah Blair
Entrepreneur
Attiyah Blair is a multi-millionaire real estate investor, a mentor and licensed realtor. Attiyah's company, The Real Estate Reset, breathes life into severely distressed properties and turns them into beautiful homes. The company also provides jobs for members of the community. Attiyah has been investing in real estate since 2007 when she was only 23 years-old and is passionate about sharing her wealth building knowledge with women and other aspiring real estate investors. Attiyah's signature mentorship program teaches her students "How to Build A Million Dollar Real Estate Portfolio in One Year." Before becoming a real estate investor, Attiyah worked for NBC, CBS and FOX News for 10 years.
Brandon Dixon
Entrepreneur
Renowned film entrepreneur and founder of 'The Shooters Academy'
Brother Ben X
Entrepreneur
Brother Ben X is a 25-year-old entrepreneur, college drop-out and Nation of Islam member that has taken what he was given and worked to make it what he desired for himself. Seeing his biological father for the first time in his casket and his biological Mother once before seeing her in her casket, Brother Ben X is an inspiration and testament of your beginning not having to be your ending. He's a self-made social media influencer, manager, YouTuber, Author, and CEO. Not only is he creating the life he wants to live, but he's doing it on his own terms and giving meaning to other people's lives all at the same time. With over 1.1 Million followers across Instagram, Facebook and YouTube, and a half a BILLION views on social media, Brother Ben X owns his creative essence, spreads truth, and shares messages designed to enlighten, guide, and bring awareness to issues that would otherwise go overlooked. Brother Ben X is the example of by any righteous means necessary.
Dr. Jamisa McIvor-Bennett
Entrepreneur
By age 27, Jamisa McIvor has become one of the most powerful and self-starting female millennial entrepreneurs that has taken the real estate industry by storm. It chronicles her journey from a novice property owner to deed holder of 25 mortgage-free properties purchased through her company, affectionately named after her grandmother, Rosebud's Investments.
Elle Williams
Credit Expert
Elle is a credit expert and entrepreneur who focuses on helping the community build financial and generational wealth.
Herman Dolce
Entrepreneur
Herman Dolce is a Temple university graduate with a degree in business communications in 2002. He received his Masters degree in Human Services from Lincoln University in 2010. Herman currently is a credit educator whose national company has served thousands of individuals. His credit education teaches his clients how to repair their own credit, leverage their own credit to turn into cash, help small to medium-sized businesses get business funding and give the blueprint cash flow Potentials in different sectors. Herman's company Bella Sloan Enterprises, is currently serving more than 2,000 credit repair clients and his mentorship program has graduated more than 500 students. He has helped small to medium businesses raise $50,000,000 over the past years.
Marcus Barney
Entrepreneur
Marcus Barney, also known as HIM500, is a financial strategist who has mastered the art and science of personal finance for entrepreneurs. After realizing that entrepreneurs like himself do not get the proper tools or financial resources they deserve to succeed, he sought to acquire and create them himself on behalf of his community. Through his exclusive Recession Proof Mentorship Program, small business owners and aspiring entrepreneurs can get the education they need to achieve their goals and generate wealth.
Marketing by Monrae
Strategic Marketing Manager
Adryanauna Tuggle (also known as "Marketing By Monrae''), is the owner of Rare Necessity Brand Management LLC, published author and a digital marketing maven. Opening her firm in 2013 as a sophomore in college, Monrae designed Rare Necessity with the intentions of creating a space where creatives will have the tools and resources to help make their businesses successful. Since the firm's inception, she has assisted thousands of entrepreneurs with creating and growing profitable and scalable businesses. With a passion for out of the box marketing, her unique approach to overall business development using guerrilla marketing tactics, business management, and digital marketing, Monrae has been able to collaborate with several business owners and socialites to increase their revenue to well over 300% within the first 90 days of working together.
Entrepreneur
Hailed as the "female Jerry Maguire" by CNN, Molly Fletcher made a name for herself as one of the first female sports agents. During her almost two-decade career and as President of CSE, Molly negotiated over $500 million in contracts and represented over 300 of sports' biggest names, including Hall of Fame pitcher John Smoltz, PGA TOUR golfer Matt Kuchar, broadcaster Erin Andrews and basketball championship coaches Tom Izzo and Doc Rivers. A highly respected thought leader, Molly is a sought-after keynote speaker and is the author of five books. She hosts the popular podcast Game Changers with Molly Fletcher, where she interviews experts and celebrities in every field including Arthur Blank, Dabo Swinney, John Mackey, Matthew McConaughey, Priyanka Chopra Jonas, and Simon Sinek. Her insights have been featured in prestigious news outlets ESPN, CNN, Forbes Fast Company, InStyle, and Sports Illustrated.
Nicole Ambrose
Entrepreneur
Nicole is a residential real estate developer, a personal wealth guidance coach, and a transaction engineer; specializing in aligning investors, products, and end users. Nicole is a highly effective negotiator and sought after real estate coach. Through her philanthropist works Nicole identified a serious wealth gap in our communities and leveraged her experiences to hone in on financial activism. Nicole has built her career around inspiring people to position themselves to live holistic lives while bridging the wealth gap.
Rashad Bilal
Entrepreneur
Rashad Bilal grew up in the financial services industry, taking a summer internship with his family's Wealth Management firm, The Bilal Group LLC in 2005. He learned at a young age the importance of financial literacy and realized that he wanted to translate his knowledge into actions. After graduating with honors from The University of Hawaii in 2007, Rashad became a full-time associate with The Bilal Group in May 2008, culminating in his advancement to Vice President in 2009 and Partner in 2014. In 2018, Rashad Bilal partnered with his lifelong friend Troy Millings to start an educational platform called Earn Your Leisure (EYL). EYL has grown into one of the top business platforms in the world, with a top business podcast under its umbrella, a podcast network, and an online educational platform.
Tay Sweat
Business Innovator
Tay Sweat is an 8-figure millionaire, business innovator, investor, speaker, and author who blazed past all odds against him. In fact, the 32-year-old native of East Nashville, Tennessee was arguably set up to fail in life. Losing a great paying job, his home, his car, and filing for bankruptcy after the 2008 recession, he knew something had to change. After losing everything and having to reluctantly move back home with his mom, Sweat worked to slowly start building his business empire, Sweat For Life, in 2010. With no college degree and no background in finance, Sweat on his own, started diligently studying financial wealth, health and fitness materials. He invested in a business coach, read at least 1 book a week and saved over 80% of his income until he could invest to create real assets, eventually getting into trading penny stocks. Although he started out with minimal resources, he grew to build an 8-figure enterprise through sheer savvy and willpower.
Twiler Portis
Entrepreneur
Millionaire Networker, Entrepreneur, #1 Best Selling Author, and Inspirational Speaker, Twiler Portis has helped thousands of entrepreneurs take control of their finances, their business, and their lives! The self-made millionaire has a passion for teaching entrepreneurs the fundamentals of marketing, money management and business lessons needed to free themselves from debt, bad habits and roadblocks to achieve the same level of success.
Entrepreneur
WALLACE PEEPLES, BETTER KNOWN AS WALLO267, IS AN AMERICAN ORATOR, ENTREPRENEUR, SOCIAL INFLUENCER, ACTIVIST, AND MARKETER.