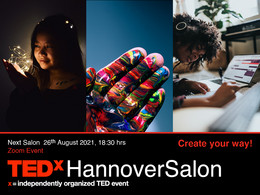 What it is that without it there would be no moving forward, that allow us to change our mindset and to move ahead in new ways?
Creativity! No researcher, engineer, doctor, chef or "everyday life hero" would be able to solve a problem without differentiating themselves from the way things are done and test out a different opinion.
In the next TEDxSalon, you will have a lot of fun identifying creative dimensions and ways to make your live and job more exciting and meaningful.
Wake up from the boring, loose fear and start creating your own way!
Feel free to bring friends, family and everyone that you think needs to speak up more often.
After our summer break, we are truly looking forward to hosting you again.
Agenda:
18:45-19:00 Check-in (Tech-Check, Social Networking & Admissions to Event Room)
19:00-20:30 TED Talks and Discussions
20:30 Social "Fade-out"
We are looking forward to hosting you again!
Your TEDx Orgs