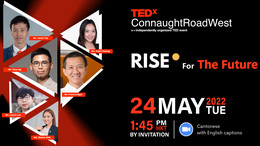 RISE for the Future (看。建未來) – Rethink, Invest, Sustain and Evolve with Leaders of Tomorrow for a More Resilient Future!
On 24 May 2022, a program will be organized by TEDxConnaughtRoadWest, supported by JCIHK and various organizations from different sectors. 6 changemakers across sectors and generations will explore the theme of RISE for the Future around impact, sustainability, innovation, life education and youth development across sectors, engaging you with diverse perspective and room for reflection as to what may reshape the city's future together:
Mr. Francis Ngai, Founder of SVhk
Mr. Pasu Ng, Registered Embalmer & Mortician
Mr. Jason Yip, Chief Operating Officer of MWYO
Ms. Suki Cheung, Director of CN Logistics
Ms. Elaine Shiu, Serial Entrepreneur
Mr. Lance Lau, Activist of Climate and Environmental Actions
Moderator: Mr. Vivek Ashok Mahbubani, a stand-up comedian
Let's Explore New Ideas and Identify Future Leaders starting from 24 May 2022!
Speakers
Speakers may not be confirmed. Check event website for more information.
Elaine Shiu
Serial Entreprenuer
Elaine Shiu is a serial-entrepreneur with a positive can-do attitude for arising opportunities and challenges. During her studies in HSMC, Elaine started and ran her own coral jewellery business, and after 5 years, she decided to create her own award-winning fashion jewellery brand, Ejj Jewellery, where she is also the head designer. Elaine alsomaintains numerous other consulting-related roles; utilizing her expertise and network to help other companies and individuals. Elaine has received numerous awards through her career, such as the 2017 Asia Pacific Entrepreneur Award, 2017 Hong Kong Most Outstanding Young Entrepreneur, and 2017 Hong Kong Most Innovative Jeweller.
Francis Ngai
Founder of SVhk
Mr. Francis Ngai is the Founder of Social Ventures Hong Kong (www.sv-hk.org). As an Impact Designer for cities of the future, he has founded and incubated hundreds of social innovation projects since 2007, with an innovation portfolio that spans Hong Kong's first venture philanthropy fund, notable social start-ups, and next generation impact talent programmes. In order to empower the ecosystem of NewUrban movements like "Purpose Business & Start-up", "Exponential Philanthropy", "Impact Storytelling" and more, Francis founded SONOVA and COSMOS together with co-partners within SVhk. Francis was recognised as Honorary Fellow of the City University of Hong Kong and the Education University of Hong Kong. He was selected as one of Hong Kong's Ten Outstanding Young Persons and a Young Global Leader of the World Economic Forum.
Jason Yip
Chief Operating Officer of MWYO
Jason earned his master's degree in International Relations from Waseda University in Japan and BBA from the University of Hong Kong. He was also selected as an AsiaGlobal Fellow by the AsiaGlobal Institute. He started his career as an analyst in Goldman Sachs. Jason is a sport lover with a strong passion for trekking and playing volleyball. Born and raised in Hong Kong, he speaks French, Japanese, English, Mandarin and Cantonese. In 2018, Jason was awarded a Medal of Honour by the HKSAR Government and was selected as one of the Ten Outstanding Young Persons by JCI HK. He was also a speaker at the TEDxPetalingStreet in Kuala LumpurJason Yip is the Chief Executive Officer at MWYO, an independent "think & do" tank aspiring to become thought leadership on youth matters in Hong Kong. The organisation has taken a pioneer role to conduct research with policy recommendation and test it through solid community programs.
Climate and Environmental Activist
Lance just turned 13 and he has been a Climate and Environmental Activist since 10 years old. He started Fridays for Future Hong Kong (2019) and Fridays for Future Brighton (2021). He has been doing a solo climate strike every Friday outside his school and in his neighbourhood since September 2019 (for 140 weeks as at last Friday, May 2022), to raise awareness for the climate emergency. He continuously gives talks to students and youth, as well as Organisations to facilitate green conversations and actions at every level.
Pasu Ng
Registered Embalmer
Mr Pasu Ng Kwai-lun was an arts student in university. After graduation, Mr Ng worked in the funeral industry to provide body restoration and embalming services. "Death is a taboo to many people. I believe we have to use to face it before understanding the meaning of death." A few years later, Mr Ng joined the dissection lab of the Faculty of Medicine in the Chinese University of Hong Kong. He realized that most of the bodies used for anatomy teaching were unclaimed. "No one claims their remains, but it doesn't mean there is no need to respect them." Mr Ng thought that these remains should not be seen as teaching materials only, so he came up with the idea of developing the "Silent Teacher Body Donation Programme" . After launching and promoting the scheme, the Faculty of Medicine has sufficient body donation and does not need to use unclaimed bodies anymore. Mr Ng also advocates the public to respect life.
Suki Cheung
Director - CN Logistics International Holdings Limited
A well-known champion speaker and trainer in Hong Kong, China, and Asia Pacific, specializing in modern supply chain, eCommerce transformation and promoting sustainable business globally. Suki is now the Director in CN Logistics International Holdings Limited overseeing the group's external communications, including corporate branding initiatives, reputation management, media and stakeholder relations, digital and social communications, issue and crisis management, sustainability reporting and corporate social responsibility initiatives. She is responsible for business and network development especially in omni-channel logistics and international cross border solutions. Her public engagement currently includes co-opted member for Hong Kong Speaker Bureau, ASEAN Committee Chairman at Chamber of Hong Kong Logistics Industry, Hong Kong Ecommerce Logistics Association Chairman, Committee Member for Asia CEO Community, Hong Kong Management Association and Female Entrepreneurs Worldwide.