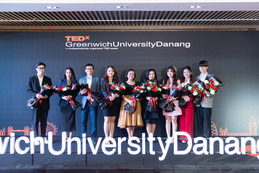 Our event is about different views on education, leadership, peer pressure, and happiness. Firstly, we talk about the power of education and leadership, then we want to inspire you to discover your inside power and last but not least: Destination is not a new land, but a new view.
Speakers
Speakers may not be confirmed. Check event website for more information.
Community Worker and Counsellor
With the mission of being a community worker to help the young generation of Vietnam become better, Phan Ba Thanh Cong believes that what comes from the heart touches the heart.
MC and soft skills trainer
- Having won many great prizes in inspirational competitions such as the runner-up of the Speak-Up contest organized by UN Women of the United Nations, the Champion of the national Bay Competition, the Top 6 of the national Super Leader contest, etc. - Appeared on major national television stations such as VTV6, HTV9, THVL1, DRT, etc. - Owner of bonsai shop "Châm Garden". - Receive the highest entrance scholarship from the University of Greenwich, a full scholarship for an English course from Western Sydney University, a full scholarship to interact with students in Melbourne, etc.
Quynh Anh Nguyen
Undergraduate student
I've been studying English with my mother since I was a one-year-old infant, and even though I'm now 19, I still have a strong interest in the language. I decided to attend Phan Chau Trinh High School when I was 16 years old in order to follow my English dream. I didn't know how to be a confident girl, but the university's decision changed my mind. As a Greenwich student, I discovered many fascinating things about English as well as found my confidence again. I can see my desire becoming a reality, and I'm feeling more confident owing to enrolling in soft skills courses at Greenwich and becoming an HR at GNew Club.
Trong Tan Phan
Undergraduate student
Despite being born and raised in a poor coastal village where education has never been the first priority, I have been attempting to equip myself with an unwavering belief in the power of education that helps transform one's mindset, awareness, perception, outlook on life, and even his/her entire life. That's the reason why I see myself as an ambitious tertiary education pursuer and an enthusiastic lifelong learner, with two certain purposes. First, to prove that my journey with education has helped me conquer any obstacle and dream. Second, to inspire and empower others, especially the underprivileged in my hometown and the ones who perhaps do not believe in the power of education for some reasons, to be conquerors with education and relentless love for education as powerful tools.
Truong An Pha Vo
Undergraduate student (Marketing Major)
I am obsessed with studying economics and marketing activities. In the past, I used to be a restaurant manager in Ruby Bistro located in Hue city for almost 6 month. It gave me a general look for managing a system and human resource. Another job that I have done is opening a shop on my own for 2 years and I already gained roughly 3.000 followers on my Fanpage. In 2021, I have already participated in the FPT Edu Resfes and it was an amazing opportunity to be a national champion related to the Linguistics sector. Besides, I also participated in some non-profit English communities and enjoyed numerous camps including ETA4 and FesCamp2022. Moreover, I also attended FPT Edu NihongoEng 2021 and was in the Top 5 National Finalists. At the moment, I'm on my way to develop my labor-skills related to Marketing Strategies under guidance of lecturers from Greenwich University.
Truong La Vy Vo
Undergraduate student
I attended Phu Bai High School in my hometown, Thua Thien Hue City. After graduating from my old high school, I had spent 1 year and a half involved in a variety of Social Enterprises in Hue city, such as IziEnglish Community, ETA4, Hue Marathon, Blabla Language Exchange. I have worked as a Customer Care Representative in a larger Italian Restaurant, volunteered for many charitable works, etc. Presently, I attended Greenwich University in Vietnam and my major is Event Management. I also joined different clubs, and held plenty of events. Besides, I also actively participate in workshops and programs organised by the university.
Xuan Phu Ta
Undergraduate student (Marketing Major)
Doing arts and creative works is my true passion. Therefore, I make much effort to dig deeper into many aspects of these types of works by taking part in a large number of contests not only to develop my working skills but also seek for potential job opportunities. While studying at university, I became the winner of FPT Edu Research Festival 2021 and Top 6 FPT Nihongo Eng with my teammates. Besides, I am currently a university student of Greenwich Vietnam studying the major of Multimedia Communication, which is closely related to my passion. I try to participate in various Clubs in my university not only to broaden my relationships but also to approach diverse types of people.