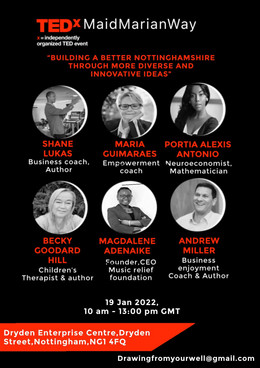 Becky Goddard - Hill ; Children's Therapist, Well-Being Author
Shane Lukas; Managing Director/ AVN
Maria Guimaraes; Coach, NLP, Time Line Therapy and Hypnotherapy Practitioner
Portia Antonia Alexis; Neuroeconomist & Mathematician
Magdalene Adenaike; CEO & Founder, Music Relief Foundation
Andrew Miller; Business Enjoyment Coach; Author
Speakers
Speakers may not be confirmed. Check event website for more information.
Business Enjoyment Coach & Author
Andrew Miller is an ex-insolvency practitioner, who now dedicates himself to helping business owners be successful and actually enjoy the journey at the same time. Through working with company owners who were in the process of losing everything, he became acutely aware of the emotional connection that exists between a business and its owner, something that is not always recognised or appreciated. Consequently, Andrew believes that 'you', 'your environment' and the interaction between the two should be looked at as a whole, rather than in isolation. Andrew works with business owners and their team to get all three areas right – which then allows you to truly enjoy what you do on a day to day basis.
Children's Specialist
Becky Goddard-Hill is a children's therapist. She is also the author of a series of activity books designed to boost children's emotional wellbeing and resilience. Becky is a big believer in teaching children to feel powerful and to know they can create change. She lives in Nottingham with her family.
CEO, Founder
Magdalene Adenaike is the founder and chief executive of Music Relief Foundation, a charity that works and supports young people and their families from within the grassroots communities. With over ten years of experience running a charity, Magdalene delivers training and seminars on change, specifically on turning pain to purpose, youth crime prevention and holistic family engagement, and the importance of the arts. She also provides business coaching to those thinking of starting a nonprofit organization, those juggling several ideas together and struggling to understand which one of those ideas to begin with, and delivers practical training on best practice team working: a public speaker, author, and mentor.
Empowerment Coach, NLP, Time Line Therapy and Hypnotherapy Practitioner
Maria supports professionals to develop the power of their mental strength. She went from being hated at an early age by her mother, through profound grief and suicide attempt. It's her mission and life purpose to help others find their inner powers.
Portia Antonia Alexis
Neuroeconomist & Mathematician
Portia Alexis is a British neuroeconomist and mathematician who uses neuroscience and mathematical methods to analyse economic decisions making from consumer decisions to macroeconomic issues. She is an award-winning British economist and a published author. She also thrives on creating educational material that will eliminate ignorance concerning economics. My research focuses on Social Mobility, Income Inequality, Financial Economics, Macroeconomics, Mathematical Economics and Neuroeconomics.
Managing Director/ AVN
Shane Lukas is passionate about giving people more choice in their lives. Working with business owners for more than 23 years, he's seen how people suffer when they believe they can't change the way they work or the way they live and he is committed to changing that situation. As Managing Director of AVN Inspiring Accountants he works with accountants in practice to develop their businesses so they can do the work and live the life they choose – and then help their business owner clients do the same. He runs his own business based on the same philosophy. Over the last 23 years he has made a profound difference to the lives of thousands of business owners, their employees and their families.