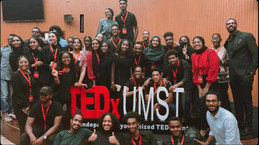 Our guests will be our thinkers and their ideas will the thoughts thus the name Thoughts of Thinkers. Our guests wil have innumerable ideas and thoughts when they listen to our speakers.
Speakers
Speakers may not be confirmed. Check event website for more information.
Ahmed Humaida
3rd year biomedical engineering student
22 years old. Interested in politics and developmental physocology.
Ahmed Nashat
5th medical student
I am Ahmed Nashat a 5th year medical school student. Just a normal guy who loves to think and learn about life, sometimes an introvert who loves nothing but my bed, sometimes an extrovert engaging with different groups in the society with different mentalities and backgrounds hearing their views about life.
Izzeldin Mohamed
5th year Electronics Engineering student
Im 22 and I'm into boxing and other martial arts,I like listening to lofi music and classical music to keep a clear head.I believe anyone could achieve anything they want if they really put their mind into it, the human brain is the most powerful tool we've got.
Muhammed Orsod
Biomedical Engineer
About My Self •*Graduated from Physics Laboratories, Sudan University of Science and Technology, 2004 •*M.Sc Researcher, Institute of Laser, Sudan University of Science and Technology. •*Found Orsod Innovation Lab, first innovation lab in Sudan to develop Electrical, Electronics and Bio Medical Engineers in 2010. •*Co Founder Nubb Tech Innovation Center, first center in Sudan to develop inventions and inventors in 2019. •*Had 7 patents in electronics, solar energy and laser. •*Participated in invention conferences in Sudan, Qatar, UAE, China, Iran, Italy, Austria and Korea. •*Participated in advanced training courses in Netherlands, Finland, Estonia, Ireland and Malaysia. •*Member of engineering and inventors society in Australia, USA, Ireland, Netherlands, Japan, Belgium and France
Mustafa Issameldin
Artist/Comedian and a content writer
Mustafa Jorry is an Artist/ Comedian, and a content creator. Jorry makes a diverse range of content on social media that varies from political satire to comedy, recently songs, and rap will be there soon.He also contributed with local and international organizations such as UNICEF, UNIFPA raising the awareness through youth.
Tafakur Musa
Business graduate
My name is Tafakur Khalid and I'm a business graduate from National University— specialized in Marketing. I always wanted to build my career from early on, so I worked in many places before graduating. I started off working as an English teacher and IGCSE teacher for Economics. By 2020, I was a project coordinator for UNIDO, radio show host for vision 101.3 fm, and became a manager for a startup company. Currently, I am a marketing and management officer. I'm also working on starting a business. After various career opportunities, I'll be sharing tips and tricks, that I've learned along the way, to building your career as an undergraduate student.