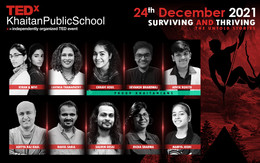 Youth
Our theme this year focuses on the success stories or the stories of survival during the pandemic and other challenging times. The ideators will be speaking about their story or stories of struggle and the strife that were posed on them during the course of their life. They will be sharing the stories leading them to the victory over those struggles and the challenges that spiraled them into successes of the highest level.
Speakers
Speakers may not be confirmed. Check event website for more information.
Aditya Raj Kaul
Aditya Raj Kaul New Delhi- Group Contributing Editor CNN - News18. Canadian National Broadcaster CBC News, Consultant - National Security and Foreign Policy, Government of India, Faculty-Internal Security Academy, Mount Abu and CRPF Academy, Gurugram. Top 25 'Capital Change makers' and youth achiever by the India Today 2011.
Mr. Aditya Raj Kaul, a noted journalist with CNN News 18. Mr. Kaul rose to the limelight through the first-ever social media-led campaign in India - Justice for Priyadarshini Mattoo, in 2006. Announced among the top 25 Youth Icons of the country, he is also one of the top 25 "Capital Changemakers" in New Delhi. He is the founding member of Republic TV and has worked as an Editor- Strategic Affairs and Internal Security at Business Television India. Kaul reported from Iraq during the height of ISIS, interviewed Palestinian President Mahmoud Abbas in Ramallah about the Israel-Palestine conflict, and covered the recent Nuclear Suppliers Group (NSG) meeting in the Demilitarized Zone between North and South Korea, along with the coverage of the G20 Summit in Australia, ASEAN in Malaysia, SAARC in Nepal, and the EU in Belgium.
Advik Rohith
Student Speaker, enthusiast, listener, and a believer in making strong bonds through positive interaction and communication.
Advik Rohith, a student at Khaitan Public School, is an outgoing individual who likes conversing with others and learning about their interests. Described as a person who is always eager to listen, friendly, and trustworthy has traveled across India, changed schools several times, met many fascinating people, and experienced different cultures. He believed to have a significant impact on his personality because he has always adapted to new situations. Teachers at school and elders at home consider him a person of high emotional quotient who aspires to be a well-rounded individual. He has held numerous positions as Student Leader in his school, presently vice head-boy. He has been recognized with the Dalai Lama Award for empathetic understanding, won multiple debate competitions, and completed many minor courses and internships with various organizations, notably IIT Kharagpur, Clever Harvey, and Brown University.
Chhavi Koul
Student Speaker- Khaitan Public School, graceful and agile Bharatnatyam dance performer, Hindustani classical singer, an excellent orator, competitor at National Level being admired by Hon'ble PM Narendra Modi.
Student at Khaitan Public School, Chhavi Kaul is an avid learner, an acclaimed dancer, and a singer. She is a trained Bharatanatyam dancer and a Hindustani Vocal Classical Music and has successfully claimed a junior diploma in both of the invaluable arts. With performances in several National, District, and Regional Level competitions, she has many accolades to her name. She has won a national-level dance competition, holding the first position representing the state of Uttar Pradesh. Perhaps the most astonishing of her achievements is having performed in a choir at the Amrit Mahotsav for an audience of famous personalities and the Honorable Prime Minister of India, Narendra Modi, and other public characters such as Anupam Kher, Jubin Nautiyal, and Hariharan. Her love for English and her fondness for books of multiple genres and poetry helps her to write in an effective way. Apart from her popularity, she has an immeasurable ardor in the field of creation and editing YouTube videos.
Devansh Bhardwaj
Student Speaker, Reader, Writer, Editor, and a huge Potterhead. Empathetic, a budding poet, empath, and a great listener. Caring and compassionate, Grammar Champion who Chaired 3 MUNs
Devansh Bharadwaj is a huge Potterhead, writer, soon-to-be author and loves everything from books to musicals. He amazes us with his talent to whip up stories and plots quicker than the speed of a lightning bolt. While he is working on his first novel series, he still loves occasionally writing poems and articles to be published someday. He has an inborn quality of being an empath and a great listener. He is very caring and compassionate to those he cares about and aspires to become a doctor someday. He is an impressive editor with a firm control on English grammar, so much so that everybody refers to him as a Grammar Champion. With his intellect and knowledge, Devansh has chaired 3 MUNs, organized TedX's, and headed reportage teams at the mere age of 18.
Kiran and Nivi
Twin Powerhouses- Musical Artists Amalgamate- Indian Classical and Western Pop Music
Twin powerhouses, Kiran & Nivi have been charming the internet with their mellifluous vocal acrobatics and ability to amalgamate Indian and American music by bringing their classical roots into the pop vernacular. Having just broken 1.9M+ Tiktok followers, around 316k followers on Instagram, and 101k subscribers on their YouTube channel, the spellbinding dyad is viral for their mashup videos. With their explosive presence on social media, Kiran and Nivi are inclined brand partners, having worked with Walmart, Instagram, Lowes, and many others. Musically, they have kept equally absorbed and collaborated with Jason Derulo. The Indian-American twin sisters from Southern California have also been honored on Good Morning America's 2021 Inspiration List. This hybrid swarm-pop sound in Kiran and Nivi's music their undeniable synergy as they work so well as artists even with different perspectives towards music.
Lavinia Thanapathy
Professional Speaker on Navigating Change, Co-Author of the Amazon bestselling book "Unleash Your Voice, Powerful Public Speaking for Every Woman." Founding Chair of "Inspiring Singapore". LinkedIn Top Voice.
A lawyer by training and a branding expert by profession, Lavinia Thanapathy is the co-editor and co-author of the bestseller "Unleash Your Voice: Powerful Public Speaking for Every Woman." She has served with distinction on several non-profit Boards and was a three-term President at Prime Time Business & Professional Women's Association, being the first Singaporean to lead that organization. She represented Singapore on the world stage at ASEAN and APEC meetings at the Singapore Council of Women's Organization, where she recently stepped down from the position of VP. Lavinia is a sought-after motivational speaker and media commentator on change leadership, public speaking, and more. With Covid-19 shaking up businesses around the world, Lavinia's "Embrace the Crazy" Keynote and TEDx talks are helping people in organizations around the world to develop habits to turn resistance to resilience. Originally from Singapore, educated in Australia and the UK, she currently resides in Berlin.
Namya Joshi
Student, Minecraft Mentor, Teacher Trainer, Awardee-Pradhanmantri Rashtriya Bal Puraskar 2020 Diana Award 2021, TeachSDGss Ambassador- India, Global E-Innovation Award Winner
Namya Joshi, 14-Year-Old from Ludhiana is a grade IX student who has spent the last 4 years designing and delivering free of cost coding workshops for more than 10,000 teachers, young people all over the world, and empowered them to run their coding workshops. She is the one who has been praised by Satya Nadella, the Chief Executive Officer of Microsoft, for stageraised awareness about social issues using game-based learning by STEM to provide solutions to the problems faced by people. She is the recipient of prestigious awards, such as The Pradhanmantri Rashtriya Bal Puraskar 2020, The Diana Award 2021, Global E-Innovation Award. She has cleared ACE1 and ACE2 level at Adobe and got the Trendsetter badge by completing all the certifications. She speaks about the potential of STEM and game-based learning at cosmopolitan events such as KEOS2019 Finland, EduDays Microsoft, UNESCO, ISTE, CONVOKE, Asia Berlin Summit, Azure Conference, EdChatInteractive, and Adobe Education Summit.
Richa Sharma
Senior IT Executive- Spearheaded Solar EPC- Singapore, Data Science and Machine Learning enthusiast. Specialist financial modeling, stakeholder engagement and policy implementation.
They say an investment in knowledge pays the best interest. And Ms. Richa Sharma is an open proof for this statement. She is a self-motivated, goal-driven senior-level executive currently working with an IT Startup in Singapore. An ex-Private banker who gained a reputation of exceeding targets through pure drive and determination with over 17 years of experience in contributing to Financial and Management solutions across industries. She is a staunch believer in lifelong learning and is a Data Science and Machine Learning enthusiast. An ardent fan of the Himalayas and the CRISPR technology, she loves spending time volunteering and giving back to society. We present to you Ms. Richa Sharma, speaker at TEDxKhaitanPublicSchool, coming to spread ideas among young minds.
Saurin Desai
Author, Ideator, Creative Writer, Poet, Storyteller, Comic-Writer, Writing Mentor, Content Writer and Strategist, Blogger, Co-Founder Signsouls, Co-Founder & Director-Habitat Next Pvt Ltd., and Entrepreneur
He speaks Dreams & Nightmares He seeks Solitude & Conversations He writes Poetry & Prose He is curious to ignite Ideas & Passions He is an ideator, story crafter, published poet, comic writer, and writing mentor. He has been heels-over-head in love with words and stories. He is a content writer and has written business stories and copy for hundreds of clients, ranging from start-ups to conglomerates with millions of dollars in revenue. Today, he works with entrepreneurs, professionals, and students via sessions on creative thinking, story crafting, business story writing. And I've facilitated workshops for institutions/events like the Orange City Literature Festival (Nagpur), IILM University, Hindustan Times No TV Day, NIIT, Mumbai University, Academy of Architecture (Mumbai), Rajeev Gandhi College of Management Studies, Tata Sky, etc.