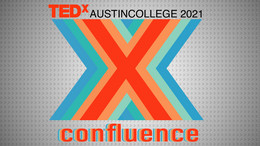 Confluence is the coming together and merging of two rivers into one.
But it goes beyond just water. It involves allowing oneself to naturally respond to change and create connections. Over time and space, we gradually draw together and deepen our connections with new people and ourselves through shared experiences and ideas.
Even our own minds are separated into the left brain and the right brain, logic and creativity. When these two parts naturally flow together, new and stronger ideas emerge. Broaden your mind to allow the joining and mingling of differing ideas.
Speakers
Speakers may not be confirmed. Check event website for more information.
Ann Crews Melton
Executive Director of Consensus Council
Ann Crews Melton is from Longview, Texas, and graduated from Austin College in 2003 majoring in religion. She received an MA from Emerson College in publishing and writing. Melton is currently the executive director of Consensus Council, a nonprofit based in Bismarck, North Dakota. She has served as an advocate or editor at organizations across the country, including the Presbyterian Church (USA) in Louisville, Temple Israel of Boston, and Lincoln Center for the Performing Arts in New York City.
Kate Kahle
Student
Kate Kahle is a junior at Austin College from Dallas, Texas, and is studying Political Science and Art. She is also a ceramicist and skateboarder. As an autistic woman, Kahle is an advocate for autism acceptance. She hopes promote autistic self-love as well as help neurotypical individuals see autism not as a tragedy or a disease but rather for what it is, a lifelong, genetic developmental disability that is just another way of thinking and being in the world.
Kelly Yarbrough
Founder of the Tallgrass Artist Residency and a Regional Representative of the Kansas Creative Arts Industries Commission
Kelly Yarbrough graduated from Austin College in 2009 double majoring in Art and English. She received her MFA from Kansas State University in 2016. She is the founder of the Tallgrass Artist Residency and a Regional Representative of the Kansas Creative Arts Industries Commission, with a focus area in Art & Ecology. Yarbrough works within an ecosystem of visual art, arts administration, and environmental education directly inspired by the native tallgrass prairie. She lives in Manhattan, Kansas.
Artist & Professor
Laura J. Lawson is from Dallas, Texas, and graduated from Austin College in 2010 with majors in French and Psychology, then earned an MFA from The University of Memphis. She was selected for the first cohort of studio artists at The Cedars Union art incubator in Dallas and was awarded a two-month residency at the Centre d'Art Marnay Art Center in Marnay-sur-Seine, France. She is currently an artist, educator, and adjunct faculty for Austin College, Dallas College, and Tarrant County College. Lawson creates artwork that explores the surfaces of Earth and other planets.
Mariam Abeje
Student
Mariam Abeje is an Austin College senior from Murphy, Texas. She is majoring in Healthcare Administration with a minor in Chemistry, and will pursue a career in medicine. Beyond Austin College, Mariam works with MarNat: One Child at a Time, an organization she and her family founded to provide school uniforms, shoes, backpacks, and school supplies for underprivileged children in Ethiopia. She is passionate about helping underserved communities and bringing opportunities to people who can help make a difference in those communities.
Ting Lan Sun
Member of California Board of Education
Ting Lan Sun graduated from Austin College in 1987 majoring in Latin and English and currently resides in Sacramento, California. She earned her master's degree in education from Stanford University, and a Ph.D. in education from the University of California at Davis. Sun is the Co-founder of Natomas Charter School and served in a number of roles at the school, including as its Executive Director. Sun previously served as Educational Programs Consultant in the California Department of Education, as Senior Vice President at the California Charter Schools Association and as a senior consultant for Cambridge Education, an international school quality review and educational consulting firm. Sun has served on a number of state education policy boards and is currently a member of the California State Board of Education.